Crowd1 warning issued across Africa (investors mad)

A Crowd1 investment warning has been issued across Central Africa.
In related news Crowd1 investors in South Africa are upset at the company's latest round of low payouts.
The Central African Financial Market Supervisory Commission (COSUMAF) is the financial regulatory arm of the Central African Economic and Monetary Community (CEMAC).
CEMAC's jurisdiction spans Cameroon, the Central African Republic, Congo, Gabon, Equatorial Guinea and Chad.
On June 5th COSUMAF issued an investment warning against Crowd1.
COSUMAF informs the public that the activities of canvassing, advertising, soliciting funds for financial investments with a promise of return, which Crowd1 and The Luxury Box have been carrying out for several weeks are regulated.

They constitute illicit solicitation of the public insofar as no entity can intervene on the Regional Financial Market to solicit the public for a financial investment without having previously requested and obtained an approval, an authorization or an authorization from COSUMAF for the purpose of starting its activities, providing its services or initiating its operations.
Although convoluted (perhaps due to auto-translate), the above constitutes a securities fraud warning.
Crowd1 is not registered to offer securities anywhere in the world.
COSUMAF's warning follows a separate warning by member state Gabon on June 4th.
In related Crowd1 news, investors in South Africa are beginning to realize they're caught up in a Ponzi scheme.
The realization dawned following Crowd1 paying peanuts on June 15th.
Crowd1 investors invested in "C1Rewards" positions at €2 EUR a pop. On June 15th the company paid out a quarterly €0.01 EUR ROI on each C1Rewards position.
In an attempt to placate furious investors, South African Crowd1 leaders are recommending their victims recruit more.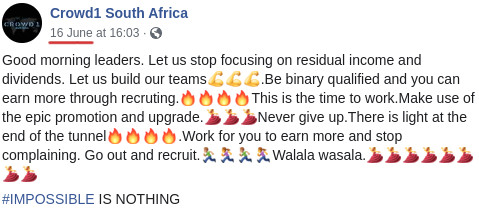 Another message being circulated implores Crowd1 victims to be proud of their losses.
We should be very proud that we are being paid what is a parallel to a dividend in a conventional company.

In this business, money is made in *recruiting* . The more we recruit and help our downlines to also recruit, the more Binary and Matching bonuses we get paid. Some people make millions or hundreds of thousands of Rands in a matter of months!!
Naturally these upline messages went down like a ton of bricks.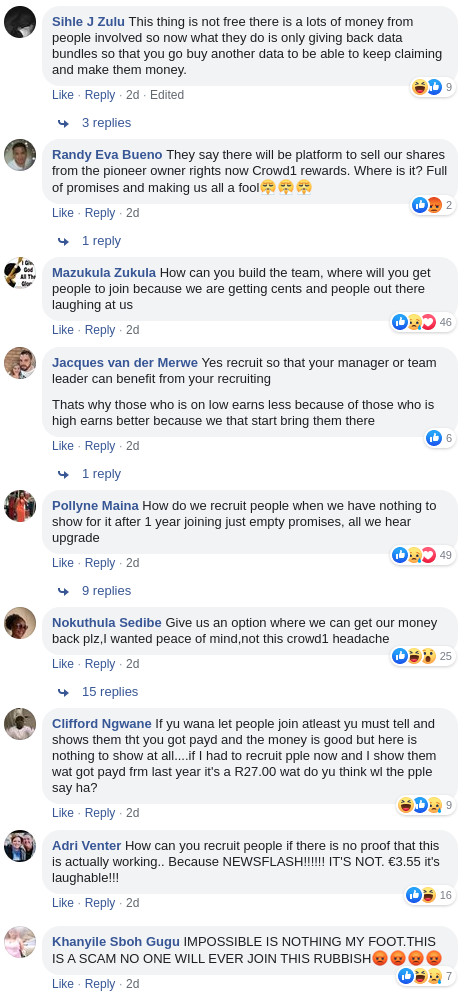 Crowd1's spread across South Africa in particular is testament to incompetent regulation. As I write this Alexa rank Crowd1 as the seventeenth most visited website in the entire country.
Despite potentially hundreds of millions of dollars in losses looming, to date South African authorities have done nothing.