EverFX broker banned in UK, CashFX Group ties to blame?

The Financial Conduct Authority has banned EverFX from offering services to consumers in the UK.
The ban follows EverFX denying it operated as a broker for the CashFX Group Ponzi scheme.
Whether the ties between the two companies are behind EverFX's UK ban however are unclear.
Visitors to EverFX's website are now greeted with the following message across the top of their screen:
From 17.05.2021, ICC Intercertus Capital Limited, trading as EverFX, is not permitted to provide regulated financial services to residents of the United Kingdom.
The FCA granted EverFX temporary permission to operate in the UK in December 2016.
That permission was revoked on May 14th, 2021.
EverFX must not conduct any regulated activities with, or in respect of, any client who is resident in the United Kingdom.

The Firm must not conduct any marketing activity to persons resident in the United Kingdom.
EverFX was ordered to close all UK resident trading positions and liquidate them by May 21st. Cash must be returned to UK residents by June 1st.
Interestingly, EverFX has also been ordered to
secure and preserve all records and/or information (physical or electronic) relating to its regulated activities from its systems in their original form.

These must be retained in a form and at a location to be notified to the Authority in writing by 24 May 2021 such that they can be provided to the Authority, or to a person named by the Authority, promptly on its request.
This suggests the FCA's investigation into EverFX is ongoing.
EverFX appeared on BehindMLM's radar through ties to the CashFX Group Ponzi scheme.
At a CashFX Group "grand launch event" held in late 2019, CashFX Group owner Huascar Lopez introduced EverFX COO, Najib Kassis.
I want to invite Mr. Najib Kassis as (the) Chief Operation Officer for EverFX. And also Pablo Millan, Head of the Spanish Desk of EverFX.

They became like our friends and have been backing all our operations, offering services and providing us with a platform.
Following his introduction, Najib Kassis spoke highly of CashFX Group;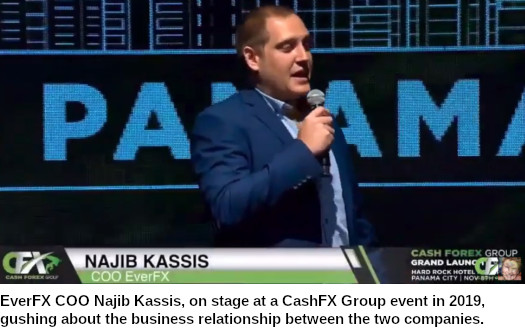 The guys (CashFX Group) are just making magic.

I'm watching them for the last two months, the way how they are trading in our company, EverFX.

I'm proud that I'm gonna be working with CFX.
EverFX's Pablo Millan was the main point of contact between CashFX Group and the broker.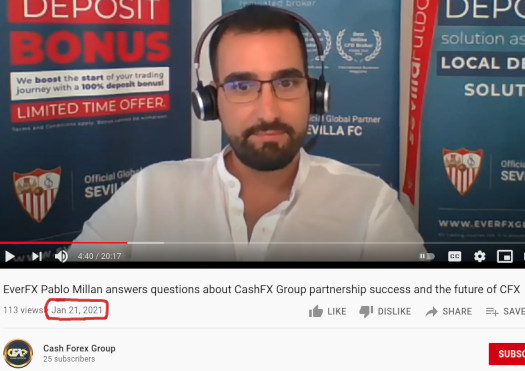 In one webinar, when asked "so when it comes to CFX, you're kind of like the account manager?", Millan replied, "Yes."
I'm the guy behind the magic that your guys… us, you know?
Throughout the webinar Millan placed great emphasis on regulation. He did however claim EverFX had FCA approval "for marketing purposes only".
Millan appeared in multiple CashFX Group webinars. Video footage of the webinars were being uploaded to YouTube as late as January 2021.
In December 2020 an investigatory article by the Financial Mail's Tony Hetherington explored the relationship between CashFX Group and EverFX.
The article brought a prompt response from EverFX, denying any such partnership existed.
EverFX has nothing to do with CashFX whatsoever. No business relationship of any kind.
The claim was certainly odd, given the representations made by EverFX executives over the past year.
Unfortunately the FCA have not made public the reason for banning EverFX.
I don't believe the broker has issued a statement on its regulatory expulsion from the UK either.
Through ICC Intercertus Capital, Digital Age Solutions Limited and GAAM Digital Progressus LTD, EverFX operates through licenses in Cyprus, Spain and the Cayman Islands.
Through Aerarium Limited, EverFX also holds a license in Seychelles.
From a regulatory perspective, Cyprus, the Cayman Islands and Seychelles are joke jurisdictions where pretty much anything goes.
Spain's CMNV is the only respectable regulatory jurisdiction of the bunch. That said, the regulator has thus far not taken any action against EverFX or CashFX Group.
To date CashFX Group has attracted regulatory attention in thirteen jurisdictions. The Philippines being the latest, following an SEC securities fraud advisory issued last month.
As previously stated, whether EverFX's ties to CashFX Group are behind the FCA ban is unclear.
It is possible EverFX has engaged in unrelated suspected fraudulent activity. For now though, EverFx's ties to CashFX Group, former or otherwise, are the chief suspect behind the crackdown.