CashFX Group investment plummets to under $1 mill a month

In 2021 CashFX Group solicited $432 million from gullible investors, just shy of half a billion.
In 2022 that amount has dropped to $112 million.
On a macro level that might sound salvageable… until you consider that for October 2022, CashFX Group took in less than a million dollars.
James, cited as the FaceBook group CashFX (in association with EverFX) Scam – Now What!?'s "Bitcoin/Blockchain expert", has crunched the CashFX Group wallet numbers.
As shared by group admin Harry Page on October 28th;
James, our Bitcoin/Blockchain expert, has revealed previously that CFX had $432,464,782.83 of income during a 9 month period in 2021….

Total income so far this year for a 10 month period is just $112,122,287.17….

January
$19,257,218.77

February
$21,671,493.64

March
$20,655,696.82

April
$17,082,067.47

A small drop. Not a problem for a legitimate business, but 3 months without exponential growth is catastrophic for a Ponzi.

May
$12,299,023.57
Oh dear.

June
$10,119,547.48
Ooops.

July
$5,722,344.69
Oh dear oh dear.

August
$2,031,065.21
Lolz.

September
$2,331,930.42
Bravo, a tiny recovery.

October
$951,899.10
Don't panic!!!

We are now in the downward Ponzi death curve for sure.
As of February 2022, CashFX Group's ROI liabilities exceeded $100 million. The current figure is unknown but expected to be exponentially higher.
In related news, James has also pieced together payment information to some of CashFX Group's top earners:
Hazel Moore took home $670,092 across 162 transactions between September 2019 and August 2021
Neil Slinn took home $507,425 across 163 transactions between May 2020 and July 2022
Slinn was also one of CashFX Group's "hush money" insiders.
Binance is identified as the processor that enabled CashFX Group to launder over $484 million.
BehindMLM called CashFX Group's collapse in November 2021.
The Ponzi scheme has been making selective withdrawal payments on and off since then.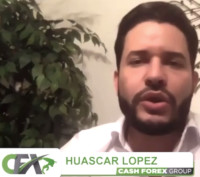 Dominican Republic national Huascar Lopez, owner of CashFX Group, hasn't been seen in public since late 2021.
Presumed to be at the very least under investigation, Lopez's current status is unknown.
If you're wondering who on Earth is still being recruited into CashFX Group, SimilarWeb tracks top sources of website traffic as the UK (29%), Australia (8%) and Norway (7%).
Update 24th May 2023 – Some updated analysis from James via the CashFX (in association with EverFX) Scam – Now What!? FaceBook group:
Between January 19th and May 15th, 2023, CashFX Group still managed to sucker investors out of ~$810,000 in bitcoin.
Incoming transactions: 235

Outgoing transactions: 39

Total received: 30.41361455 (BTC)

Total sent: 30.29933080 (BTC)

Address balance: 0.11428375

Start date: 19/01/2023

End date: 13/05/2023

As you can see for the four months the address has been active it has only brought in 30 BTC, which is worth roughly $810,000.

People are creatures of habit; this address was only found because the original address where most of the CFX funds were routed in the Livepay days of 2019 was…

1N23x6jshv8iQfKqWm1nNeEGbGnDM6j3n4

This is the same address these residual funds are being routed now, hello Huascar. The address is on Binance where they continue to launder his stolen money.

The bitcoin goes to single-use intermediate addresses first but all end up in the same place.
One particularly not-so-bright individual transferred $13,000 in back in January.
Something else we can compare is CashFX Group's website traffic, which has been in continuous decline over the past three months.
SimilarWeb tracked ~273,000 visits to CashFX Group's website for April 2023. The UK is still the number one source of CashFX Group website traffic (34%), followed by Australia (9) and France (8%).
Compared to November 2022, Norway has dropped off and recruitment in France has slightly picked up.
It's assumed most of the traffic coming out of the UK and Australia are desperate CashFX Group bagholders.
I mentioned this in the article above but just to reiterate – CashFX Group collapsed in November 2021.
That there are people still investing into the scam a year and a half later boggles the mind.