Extreme Leads INC – Are Payne & Krider still a team?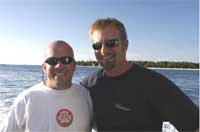 Brent Payne and Shane Krider first publicly entered into a business partnership when they launched Liberty League International back in 2001. After eight years together in early 2009 Brent Payne abruptly sold his share in Liberty League and shied from the public eye.
Shortly afterwards Krider changed the name of Liberty League to Polaris Media Group and the company continued on under the single leadership of Krider.
A few months ago Brent Payne resurfaced and has since independently launched a new MLM/Network Marketing company, Avant. Referring to Avant as 'the awareness company' Payne appears to be going at this venture alone.
Meanwhile Shane Krider partnered up with top Polaris Media Group advisor Rachel Oliver and have since launched a continuation of Polaris Media Group, Polaris Global.
For all intents and purposes it appears Shane Krider and Brent Payne have well and truly split up and parted ways.
…well, almost.
Most likely to capitalize on their Liberty League associates requiring leads to grow their business, Krider and Payne launched their own lead generation business, Extreme Leads Inc., back in 2003.
Like Liberty League International, Extreme Leads Inc seems to have had its fair share of regulatory clashes.
Note: It appears at some point there might have been another company bearing the Extreme Leads Inc. name. Operating as ELI with a contact name Jeffrey Wilson and based out of Michigan.
Both companies using the Extreme Leads Inc. name appear to be involved in unsolicited telemarketing cold calling but I haven't been able to find any information on ELI, nor been able to link Jeffrey Wilson with Brent Payne, Shane Krider or Liberty League.
For now we'll assume they are two seperate companies, although I wasn't able to turn up any information on ELI operating as an independant business either. /end note
In June 2007 the FCC fined Extreme Leads Inc $1,377,000 for 'delivering at least 218 unsolicited advertisements to the telephone facsimile machines of at least 132 consumers'.
This fine came after multiple citations from the FCC warning Extreme Leads Inc to stop sending people unsolicited advertising via fax.
Interestingly, just over a month ago now on the 6th May 2010,  Shane Krider filed the 2009 corporation annual report for Extreme Leads Inc. In the report the two shareholders of the company are still listed as Shane Krider and Brent Payne.
You can see the report yourself by visiting the Arizona Corporation Commission entry for Extreme Leads Inc, scrolling down to the 'scanned documents' section and clicking the document number for the 2009 scanned report.
The scanned report lists the Extreme Leads Inc company address as 14300 N Northsight Blvd #210, Scottsdale Arizona. A google search for this address in turn leads us to website '800notes' where there are claims of unsolicited calls since April 2008 offering a 'webinar presentation', all originating from an 800 number bearing the same address.
There are no contact details on the current Polaris Global website, however the Northsight Blvd address can be linked to the company via a tutorial on the MyPolarisOnline website (the address features at the bottom of every page).
Despite being heftily fined it seems Extreme Leads Inc have stopped sending out faxes to people but instead now simply cold call from Polaris Global's business address offering them a 'career opportunity'. The last unsolicited call from on the 800notes website appears to have been reported on 28th April, 2010 just over a month ago.
Given that no mention of Liberty League, Polaris Media Group or Polaris Global appears to be made on the call it seems that the idea behind the call is to simply generate leads. This indicates that Extreme Leads Inc. is still operational and generating leads for its customers.
If true and Extreme Leads is not only still in business but turning over a decent profit, this explains why Krider has bothered to file the company's annual report to keep it registered. You'll note on the Arizona Corporate Commission entry for Extreme Leads Inc. that on the 3rd of May 2010 the commission sent Extreme Leads Inc. a reminder that their company report was overdue. The commission also threatened to dissolve the company if one wasn't filed.
Three days later on the 6th of May 2010, Krider filed the 2009 annual report.
The greater question raised by Krider bothering to file the 2009 annual report, Extreme Leads Inc's apparent recent telemarketing efforts to generate business and Krider and Brent Payne listed as sole shareholders of the company, is are the once business partners still in business together?
The money Payne needed to recently start Avant had to come from somewhere.
I can't really think of any other reason Krider would choose to keep Extreme Leads Inc. going unless it was still generating some sort of profit. Furthermore I'm at a loss to reason why Payne was listed as a shareholder, especially if he's not making any money from Extreme Leads Inc since leaving Liberty League in early 2009.
One can only wonder that if the pair do indeed still maintain a business relationship through Extreme Leads Inc., then are there any other business relationships between the two the general public aren't aware of.
If Extreme Leads Inc. isn't operating, then it begs the question as to why Krider would bother filing an annual report rather then dissolving the company itself. Or at the very least, remove Payne as a shareholder.