Wealth Creation Alliance Review: A micro Ponzi

There is no information on the Wealth Creation Alliance website indicating who runs or owns the company.
The company domain ('wcarev.com') was registered on the 19th August, 2012, however the domain registration information is set to private.
The server Wealth Creation Alliance is hosted on appears to be private and is also home to a number of other MLM business opportunities.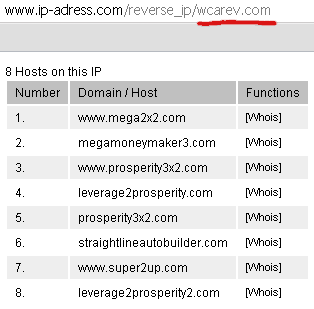 Mega 2×2 – a recruitment driven 2×2 matrix opportunity, launched February 2010
Prosperity 3×2 – a recruitment driven 3×2 matrix opportunity, launched May 2010
Mega Money Maker 3 – a $60 signup and $20 a month recruitment driven scheme paying out commissions with membership fees, launched in mid 2010 (now defunct)
Leverage 2 Prosperity – $10 recruitment driven 2×2 matrix opportunity, launched February 2011
Straight Line Autobuilder – $30 recruitment driven opportunity, launched July 2011
Super 2×2 – $10 a month recruitment driven opportunity , launched December 2011
Leverage 2 Prosperity 2 – $50 recruitment driven 2×2 matrix opportunity, launched December 2011
Out of the above companies, Mega 2×2, Prosperity 3×2 ownership is credited to Rob Nunes and Paul Skulitz. Leverage to Prosperity, Straight Line Autobuilder and Super 2×2 ownership is solely credited to Skulitz.
Given the above, there's a strong indication that Paul Skulitz is running and owns Wealth Creation Alliance. Whether Rob Nunes is involved is unclear but given past partnerships between Nunes and Skulitz, I wouldn't be surprised if he was also involved in some way.
Update 8th September, 2012 – In a comment left on this article, Skulitz has confirmed his ownership of Wealth Creation Alliance along with three unnamed "very good partners" (further information has been requested).
Skulitz also confirmed that Nunes 'is not part of this (WCA) and will not be part of it'. /end update
One other Skulitz-owned MLM opportunity, previously reviewed on BehindMLM, is Biz Power Extreme, a $29.95-$39.95 recruitment driven opporunity launched in Jaunuary 2012.
Why Skulitz does not disclose ownership of Wealth Creation Alliance on the company website is a mystery.
Read on for a full review of the Wealth Creation Alliance MLM opportunity.
The Wealth Creation Alliance Product Line
Wealth Creation Alliance has no retailable products or services. The company states on its website that
ANYONE can profit with this business model, WITHOUT SELLING ANYTHING.
The Wealth Creation Alliance Compensation Plan
Operating on a micro scale, Wealth Creation Alliance members join the company for free and then are able to make $2 investments with the company.
After an investment has been made, Wealth Creation Alliance pay out a daily ROI, with investments reaching maturity once the ROI hits $3.25.
Of this $3.25, 65% has to be re-invested with members only able to withdraw out of the remaining 35%. Each investor is able to invest a maximum of $10,000.
In addition to paying members a return on their personal investments, Wealth Creation Alliance also pay out referral commissions. 10% is offered on investments made by directly recruited members (your level 1), and 5% on any investments made by members your directly recruited members recruit (your level 2).
Joining Wealth Creation Alliance
Membership to Wealth Creation Alliance is free, however members must invest if they with to withdraw any earnings.
Free members are able to earn virtual profits via referral commissions, however if they wish to withdraw they themselves must first make an investment into the scheme.
Conclusion
Wealth Creation Alliance market themselves as
an advertising site that will cater to your advertising needs. We are not an investment company or HYIP,
stating that any 'earnings are just a bonus to our valued members'.
This is put forth on the contention that when members invest in the company, they are infact not investing but rather purchasing "advertising credits".
As per the Wealth Creation Alliance refund policy, this is clearly not the case:
All sales are final. The products we sell are advertising credits and is automatically added to your account upon purchase so we do not offer any refunds.
If advertising credits were infact being sold by the company, logically should those advertising credits not be used, members would be entitled to a refund on unused credits.
Furthermore if advertising credits were being sold, there would be nothing stopping Wealth Creation Alliance members from marketing said credits to retail customers.
There would also be no need for a mandatory re-investment account either (why force your members to purchase anything?).
Mechanically members join Wealth Creation Alliance, invest money and then earn a guaranteed ROI of $3.25 on each $2 investment. This equates to a ROI of 162% for each investment made.
Wealth Creation Alliance don't guarantee the time in which this ROI is paid out, however they do specify
The more new customers that signup for our quality advertising, the more revenue that is generated to share across our customers base.
Given that, as demonstrated above, advertising is not being sold but rather members are investing into the scheme with the expectation of a 162% ROI being paid out to them, the above paragraph equates to "the more members invest into Wealth Creation Alliance, the more money we have to pay out".
With no other source of revenue other than member investments, effectively Wealth Creation Alliance is nothing more than a Ponzi scheme, albeit on a micro scale.
Looking at Skulitz's past ventures over the years, after the numerous launches of recruitment driven matrix schemes, it seems he's decided to kick things up a notch and enter the Ponzi scheme arena.
Unfortunately whereas in matrix based pyramid schemes when the recruitment stops, once members stop investing new money into Wealth Creation Alliance, the scheme will collapse.
The 65% forced re-investment rule will prolong things for a bit no doubt, but ultimately you can't continue to pay out >100% ROIs when all you're doing is shuffling new member investments around to pay off existing investors.