BitCoin Extreme Review: $12 eleven-tier Ponzi cycler

There is no information on the BitCoin Extreme website indicating who owns or runs the business.
The company does have an "about us" page on their website, but only the following vague marketing spiel is provided:
Bitcoin Extreme is a privately owned company operating on the Bitcoin exchange or trade market.

Founded in 2015 and managed over $1.5 million institutional investments which is now open to individual investors worldwide.
The BitCoin Extreme website domain ("btcxtreme.com") was registered on the 8th of October 2015, however the domain registration is set to private.
There is mention of a "Philippines Payment Gateway" on the BitCoin Extreme website, and the official BitCoin Extreme Facebook page posts are written in Filipino.
This strongly suggests that whoever is running BitCoin Extreme is doing so out of the Philippines.
As always, if an MLM company is not openly upfront about who is running or owns it, think long and hard about joining and/or handing over any money.
The BitCoin Extreme Product Line
BitCoin Extreme has no retailable products or services, with affiliates only able to market BitCoin Extreme affiliate membership itself.
The BitCoin Extreme Compensation Plan
The BitCoin Extreme compensation plan sees affiliates purchase $12 positions in a eleven-tier 2×2 matrix cycler.
A 2×2 matrix places an affiliate at the top of the matrix, with two positions directly under them (level 1):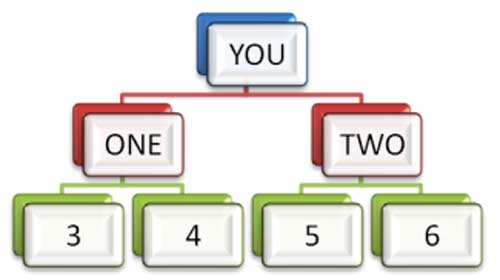 The second level of the matrix is generated by splitting the first two positions into another two positions each, for a total of six positions.
Commissions are paid out as these positions are filled, with their being eleven tiers in BitCoin Extreme's cycler.
How much of a commission is paid out when a matrix is filled, is determined by which matrix tier an affiliate is cycling out of:
Tier 1 – $2
Tiers 2 to 4 – $11
Tiers 5 and 6 – $23
Tiers 7 and 8 – $46
Tiers 9 and 10 – $116
Tier 11 – $1100 and 1 BTC, plus re-entry into a new Tier 11 matrix
Referral Commissions
A $1 commission is paid out per personally recruited affiliate.
If a BitCoin Extreme affiliate personally recruits 10 affiliates, they qualify for a 5% residual referral commission.
This referral commission is paid out on the matrix cycler earnings of personally recruited affiliates.
Joining BitCoin Extreme
BitCoin Extreme affiliate membership is tied to the purchase of a $12 matrix position.
Any additional position purchases will increase the initial cost of BitCoin Extreme affiliate membership.
Conclusion
BitCoin Extreme is about as raw a matrix Ponzi cycler as you can get.
The usual pretense of purchasing advertising credits or some such is absent, with it openly acknowledged that BitCoin Extreme affiliates are investing:
WHAT ARE THE STEPS FOR REGISTRATION IN BITCOIN EXTREME?

In the opt-in page, pay the $12 initial investment. Payments can be made thru Paypal, Smart Money or GCash.
As per the matrix cycler compensation plan used, all BitCoin Extreme are thus doing is using newly invested funds to pay off existing investors.
BitCoin Extreme affiliates invest in $12 positions, on the promise of an eventual $1389 ROI.
At the time of publication 1 BTC = $327, bringing the total ROI promised to BitCoin Extreme investors to 1716.
On the math side of things you're looking at 339 positions required to see one BitCoin Extreme cycler position paid out. Referral commissions see this number jump even higher.
The reality of matrix cyclers is the admin(s) typically preload the schemes to the hilt, ensuring that their positions are likely the only to progress to the upper levels of the tier.
This equates to them withdrawing most of the funds invested in the system.
In BitCoin Extreme this is evident with the admin's top positions rotating through the eleventh tier, which pays out more than the other ten tiers combined.
Everyone else meanwhile left with stalled positions once recruitment dries up.
BitCoin Extreme is no different. Once recruitment of new affiliates dries up the scheme stops paying out.
At that point investors who haven't withdrawn more than the sum of their position investments lose out, with this statistically being the majority of participants in such schemes.