Suspected BitConnect owner also behind RegalCoin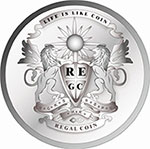 RegalCoin launched in late 2017, at the height of the BitConnect lending Ponzi craze.
RegalCoin itself was unremarkable. In our September 2017 review, we noted it was just another BitConnect clone.
Turns out this was true beyond the business model, following Indian authorities outing Divyesh Darji in connection to RegalCoin.

As with BitConnect, whether Darji (right) ran RegalCoin is unclear. Indian authorities have pegged him as the highest link of the Ponzi scheme in India.
According to the Ahmedabad CID, Darji stole "lakhs of rupees" through BitConnect. He has also been tied to Dekado Coin, another collapsed crypto Ponzi.
Details of Darji's involvement in RegalCoin came to light following complaints from three victims.
Following Darji's arrest in relation to BitConnect he was released on bail.
He has since gone into hiding and is on the run from authorities. Unfortunately this is a recurring theme in India.