Court freezes Australian BitConnect scammer's assets

An Australian court has frozen BitConnect Director John Bigatton's assets. Bigatton is also prohibited from fleeing the country.
In addition to being a Director of BitConnect International PLC in the UK, Bigatton was the sole representative of BitConnect Australia.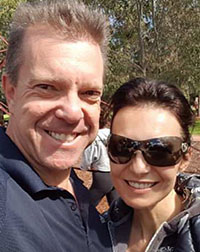 Bigatton's asset freeze and travel ban is part of an ongoing investigation into BitConnect by the Australian Securities and Investments Commission.
ASIC is believed to be working with regulators in other countries, although specifics have yet to be made public.
In March last year Bigatton's wife Madeline (right, with John) went missing. Her disappearance coincided with BitConnect's collapse a few months earlier.
To date there have been no sightings of Madeline Bigatton, nor has her body been found. NSW police still consider Bigatton's wife a missing person, although they've since referred the matter to the coroner.
Update 4th September 2020 – As part of ASIC's ongoing investigation, John Bigatton has been given a seven-year financial services ban.
Update 18th November 2020 – Asic has filed criminal charges against John Bigatton.