BitConnect FBI investigation update, Director's wife missing

BehindMLM first reported on an FBI investigation into BitConnect back in March, following confirmation from top-investor Trevon James.
Following the disappearance of BitConnect Director John Bigatton's wife, authorities have confirmed the FBI investigation is ongoing.
John Bigatton is listed as a Director of BitConnect International PLC, a shell company made up of BitConnect executives and top investors.
How much money Bigatton stole from BitConnect victims is unclear.
Last November at a BitConnect event in Thailand, Bigatton was awarded a $50,000 bonus for his promotional efforts.
He also boasted about being able to purchase a new BMW last December.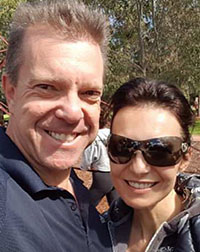 Following BitConnect's collapse in January, Bigatton and his wife (right) are reported to have run into "money problems".
Bigatton and his family reside in an unfinished mansion in Sydney, Australia.
Bigatton's wife Madeline went missing on March 25th. Her SUV would later be found by authorities parked at nearby cliff side lookout.
(A) relative said Mrs Bigatton had hinted to family she was in a 'dark place' in the days before she vanished, but insisted it was totally out of character for her to do anything to harm herself.
Bigatton's wedding ring was found inside the car, however her body hasn't been recovered.
A few days after Madeline disappeared, John Bigatton celebrated Easter with relatives. He appeared unperturbed by his wife's disappearance.
An email cited by Daily Mail Australia meanwhile confirmed John Bigatton is a person of interest in the FBI's BitConnect investigation.
In an email seen by Daily Mail Australia from an FBI Special Investigator to a former Bitconnect investor, Mr Bigatton is listed as being a person of interest in the bureau's enquiries.

In part the email reads: "I am currently looking into a matter involving Bitconnect and its cryptocurrency Bitconnect Coin. 

I would like to conduct a phone interview to speak with you about your Facebook conversations with Mr Bigatton."
Whether John Bigatton himself has gone into hiding is unclear. Police are treating his wife's disappearance as a missing persons case for now.
One additional interesting tidbit is that
two men of subcontinental appearance … found the keys to Ms Bigatton's car a week after she vanished.
Police don't have the details of the two men. It's worth noting though that BitConnect ownership reportedly originates in India.
The current status of the FBI investigation is unknown. Other than media coverage of related events, I suspect we won't hear too much until they're ready to make arrests.
In addition to John Bigatton, several BitConnect executives and top investors remain at large.
Update 25th June 2018 – Additional information from a followup Daily Mail article;
In the months before she vanished she and husband were target of death threats.

The mother-of-two told friends that she was 'really cut up' by the abuse received.

But she hit back and defended her husband.

'I'm absolutely shocked at peoples behaviour,' Mrs Bigatton wrote to a friend.

'I understand how people can emotional when they lose money, but to blame and accuse other people for their actions is unbelievable.

'Even more shocking are the lies being said. It really cuts me up as John doesn't have a single bad bone in his body and would only be involved in something if he truly believe that it would have positive impact on peoples lives.

'I know that we will work through this and come out of it stronger. Yes, we must stay united.'
Sounds like your typical "thanx for the money suckers, your losses are your fault" Ponzi scammer response.
I'm tipping she's done a runner to safeguard Bigatton's crypto stash. Suicide doesn't make sense.