BitConnect scammer John Bigatton receives securities ban

John Bigatton, former Bitconnect Australian National Representative, is the subject of an ongoing investigation by the Australian Securities and Investments Commission (ASIC).
As part of ASIC's investigation, Bigatton has been slapped with a seven year financial services ban.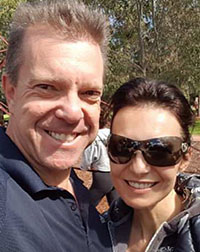 Although ASIC states its investigation into Bigatton (right, with his missing wife) is ongoing, thus far the regulator has
found that, in connection with his promotion of BitConnect and the BitConnect Lending Platform, Mr Bigatton  provided unlicensed financial product advice and engaged in conduct, in relation to financial products and financial services, which was misleading or deceptive or was likely to mislead or deceive.

ASIC further found that Mr Bigatton:

-is not a fit and proper person to provide financial services;

-is not adequately trained, or is not competent, to provide a financial service or financial services; and

-is likely to contravene a financial services law.
What the findings might lead to with respect to ASIC's ongoing investigation, including possible criminal charges, is unclear.
Update 18th November 2020 – Asic has filed criminal charges against John Bigatton.