BitConnect's Glenn Arcaro cops $28 mill judgment in SEC case

BitConnect's Glenn Arcaro has been sentenced to a $28 million judgment in his SEC fraud case.
Broken down, Arcaro's September 29th judgment constitutes $24 million in disgorgement and $4.1 million in prejudgment interest.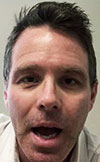 Arcaro (right) is currently incarcerated, following a 38 month prison sentence handed down last September.
Factoring in time served, BOP records show Arcaro is scheduled for release in June 2024.
As part of his guilty plea and cooperation with authorities, Arcaro was stripped of $56 million in cryptocurrency in 2021. Arcaro's civil SEC judgment is satisfied by that amount.
There's been no movement on the SEC's case against BitConnect promoters for some time.
The civil case was stayed, pending founder Satish Kumbhani's arrest. Kumbhani fled India and is believed to be hiding out in Dubai.
There is also the possibility of BitConnect's promoters being indicted. There's been no updates on that either though since 2021.