BitClub Network trying to cash in on passive trading bot trend

Following the collapse of their mining Ponzi scheme late last year, BitClub Network is now asking gullible investors to pay them for access to a trading bot.
Trading bots have emerged as a trend throughout the MLM underbelly of late.
Everyone has one, withe each bot developed by who knows who and supposedly able to generate infinite money on demand.
Begs the question why the owners don't just use the bots themselves. But by the time rubes think to ask, they've realized the bots don't work and sorry for your loss.
In BitClub Networks' version of the trading scam model, they're asking investors for up to $3500 for access to "unlimited algorithms".
Trader Pack #1 – pay $500 for access to three algorithms and be able to invest up to $2000
Trader Pack #2 – pay $1000 for access to seven algorithms and be able to invest up to $5000
Trader Pack #3 – pay $2000 for access to fifteen algorithms and be able to invest up to $15,000
Trader Founder Package – pay $3500 for access to "unlimited algorithms" and be able to invest up to $100,000
Fee payments are twelve months recurring, on top of the $99 BitClub Network sign up fee and what is invested.
Naturally no information about BitClub Network's magical algorithms, other than they supposedly trade bitcoin.
There's also no mention of the new trading scam on the BitClub Network website. Apparently it's only visible in the affiliate backoffice.
Despite being in steady decline over the past twelve months, BitClub Network's admins obviously still feel there's money to be made.
Cue gullible idiots keeping them in business handing over even more money, mostly from Japan, South Africa and China.
To be fair, BitClub Network has had a fair run. Five years is pretty good for what was just another reboot scam set up by Zeek Ponzi scammers.
Update 12th March 2019 – If you're wondering what's up with BitClub Network's foothold in Japan, apparently it's due to the efforts of this guy: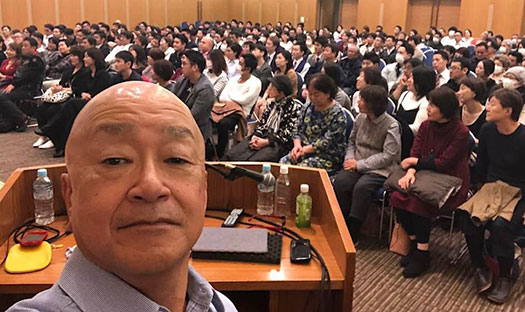 That's Andy Nakashima, at a BitClub Network event in Japan a few weeks ago.
Alexa currently peg Japan as the largest source of traffic to the BitClub Network website (21%).
Nakashima is a resident of California in the US. At the time of publication Nakashima is not registered with the SEC, meaning any offering of securities he makes is unregistered and illegal.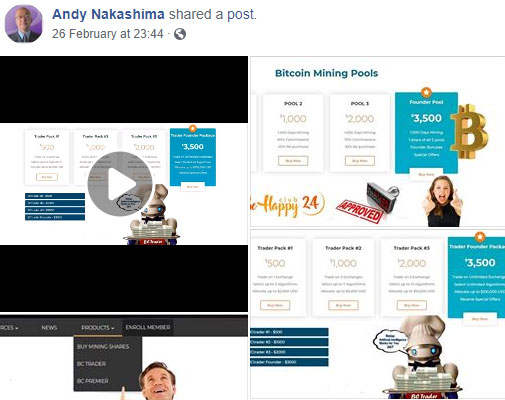 Technically speaking Nakashima shouldn't even be in BitClub Network, owing to it officially not operating in the US (*winkwink nudgenudge*).
Might be a bit hard to kick Nakashima out though, seeing as he's reportedly one of BitClub Network's founders.