Bidify to return to Ponzi scheme roots?

Three days ago Bidsson's recently appointed CEO quit the company and announced the newly revamped Bidsson 2.0 auctions would be going live 'in the next few days' (which hasn't happened yet).
No explanation as to why Liske abruptly ditched Bidsson was provided and within twenty four hours of the announcement going live on the official Bidsson blog, Bidify had removed Liske's resignation announcement altogether.
An additional three days later on November 4th, Bidify finally acknowledged Liske had left the company and in a blog post put out by "Bidify Corporate" the company wrote:
As you may be aware, our Former CEO has Broadcast a newsletter announcing his resignation.

This Newsletter has come as a surprise to us and we will release a formal announcement in the coming days.
Whether or not this "announcement" will clarify why the much hyped addition to the Bidsson corporate team quit after just a month at his post remains to be seen.
With that story still unfolding and Bidify's affiliate's earnings continuing to plummet, new announcements have now emerged indicating that Bidify are possibly looking at a "new" direction to take the company in.
In an email sent out to "BidifyGlobal" team affiliates within the last twenty four hours, "BidifyGlobal Admin" writes:
We have watched our bonuses and Bidsson activity slow down drastically.

(Bidify) Corporate has been working hard to address this. This Corporate staff is the most tenacious group of people I have ever had the privilege to work with.

We will soon be back to the old system and we will operate out of Europe 

I am confident we will be back to the hottest and most lucrative home business in the industry.
BidifyGlobal appears to be a team co-op consisting of Bidify affiliates and headed up by Rocco DiBenedetto.
Seemingly confirming the BidifyGlobal announcment, similar sentiments from other affiliates have began popping up on Bidify's official Facebook page.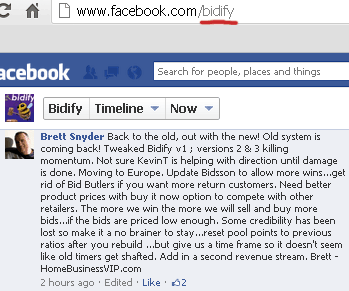 Amongst other things, affiliate Brett Snyder writes:
Back to the old, out with the new! Old system is coming back! Tweaked Bidify v1 ; versions 2 & 3 killing momentum.
Whether Snyder is just parroting the BidifyGlobal announcement or has obtained the information from a different source however is unclear. Bidify themselves put out an announcement only yesterday certainly indicating they'd be willing to do "what(ever) is necessary" to save their flailing business:
We would like you to know our primary interests are in our Affiliates. We will continue to do what is necessary to implement features that will increase overall productivity at Bidify and Bidsson.

We will not sleep until we are back on track and our commissions and profits grow and continue to move in an upward trend.

Bidify Ownership and management has a deep respect and appreciation to our entire affiliate base that has brought us to where we are today and we will not let you down.
The "old" system both BidifyGlobal's and Brett Snyder's announcements are referring to of course was the Ponzi scheme points based system similar to that of Zeek Rewards. Members signed up to Bidify, invested large amounts of money and received "points" in a profit share that largely consist of invested affiliate money.
These points were valid for 120 days and paid out a daily ROI based on the amount of money other affiliates had invested on that particular day.
This of course represents a Ponzi scheme however many members argued that the bulk of the profits were coming from the penny auctions, rather than member investment.
If that were truly the case however, one can only wonder how such a drastic change in affiliate commissions could occur when Bidify changed their compensation plan to remove the member investment component completely.
If the Bidsson penny auctions were so robust, surely a compensation plan purely revolving around the legitimate retail sale of Bidsson bids would flourish?
Despite the claims of legitimacy however, that is doesn't appear to be the case.
Looking back at Zeek Rewards, the first MLM company to run a penny auction using the Ponzi points compensation plan, when they were shut down (on the verge of collapse) by the SEC, it was revealed that a staggering 98% of daily ROIs paid out to affiliates was none other than invested affiliate money and membership fees.
As far as the Zeekler penny auctions went, on a retail level they contributed just 2% of the money being paid out to affiliates.
Despite these glaring facts indicating that without an attached Ponzi scheme compensation plan penny auctions didn't appear to be viable, Bidify scrapped their investment scheme plan and gave retail bids a legitimate shot.
How has that worked out for their affiliates? BehindMLM "Keira" shares:
A very good friend of mine put $15,000 USD (yep, that's fifteen thousand dollars) into Bidify last August, before the company did their compliance changes.

Their Bidify Bonus for yesterday (Nov. 3rd) was .80 EU. Yep, eight-tenths of a Euro.
As of yet no formal announcement has been made by Bidify regarding these rumoured changes and, if the time it's taken them to clarify Albert Liske's resignation is anything to go by, it's unlikely a response will be forthcoming till mid to late this coming week.
Examining what information we do have right now however, one possible reason these announcements are coming from the company's affiliates might be due to the recently assembled "Advisory Board" Bidify has been touting over the last week.
On November 1st (the same day Bidsson CEO Albert Liske quit), Bidify made the following announcement:
We have been working on setting up the Bidify Advisory Board consisting of Bidify Affiliates and we are excited about that the first Advisory Board Meeting will take place early next week.

The Bidify Advisory Board consists of 12 Affiliates from around the world, these 12 affiliates will be the organ representing the field and will be participating in decision making, planning new features and stay in constant contact with the management.
With a followup announcement coming out yesterday on November 4th,
We have assembled an Advisory Board, it is comprised of the 12 top producers and leaders in Bidify who represent different countries around the world.

The Advisory Board will convene on Monday and will continue to work with corporate to assit (sic) in the forward direction of our company.
With direct input into "the forward direction" of Bidify, could it be that these hand selected top 12 Bidify affiliates are demanding a return to the good old Ponzi scheme days?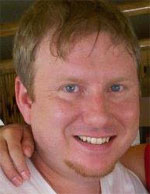 Attempting to address the continued abysmal payouts Bidify affiliates are earning, Todd Hirsch, who claims to be the the 4th top earner recruiter in Bidify, three days ago wrote:
The main problem is that Frode tried to turn a really good rev share penny auction/mlm program into a traditional MLM program…

The End of Zeek caused all the problems… Bidify was doing a REAL profit share from REAL profits from the Penny Auctions.
Ignoring the fact that if Bidify was infact previously sharing real retail profits from the Bidsson penny auctions and not just recycling invested affiliate money, the question of why have commissions plummeted now that they actually rely on the penny auctions, it certainly seems as if Hirsch is pushing for a return to the old Ponzi points compensation plan.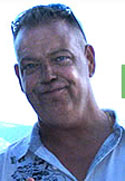 BidifyGlobal head honcho Rocco DiBenedetto (photo right) also seems to support a Ponzi points compensation plan. Complaining about not having invested early enough in Zeek Rewards, DiBenedetto wrote in March 2012:
When Zeek Launched I was offered a "top spot", as I am sure many of you who are reading this post were. I thought it was an easy 2 thumbs down for 1 main reason and never looked any further.

As the months progressed many of my strong team mates and friends diversified and joined the Zeek bandwagon with good reason. The testimonials grew, the system worked and it made many people money, in fact it was common to see and hear freinds  (sic) make great money.

I still believed it was a 2 thumbs down as they would be shut down, doomed, sooner or later.

I didn't take that early position due to my investigative process. Laws in the US deem this type of model a scheme and this was a major issue for me.
The "scheme" DiBenedetto is of course referring to is that of a Ponzi scheme but whilst indeed the laws of the US deem Ponzi schemes illegal, it is not US law that defines whether or not a business is a Ponzi scheme but rather their business model.
DiBenedetto goes on to state that he did go on to join Zeek Rewards regardless of his concerns, and later joined Bidify seeing it as an opportunity to get in on the ground floor of a similar Ponzi scheme he regretted missing the boat on:
So now comes the task of making up for lost time of NOT being in early, and replacing all of the probable associates that would have joined me had I have jumped in early.

Fast forward to Saturday night… out of the Blue, my sponsor in Bidify, Bob calls me and tells me about Bidify and sends me to the site. We looked it over for a few minutes and without hesitation, I told Bob, ALL IN!

I analyzed the site over the next few hours and just couldn't believe it, not only is this like the clock turning back to the launch of Zeek, I was being offered a Founders position to boot and knew it's value.
Whether Rocco DiBenedetto or Todd Hirsch are on the newly formed Bidify Advisory Board is unknown, however if these two "top earners" in Bidify's sentiments and willingness to embrace a Ponzi scheme business model are anything to go by, it would stand to reason that the rest of Bidify's top earners would be heavily pressuring management to return to Bidify's previous Ponzi scheme compensation plan.
Instead of just acknowledging that a penny auction and retail bid orientated orientated plan is simply not viable and calling it day, should Bidify's management go ahead with the relaunch of the Ponzi scheme business model – it would be a dark day for the MLM industry indeed.
Currently the largest MLM penny auction and longest running after Zeek Rewards, Bidify is largely recognised as the viability benchmark for the (legitimate) MLM penny auction niche.
Should Bidify decide that they are unable to continue business without an effective Ponzi scheme attached to Bidsson, not only would it spell the end for the legitimate MLM penny auction niche, it'd also cast severe credibility question marks over the rest of the companies operating in the niche.
In the meantime, while we wait for an official announcement regarding these disturbing developments over at Bidify, I'll leave you with some words of wisdom from Kevin Thompson, penned just after the Zeek Rewards Ponzi scheme was shut down:
Why am I angry?

I really think we lost our minds with this model. The MLM community took the bait and walked off a cliff like a herd of lemmings. Do you want to know what happened? I'm going to be candid:

Zeek exploited the gray. They took a bath in it. They skinned it and made a coat out of it. They hired the right people and adopted the right lexicon. And who is going to pay the price? The entire industry.

This is bigger than just the participants. There's an ocean of gray separating legitimate network marketing companies from pyramid schemes.

Instead of shrinking the gray, we fight like hell to obfuscate. As an industry, we're self-delusional. It's true. We think it's better to have vague standards. But now we're seeing first hand what happens when the inmates take over the asylum.

"Those are not investments, those are 'samples' given to 'customers' in an effort to entice them into buying more….it's like Amway distributors giving samples of soap to customers."

It's not the same thing! Amway distributors are not spending $50,000 on soap, giving it all away to strangers while dramatically increasing their earning potential. Amway distributors have a direct, real connection with customers.

With Zeek, it's just a combination of 1s and 0s on a computer screen. Who in the hell were these customers? Where were they coming from? Were they real? Were they ever asked to verify their accounts?

Nobody knew and nobody seemed to care. People knew the angle. They read from the script, mastered the narrative and explained with eloquence why Zeek was "just like Amway, but with penny auctions."

Zeek affiliates were essentially rewarded IMMEDIATELY after they bought the bids, regardless if they were ever used. This is not consistent with traditional MLMs.

I'm angry because they leveraged your credibility. They leveraged the credibility of my colleagues and competitors. They leveraged mine. And we all look like idiots.
Kevin Thompson is Bidify's current "legal advisor" and attorney, who the company claim they 'work closely with on all legal aspects of operating Bidify':

Naturally whether Thompson sticks around if Bidify do indeed go forward with plans to relaunch their Ponzi scheme compensation plan is a point of interest.
Will Bidify forge ahead with Zeek Rewards 2.0 and make the MLM industry look like "idiots" again?
Stay tuned…