Be & "Sky Team Experience" pyramid fraud warning from Uruguay

Be has received a pyramid fraud warning from the Central Bank of Uruguay.
As I understand it Be is promoted in Uruguay and possibly other South American countries as "Sky Team Experience".
As per the CBU's March 1st warning, Be and Sky Team Experience
could involve operations based in "pyramid" schemes, which lack financial sustainability.
The CBU additionally notes neither Be or Sky Team Experience are
are not registered under any form before the Central Bank of Uruguay nor do they have authorization to operate by the Superintendence of Financial Services.

Investors are cautioned that when investing, in addition to considering who offers them the product.
Unless they've changed their business model Be primarily operates as a pyramid scheme.
I believe the securities fraud warning might pertain to representations of manual trading, however in Be this is secondary to pyramid recruitment.
In the so-called "pyramid" scams, the alleged profits generated by early investors, rather than being generated by returns of your investment, are obtained or generated by your own investments or from
from the money contributed by other investors that are incorporated into the business.

When investors intend to withdraw the money invested, they usually they get stonewalled or are invited to reinvest to avoid withdrawal of funds.

Said operation lacks any financial sustainability.
Be is run by brothers Monir, Moyn and Ehsaan Islam, originally from the UK.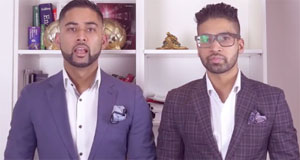 Monir and Moyn (right) were top promoters in the OneCoin Ponzi scheme, mostly targeting migrant communities.
After the Ponzi side of OneCoin collapsed in early 2017, the Islam brothers fled to Dubai.
Safe from authorities investigating OneCoin, the Islam brothers went on to launch Melius in 2018.
Melius pitched a $50,000 passive forex trading account for just $3000. Attached to this was a pyramid scheme compensation plan.
Melius collapsed in early 2020, prompting the Islam brothers to reboot as Better Experience, typically shortened to "Be".
In what appears to be an attempt to dodge regulatory attention, Be continues to spawn new domain names to operate from.
Past and present website domains linked to Be include:
befactor.com (original domain)
berules.com
betoinspire.com
be.club (current domain as of March 2023)
These domain names coincide with prior Be regulatory warnings from Canada and Colombia.
Authorities in Norway are also investigating Be for being a pyramid scheme.