Resort Cruise Club Review: Cash gifting and travel

There is no information on the Resort Cruise Club International website indicating  who runs or owns the business.
The domain 'resortcruiseclub.com' however was registered on the 5th of April 2012 and lists a Randal Williams from Prosperity Formula LLC as the domain owner.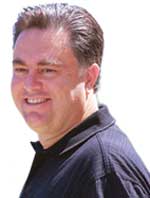 Randal Williams (also known as Randy Williams, photo right) first popped up BehindMLM's radar as one of the co-founders of the recruitment scam Fast Profits Daily. Teaming up with Brett Robinson and Scott Chandler (who had just quit as founders of AutoXTen, another recruitment scam), Williams launched Fast Profits Daily back in September 2011.
Less than six months later, in February 2012 Fast Profits Daily was relaunched as Profit Racer Pro. Profit Racer Pro used the same recruitment commissions model as AutoXTen and Fast Profits Daily before it.
The problem with the business model behind all three companies was that once new members stopped signing up, commissions dried up and the companies fell apart.
Now just three months after the launch of Fast Profits Daily it seems the company has stalled and Williams has decided to launch yet another company, Resort Cruise Club.
Is Resort Cruise Club International just another recruitment scam bound to fail in just a few short months like William's other MLM ventures, or has he learnt from his mistakes and launched a viable product-based company this time around?
Read on for a full review of the Resorts Cruise Club International MLM opportunity.
The Resort Cruise Club Product Line
Resort Cruise Club International has no retailable products or services. Instead, members of Resorts Cruise Club are required to market and sell membership to the company itself to prospective members.
Membership to Resorts Cruise Club International provides members with access to third-party travel booking services, with the company itself having no part in the purchase of any travel related products or services:
Resort Cruise Club is NOT the "Booker of Travel". All travel booking are done through our travel partners and their vendors.

In the event you have travel related billing issues, you deal directly with our travel partner to resolve any issues.
The Resort Cruise Club Compensation Plan
The Resorts Cruise Club compensation plan revolves around the sale of $25 and $75 memberships, with 100% of the membership fee being paid out as a commission.
In order to qualify for commissions, members must recruit at least two new members a month.
The basic idea is that you sign members up and earn a $25 or $75 commission monthly, depending on which membership option they choose.
Every 2nd, 4th, 6th and 8th and then 5th membership sale thereafter is passed to your upline. In turn, the same numbered sales of your downline are passed up to you.
Note that if you only purchase the $25 membership option, you are only qualified to earn $25 commissions, the remaining $50 is paid out to your upline.
Premier Membership Commissions
In addition to the basic membership commissions above, Resort Cruise Club also pay out commissions on the sale of Premier Memberships. These Premier Memberships range in price from $247 to $9,997 and are basically extended travel memberships to third-party travel vendors.
On the sale of these memberships Resort Cruise Club offer commissions ranging from $150 to $5,000 and they function in much the same way as the regular membership commissions.
Once again the 2nd, 4th, 6th, 8th and thereafter every 5th sales commissions are rolled up to uplines. One catch with the Premier membership commissions however is that Royal Cruise Club members are only qualified to earn commissions on the sale of Premier memberships they themselves have bought (or lower).
For reference, here are the Premier membership commission payouts (membership cost in brackets):
Emerald – $150 ($97)
Diamond – $500 ($697)
Platinum – $1,000 ($1,617)
Ambassador – $2,000 ($2,997)
Executive Ambassador – $3,500 ($4,997)
Royal Ambassador – $5,000 ($9,997)
For example, if you bought an 'Ambassador' Premier membership for $2,997 you'd be entitled to full commissions up to the Ambassador level. If you sold a higher level Premier membership, let's say an 'Executive Ambassador' membership for $4,997 (commission: $3,500) you'd still be entitled to the $2,000 Ambassador level commission, but the remaining $1,500 would be distributed amongst your upline.
Commissions are distributed also according to Premier membership rank. For example in the above scenario, if the immediate upline had only purchased an 'Emerald' membership, they'd only get $150 out of the $1,500, with $1,350 continuing to roll up until it was entirely paid out.
Members who have not purchased a Premier membership are naturally not qualified to earn on these commissions.
Coded Bonuses
On top of the regular Premier membership sales commissions outlined above, Royal Cruise Club also pays out a coded bonus up six levels. The first level is your immediate upline, the second their immediate upline and so on and so forth.
Coded bonus commissions are paid out only on Premier membership sales and the payout is split between Level 1 commissions and levels 2 to 6 as follows:
Emerald – Level 1: $20, Levels 2 to 6: $7
Diamond – Level 1: $35, Levels 2 to 6: $12
Platinum – Level 1: $75, Levels 2 to 6: $25
Ambassador – Level 1: $100, Levels 2 to 6: $35
Executive Ambassador – Level 1: $250, Levels 2 to 6: $50
Royal Ambassador – Level 1: $700, Levels 2 to 6: $100
Infinity Power Bonus
The Infinity Power Bonus kicks in once a Resort Cruise Club member has sold five memberships in any given month. Once qualification is achieved, this member then earns a bonus of $10 to $100 (depending on membership level being sold) on every membership sold by their downline for the rest of the month.
The downline members this bonus is earned on can be capped if another member in the downline qualifies for the Infinity Power Bonus.
For example, if you qualify for the Infinity Power Bonus you are then qualified to earn on membership sales by your entire downline. If 2 days later a member on your level 6 also qualifies, the members you can earn on are then restricted to levels 1 to 5.
Joining Resort Cruise Club International
Membership to Resort Cruise Club International comes in two options:
$25 Traveller membership and $75 Cruiser membership with both options attracting a $19.95 a month admin fee.
There are Premier membership above this however they are handled via third-party partners. One of the above two membership options are still required in any case, meaning that both the Traveller and Cruiser membership options are an unavoidable cost of joining Resort Cruise Club International.
Conclusion
Whereas Randy Williams' past companies focused on a once off membership fee, this time around Williams had added a monthly fee and substantially increased the membership costs into the thousands.
The end result is sadly still an opportunity dependent on recruitment but now with the addition of membership options that cost thousands of dollars, one which could suck a lot more money out of members.
Commissions are only paid out on the level members themselves buy-in at and with 100% of the basic membership commissions being paid out to members, it's clear that the Royal Cruise Club membership options is a simple cash gifting scheme being played out between members.
The cost of the Premier membership options are grossly inflated to cover the commission payouts to members with commission overheads hitting 80% of the membership price at the Executive Ambassador level.
With these memberships being handled by third-parties though, all that really needs to be analysed are the two membership options offered by Royal Cruise Club themselves, that being the Emerald and Cruiser options.
Members make their money by signing up new members who pay 100% of their membership fees as commissions, whilst the company makes its money from everybody's $19.95 admin fee.
If people stop joining or paying their monthly membership fees, the entire company fails and all the while no actual products or services are being sold through the company itself.
No doubt members of the company will put up the argument that travel services are available as part of membership to Resort Cruise Club, however the company clearly states otherwise:
Resort Cruise Club is NOT the "Booker of Travel". All travel booking are done through our travel partners and their vendors.
As with Randal Williams' other MLM ventures over the past six months or so, it's easy to see that without a constant influx of new members Resort Cruise Club isn't going to be able to sustain itself in the long-term.
Sooner or later those new members will dry up and then so too will the Resort Cruise Club opportunity.