ATC Coin founder wanted by police for diverting invested funds

Subash Jewria (aka Subhashchand Jewria) founded the ATC Coin pump and dump altcoin pyramid scheme earlier this year in March.
Built on the ATCC cryptocurrency, Jewria offloaded premined ATCC to victims based on the "projected value" of the coin.
According to official ATC Coin projections, ATCC was supposed to be worth a minimum ₹25 INR (38 cents USD) by October, 2017.
Rather than steady organic growth however and fueled by speculative investment and pyramid recruitment commissions paid through ATC Coin, ATCC peaked at $1.90 USD on September 10th and over the past month has crashed back down to about 64 cents.
That's still higher than the initial projected October value of 38 cents, however that estimate was based on continued growth.
ATC Coin's business model saw affiliates park purchased ATCC for 18 months, on the promise of a ROI paid out in ATCC.
With ATC Coin affiliate recruitment slowing down the value of ATCC continues to collapse.
The losses of ATC Coin affiliates who bought in during ATCC's pump phase meanwhile continue to climb, which inevitably prompted the filing of police reports.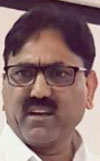 The Mumbai EOW yesterday charged Jewria (right) and his brother, Chirag Jewria, with misappropriating funds invested into ATC Coin.
A preliminary investigation by the EOW found ATC Coin 'was a bogus scheme floated by Jewria in the garb of a cryptocurrency'.
According to the EOW, Jewria solicited 84 crore investment from the general public (₹840 million INR or $12.9 million USD), which he diverted to personal bank accounts.
Jewrie purportedly used funds invested by ATC Coin investors to purchase property.
The investors were asked to deposit the money in the account of Jewria Services Club India Pvt Ltd. Brothers Subhashchand and Chirag are the directors of this firm.

Ideally, the amount should have gone to the account of ATC Coin Ltd, however, not single rupee was deposited in the account.

Instead, a major portion of this amount has been transferred to the personal accounts of the two directors.

It a classic case of fraud committed by floating a multi-level marketing scheme and luring investors with high returns and enviable rewards like sponsoring a foreign vacation or gifting high-end cars and also the claim that after completion of a lock-in period of 18 months, the cryptocurrency could be used for online shopping.
An investigation into ATC Coin's corporate structure found
ATC Coin Ltd, a UK-registered company with a registered address in Covent Garden, London, was floated to engage in the business of fund management and also create a cryptocurrency by name 'ATC Coin' with Jewria as its sole director.

"When we verified the office address, we found that around 9,000 companies were registered at the said address.

However, it did not include the name of ATC Coin Ltd, thus it is a fictitious company which only exists on paper", added the official.
Attempts to verify claims ATC Coin could be used on the online store Flipkart or used to pay utility bills, similarly turned up no supporting evidence.
The EOW has charged Jewria and his brother with
cheating (420), criminal breach of trust (409) and criminal conspiracy 120 (B) of the Indian Penal Code (IPC) and certain sections of the MPID Act.
Police managed to seize 28 bank accounts and recover 65 crore, 'which it is hopeful of giving back to investors in the company's business'.
Jewria's Mumbai office and residential address have been raided, however his whereabouts and that of his brother are currently unknown.