9 MarketPeak promoters arrested in Japan (Bitopex reboot)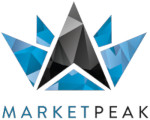 Nine local promoters of the MarketPeak Ponzi scheme have been arrested in Japan.
An investigation by Osaka's Police has revealed approximately 2515 MarketPeak victims, who together have lost ~$5.5 million.
Following the filing of a complaint last year, Osaka's police opened up a MarketPeak investigation last October.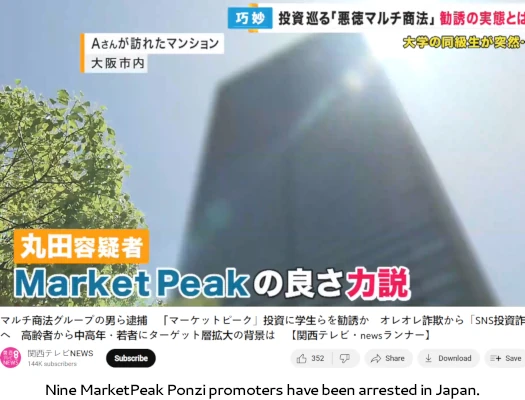 Osaka's police have identified Japanese MarketPeak victims as being "mostly young people in their 20s".
As reported by The Asahi Shimbun on May 24th, among those arrested include;
The unemployed Takahiro Sakamoto, 33, from Tokyo's Minato Ward, the unemployed Takeshi Wakita, 28, from Chuo Ward, Osaka, and the unemployed Yugo Maruta, 23, from Kita Ward, Osaka.

A total of nine people, including each suspect and three university students.
Victims of MarketPeak in Japan were told they
would receive 8% of the investment if they introduced it to others, and 2% of the "referral fee" if that person introduced them to another person.
Additional reporting from NHK, who interviewed MarketPeak victims, lays out the reality;
When I went to transfer money, I was forced to take a loan to consumer finance, but I paid 1.4 million yen from my savings.

At that time, there was no exchange of written contracts.

A few months later, crypto assets crashed, so when I asked for a refund, I couldn't get in touch with my acquaintances.

About a year has passed since I invested, but so far I have received dividends for about one-fifth of the investment amount, and my acquaintances have blocked (me).
For readers who speak Japanese, Kansai TV News have covered the arrests on YouTube.

MarketPeak is operated by serial Ponzi promoter Sergej Heck (right).
Officially MarketPeak is incorporated in Dubai through the shell company Peak Tech.
Heck, born in Kazakhstan with ties to Switzerland, appears to have also fled to Dubai at some point.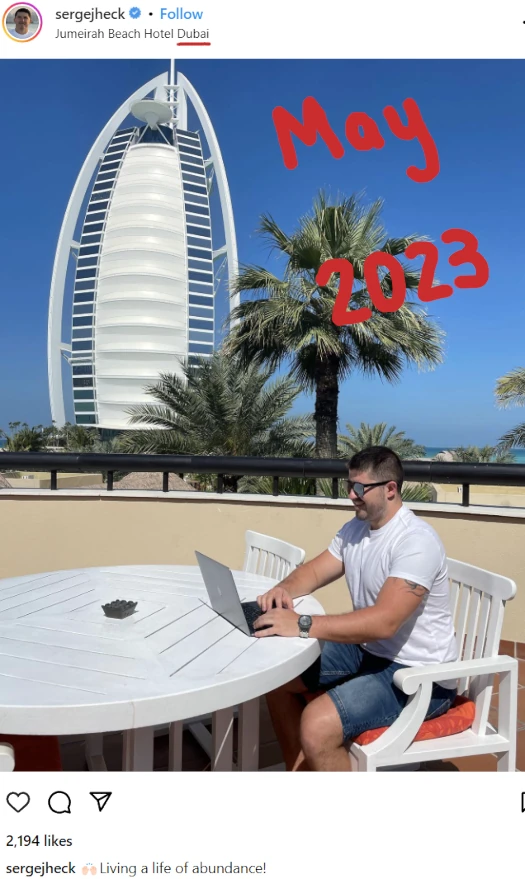 BehindMLM reviewed MarketPeak in April 2020. We found an MLM cryptocurrency Ponzi scheme operating through PEAK token.
Back in early 2020 PEAK was publicly trading at 9.5 cents. Three years later PEAK has collapse-dumped to 0.1 of a cent.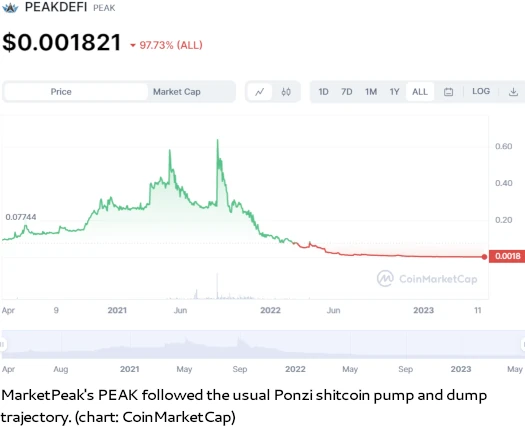 Within MarketPeak were two smaller Ponzi schemes; BitPhoenix and MasterNode Pools.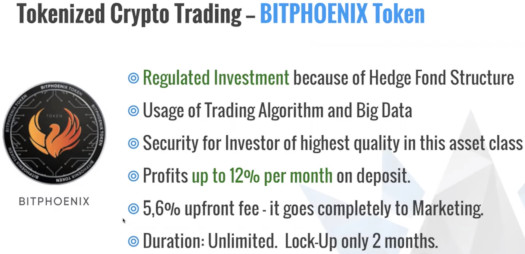 Both appear to be dead, which isn't surprising seeing as MarketPeak itself has collapsed.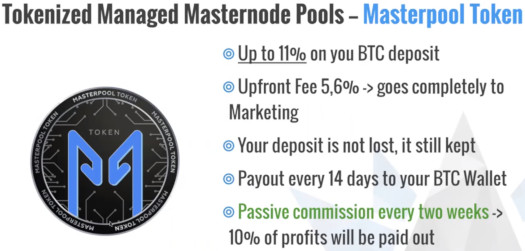 SimilarWeb tracked declining negligible traffic to MarketPeak website throughout 2023.
A post on MarketPeak's official FaceBook page reveals the company was rebooted as Bitopex on or around April 24th.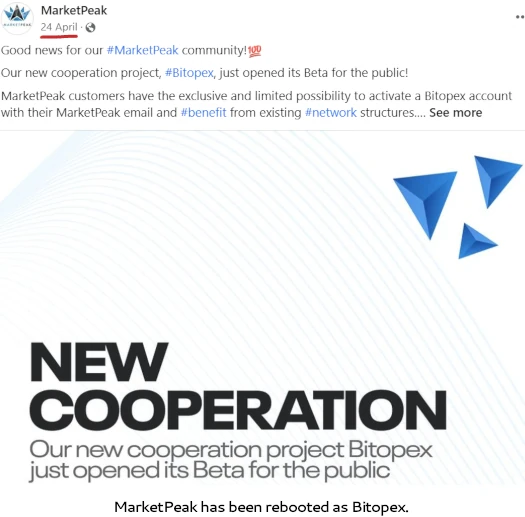 MarketPeak customers have the exclusive and limited possibility to activate a Bitopex account with their MarketPeak email and #benefit from existing #network structures.

As Bitopex [BPX] is our new #airdrop project, you can get #BPX #token when you purchase a MarketPeak membership or upgrade an existing membership.

You will also get #HOLY token until the end of April, as we are going to stop the HOLY distribution with new memberships and upgrades from May on.
New company name, new tokens, same Ponzi scam.
Currently, your BPX balance will be credited to your MarketPeak back office, but you can not withdraw.
Bitopex operates from the website domain ("bitopex.io"), privately registered on January 16th, 2023.
Instead of investing in worthless Ponzi shitcoins, Bitopex sees Sergej Heck transition to a trading bot Ponzi model.
Join our open beta and get early access to our cutting-edge platform.

Experience the power of crypto options trading with our intuitive user interface, risk management tools, and simplified pricing.
Given MarketPeak had collapsed long before Bitopex was launched, I'm not expecting it'll gain any traction.