$31.9 million 8 Figure Dream Lifestyle settlement reached

Rather than clear their names at trial, the 8 Figure Dream Lifestyle defendants have settled with the FTC.
As per the proposed settlement, John A. Bain, Alex Dee (aka Alex S. Dowlatshahi), Brian M. Kaplan and Jerrold S. Maurer will cop a $31.9 million judgment.
The proposed settlement also applies to corporate defendants 8 Figure Dream Lifestyle LLC, JL Net Bargains Inc., Kappy Enterprises LLC, Millionaire Mind Enterprises LLC and Spirit Consulting Group.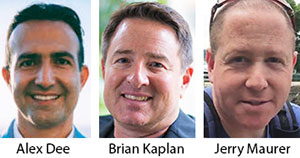 The proposed settlement judgment amount will be satisfied by
liquidation of of Bain's, Dee's, Kaplan's and Maurer's cryptocurrency holdings (as previously ordered);
$418,708 held in escrow by the defendant's attorney;
funds held in U.S. Bank N.A., Wells Fargo, TD Bank, JP Morgan Chase bank accounts;
funds held in PayPal accounts belong to JL Net Bargains and Jerry Maurer; and
liquidated securities held in the name of Brian and Andrea Kaplan;
Upon the above being turned over to the FTC, the remaining judgment balance will be suspended.
Unfortunately the amount paid against the $31.9 million judgment is not disclosed.
In addition to the monetary component of the settlement, the individual defendants will also be banned from having anything to do with "money-making methods", investment opportunities, robocalls and telemarketing.
The defendants are also prohibited from using customer data acquired through 8 Figure Dream Lifestyle, 8FDL, TiDom, Online Entrepreneur Academy and 14 Day Champion Challenge.
Finally, the defendants are required to
provide notification of the settlement to anyone they get into business with;
submit compliance and change of details reports with the FTC; and
keep records of their business activities (including accounting and consumer complaints) over a rolling five-year period.
Both of the above conditions must be adhered to for the next fifteen years.
If approved, the settlement will bring to a close the FTC's 8 Figure Dream Lifestyle fraud case.
As alleged by the FTC, through 8 Figure Dream Lifestyle, defendants Bain, Dee, Kaplan and Maurer scammed consumers out of tens of millions of dollars.
Pending approval of the FTC's proposed settlement, stay tuned…
Update 22nd September 2020 – On September 9th the court approved the proposed settlement.
This brings our coverage of the 8 Figure Dream Lifestyle fraud case to an end.