8 Figure Dream Lifestyle sued by FTC for telemarketing fraud

The FTC has sued 8 Figure Dream Lifestyle and its Online Entrepreneur Academy spinoff.
The regulator alleges both companies and their owners commited telemarketing and consumer fraud.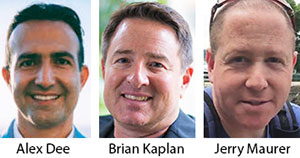 The FTC identifies John Bain, Alex Dee (fka Alex S. Dowlatshahi), Brian Kaplan and Jerrold Maurer (aka Jerry Maurer) as officers of 8 Figure Dream Lifestyle.
They are named defendants in the FTC's June 12th suit, along with 8 Figure Dream Lifestyle LLC, JL Net Bargains, OEA LLC (dba Online Entrepreneur Academy) and Spirit Consulting Group.
In BehindMLM's 2017 8 Figure Dream Lifestyle review, we noted ties to Scott Miller and Tidom.
Neither Tidom Inc. or Miller are defendants in the FTC's case.
According to the FTC, 8 Figure Dream Lifestyle has been marketing it's fraudulent opportunity to consumers since at least January 2017.
Defendants have used a combination of unlawful, pre-recorded telephone calls ("robocalls"), live telephone calls, text messaging, internet ads, emails, social media, and live events to market and sell fraudulent money-making opportunities to consumers under the names 8 Figure Dream Lifestyle or Online Entrepreneur Academy.
The pitch saw 8 Figure Dream Life claim
typical consumers with no prior skills or experience will earn $5,000 to $10,000 in 10 to 14 days, and earn $10,000 or more on a consistent basis within 60-90 days of buying into the program.
In contrast to these marketing claims, upon investigation the FTC found
the majority of the consumers who joined 8 Figure Dream Lifestyle- at a cost of $2,395 to $22,495- never earned substantial income, much less attained an "8 figure" lifestyle. They have lost their money, and many have incurred significant loans and credit card debt.
Hardly surprising upon consideration of 8 Figure Dream Lifestyle's gifting business model, which guarantees the majority of participants will lose money.
8 Figure Dream Lifestyle collapsed in 2018, prompting Alex Dee, Brian M. Kaplan, and Jerrold S. Maurer to split and launch Online Entrepreneur Academy.
The FTC states Online Entrepreneur Academy "is no different" to 8 Figure Dream Lifestyle.
The FTC alleges that through 8 Figure Dream Lifestyle and Online Entrepreneur Academy, Bain, Dee, Kaplan and Maurer have stolen millions of dollars from consumers.
Defendant Dee bragged in an early 2018 marketing video for 8 Figure Dream Lifestyle that he and Defendants Kaplan and Maurer had themselves received more than $6.5 million from over 500 consumers in less than two years, and further stated that the program as a whole had paid out "over $25 million in commissions" and had over 1,800 customers.

When launching Online Entrepreneur Academy in November 2018, Defendant Dee claimed that 8 Figure Dream Lifestyle had paid out "close to $30 Million in commissions."
Note that there are no "commissions" in either 8 Figure Dream Lifestyle or Online Entrepreneur Academy.
Funds purportedly paid out would be to top affiliates as gifting payments.
The FTC alleges both 8 Figure Dream Lifestyle and Online Entrepreneur Academy are "fraudulent money making opportunities.
The regulator filed a sealed lawsuit against the defendants on June 12th.
Of the named individual defendants, Alex Dee in particular stands out.
In their complaint, the FTC observes Dee has previously been sued for securities fraud twice.
In 2011 Dee was sued by the SEC for running a Ponzi scheme. He was ordered to pay back over '$800,000 in disgorgement, civil penalties, and prejudgment interest.'
In 2006, the State of California Business, Transportation, and Housing Agency found that Dee and others illegally offered securities for a purported gold mining operation while making material misrepresentations.
And here we are again, this time with two illegal gifting schemes.
The FTC's sealed June 12th lawsuit alleges violations of the FTC Act and Telemarketing Sales Rule.
Specifically;
one count of misrepresentations regarding earnings;
one count of making false or misleading statements to induce persons to pay for goods or services;
one count of making misrepresentations regarding material aspects of an investment opportunity;
one count of using unlawful prerecorded messages; and
one count of assisting and facilitating abusive or deceptive telemarketing acts or practices.
Relief sought by the FTC included an injunction, restitution, refund of monies paid by consumers, disgorgement of ill-gotten gains and costs.
On June 13th the court granted the FTC a Temporary Restraining Order, including asset-freeze, but denied its request for the appointment of a temporary Receiver.
A preliminary injunction hearing was scheduled for June 24th, at which the request for a temporary Receiver would also be revisited.
On June 21st the preliminary injunction hearing was rescheduled from June 24th to July 8th.
On June 24th the hearing was rescheduled again to July 19th.
In the interim, the granted June 12th TRO and asset-freeze remains in place.
At the time of publication the 8 Figure Dream Lifestyle website has been pulled offline.
The Online Entrepreneur Academy website is still up, although Alexa traffic rankings to the domain suggest the scheme has long since collapsed.
Stay tuned…
Update 20th July 2019 – A preliminary injunction was granted against the 8 Figure Dream Lifestyle defendants on July 18th.