Ruja Ignatova charged with Ponzi fraud by Indian authorities

Just over a week ago Indian authorities in Mumbai filed a chargesheet against six OneCoin affiliates.
The affiliates stand accused of promoting the OneCoin Ponzi scheme in India.
To date officers from the Mumbai EOW have arrested twenty-three suspects in connection with the promotion of OneCoin across India.
Following up on the original chargesheet filed last month, the Mumbai EOW have filed a new chargesheet naming thirty suspects.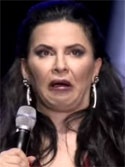 One of the suspects in the new chargesheet is Ruja Ignatova (right). Indian authorities have identified Ignatova as "the founder of the Ponzi scheme".
"In this sort of scheme, investors become the perpetrators as well as victims. It is clear that this is a Ponzi scheme," said Tushar Doshi, Deputy Commissioner of Police (Crime).
Facing increasing regulatory heat globally, Ignatova has kept a relatively low profile over the past year.
Public appearances by executives have been palmed off to appointed CEOs Pierre Arens and Pablo Munoz and various top OneCoin investors.
Thus far the Mumbai EOW have traced $11.6 million dollars stolen from Indian OneCoin victims.
$3.8 million has been recovered from seized bank accounts. Upon learning of the EOW's investigation and subsequent arrests, 'the accused moved away the rest of the money'.
Doshi added that several witness statements, as well as bank statements tying the accused to the financial transactions, are part of the initial chargesheet.
With the founder of OneCoin now wanted by authorities, it's unlikely promotion of the scam in India will continue. Whether Ignatova will travel to India to face the charges and clear her name is unclear.
Ignatova is believed to be hiding out in Dubai and/or Bulgaria. Despite mounting pressure from regulatory investigations in over a dozen countries, authorities in either country have yet to confirm their own investigations into OneCoin.