Cardiffs' contempt appeal denied, Poujade facing jail

Two recent rulings have seen
Jason and Eunjung Cardiff's contempt appeal denied; and
Jacques Poujade found to be in contempt.
Redwood principals Jason and Eunjung Cardiff were found in contempt back in April.
This marked the second time the Cardiffs were found in contempt. They were spared prison time owing to the COVID-19 pandemic.
On April 7th the Cardiffs informed the court they've filed an appeal against the contempt ruling in the Ninth Circuit.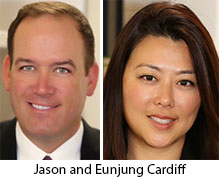 The Cardiffs attempted to use their appeal to stay proceedings but were denied.
On June 26th a case docket filing reveals the Ninth Circuit denied the Cardiffs' contempt appeal.
The stated reason for the appeal was lack of jurisdiction.
Since then the FTC has renewed efforts to have the Cardiffs incarcerated for contempt.
The FTC's third contempt motion against the Cardiffs is scheduled for hearing on July 17th.
Separately, the Cardiffs' accomplice Jacques Poujade has again been found in contempt.

Poujade (right) was originally found in contempt last November. Owing to his continued refusal to adhere to court orders, the FTC filed renewed contempt proceedings last month.
As per the June 26th order;
Poujade does not dispute that he violated the Court's Purge Contempt Order … and does not argue that he substantially complied or relied on a good faith and reasonable interpretation of the Order.

Accordingly, the Court provisionally GRANTS the FTC's motion for a contempt order.
The order incorporates the previous monetary penalty imposed on Poujade for contempt, which as of June 26th stands at $360,000.
On top of the fine, Poujade has been given until July 10th to comply with production of requested documents.
Failing which
the Court will issue a writ of bodily detention and warrant for civil arrest under its contempt power directing the U.S. Marshal Service to arrest and incarcerate Poujade until he purges his contempt.
As I understand it the $360,000 fine has also been suspended until the July 10th deadline.
At the time of publication there's no indication on the Redwood case docket to suggest Poujade has complied.
I've scheduled our next case docket check for July 11th. Stay tuned…
Update 11th July 2020 – No news on Poujade. The Cardiff's show cause contempt hearing has been pushed back to July 24th.
Update 18th July 2020 – Poujade appears to have caved. A docketed notice filed by the FTC on July 14th states:
Plaintiff Federal Trade Commission ("FTC") files this Notice to inform the Court that Poujade produced communications and a privilege log on July 10, 2020.
The FTC are going over what Poujade has produced and 'will inform the Court if there (is) any issues with compliance'.
We'll keep you updated on whether there's any issues.