Mark Scott OneCoin case in limine motions reveal desperation

Both Mark Scott and DOJ have filed their respective motions in limine, in preparation for Scott's November 4th trial date.
Perusal of the motions suggests Scott's defense will rely heavily on suppression and straw clutching.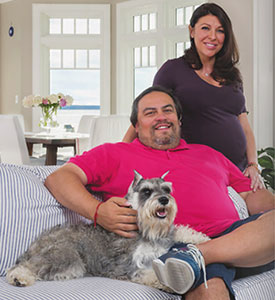 Mark Scott's defense motions in limine was filed on October 18th.
In summary, Scott (right, with his wife) put forth the DOJ
should not be allowed to refer to OneCoin investors as victims;
should not be permitted to introduce evidence pertaining to OneCoin investor losses;
should not be able to call witnesses that didn't personally invest in OneCoin;
should not be able to introduce evidence pertaining to how Scott spent the money he received in exchange for laundering OneCoin investor funds;
should not be able to call a money laundering expert witness.
The last one in particular is hilarious, considering Scott has been charged with money laundering.
As to the rest of Scott's demands, its clear his attorney hopes to minimize Scott's role in OneCoin. Not withstanding him being a central figure in the laundering of ~$400 million in stolen investor funds.
Take, for example, this amusing snippet;
even if OneCoin was a scam and a particular investor was in fact a "victim," the investor is not a victim of Mr. Scott's.
Because y'know, being the money guy responsible for laundering investor funds has nothing to do with OneCoin victim losses.
With respect to introducing a witness who decided to not invest in OneCoin, the angle Scott fears here is just how easy it was to ascertain OneCoin was a Ponzi scheme.
The Government has represented that it will likely call a witness who decided not to invest in OneCoin after reading Internet postings suggesting it was a scam.

Such testimony is entirely irrelevant and is clearly offered for the improper purpose of suggesting that because this one individual decided that OneCoin was a scam after Internet research, that Mr. Scott did or could have done such research, and therefore potentially came to a similar conclusion.
The implication being that Scott knew OneCoin was dodgy as hell, he just didn't care.
"Show me the monay so I can spend it on nice things! But also don't mention that at trial…"
Mr. Scott purchased a boat, property, sports cars, watches (and) luxury goods during or after the period of the charged offense.
It's obviously hard to walk Scott's role in OneCoin's fraud back, and so we have all the "suppress this, suppress that!" nonsense.
Based on his motion, "hide as much from the jury" pretty much sums up Scott's defense.
The DOJ's motions in limine seek to prevent Scott from trotting out defenses that have nothing to do with him laundering OneCoin investor funds.
The DOJ has requested Scott be prohibited from offering evidence pertaining to his "state of mind".
Specifically, the Government moves to preclude (1) evidence or argument concerning the defendant's family backgrounds, health conditions, ages, or any other personal factors unconnected to his guilt or innocence, and the potential punishment he faces if convicted; and

(2) evidence or argument concerning the defendant's prior commission of good acts or lack of bad acts.
Looks like Scott intends to put up some whopper sob stories at trial.
Of note in the DOJ's motions filing is reference to a "cooperating witness" (CW).
The DOJ identifies the CW as "a leader in the OneCoin fraud scheme".
The Government also expects to call the CW to testify at trial.

During the CW's testimony, the Government expects that the CW will testify about conversations with co-conspirators that were made in furtherance of the OneCoin Scheme.
In particular;
statements made to the CW immediately following Scott's arrest to protect and continue the charged conspiracies.
As to who CW is, my mind immediately went to Sebastian Greenwood.
Scott was arrested in September 2018. Greenwood at the time was still at large, until his arrest in Thailand in early November.
By the end of November 2018, Greenwood is believed to have been extradited to the US. Since then he's disappeared into an information black hole, which fits if he's cooperating with the DOJ.
I might be wrong on this and there could very well be some unknown player we're not aware of from the Sofia office.
Whoever CW is, the DOJ are being awfully cagey about it.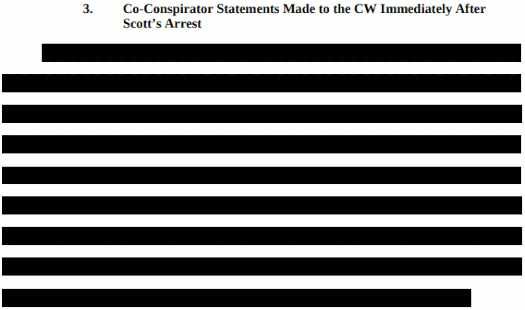 But honestly, I can't think of anyone else Mark Scott would turn to in a panic, that is high up enough in OneCoin to continue managing the money laundering… and someone the DOJ has access to.
Conspicuously, Greenwood has also not been publicly charged by the DOJ.
On the other hand if the DOJ has flipped Konstantin Ignatov, won't that be something. It still begs the question what on Earth happened to Greenwood though.
Guess we'll find out either way at trial.
One final thing I'll leave you with is this insight of life at the top of OneCoin;
The jury will hear that the participants in these conspiracies were extremely concerned for their physical safety, and took measures, including hiring bodyguards, and driving in armored vehicles, to protect themselves in response to threats of violence, and actual violence.

These threats and violence were directly connected to the conspirators' involvement in the OneCoin Scheme, including the handling and movement of large amounts of criminal proceeds, often in cash.

The evidence at trial will also show that because the conspirators were engaged in a criminal scheme, they were unable or unwilling to report these threats or incidents of violence to law enforcement authorities, and chose instead to protect themselves through other means, such as by hiring bodyguards.
Pending a published order on Scott's the DOJ's motions in limine, stay tuned…