CoinMD on the verge of collapse, Tom McMurrain asking for $100,000

In a "State of the Union" video published a few days ago, Tom McMurrain has revealed CoinMD is facing a "financial hurdle".
CoinMD has grown quickly – in fact too quickly and we have run out of operating capital. This is a good and bad problem.
Pending injection of new investment, McMurrain has threatened to "close the doors" by the end of the month.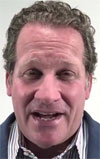 According to McMurrain (right), CoinMD is going through a "short-term cash crunch".
[00:49] The solution is a lot of people who have a vested interest pitching in (and) offering to help a little bit to fix it.
In attempt to raise funds, McMurrain launched a crowdfunding campaign on Crowdfunder.
[1:12] The Crowdfunder campaign is live and I'm committed to achieving the $100,000 goal.

If we do not reach this goal we may have no choice but to close down CoinMD by the end of the month.

We need a minimum of say a thousand members, who are willing to invest $100 or more to keep the CoinMD vision and mission alive.
Those that do invest have been promised equity, CoinMD tokens and commissions "to sell to a future member, so you can recoup your investment".
In other words McMurrain is looking for new CoinMD bagholders, or existing bagholders to take on more bags.
Then, in true Ponzi fashion, the only way to recover losses is to offload said bags onto new bagholders.
As per a response received from Crowdfunder support, as of a few hours ago Crowdfunder has removed McMurrain's CoinMD campaign.
The CoinMD campaign was removed from our platform.

Regards,
Support
CoinMD launched in mid 2017. The company's business model is essentially "blockchain something something I wrote an ebook on Amazon once something something healthcare".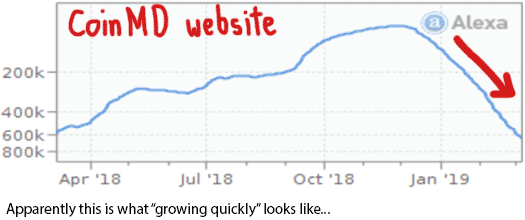 At the core of the business are CoinMD and CoinRewards tokens, which McMurrain generates on demand at little to no cost.
Through the CoinMD compensation plan, CoinMD and CoinRewards tokens are dumped on investors.
Neither token is publicly tradeable and thus they hold no value outside of CoinMD itself.
The MLM side of the business is your typical MLM cryptocurrency hype model with pyramid recruitment.
Since inception neither CoinMD or McMurrain have registered with the SEC, meaning the company operates illegally in the US.
Leaning into his former OneCoin downline, McMurrain managed to carve out a gullible group of investors from Nigeria.
At the time of publication Alexa estimates that roughly 73% of traffic to the CoinMD website originates out of Nigeria.
Neither McMurrain or CoinMD are registered with the Nigerian SEC either.
Meanwhile whether anyone in Nigeria has healthcare through CoinMD is unknown.
The company does not provide any audited disclosures to the SEC or its investors.
This includes how much has been invested in CoinMD since 2017, what invested funds have been spent on and how much is left.
Outside of CoinMD, McMurrain also operates what he calls the "Titan Trading Club".
Hello CoinMD Family,

Earn $1500 commission and prequalify for a $25,000 unsecured loan to build your cryptocurrency portfolio.

Titan Trading Club is LIVE and if you have a Silver Membership or above the $4995.00 Annual Membership Fee is waived.

You definitely want to check this out – CLICK HERE (tracking link broken)

Titan is an "in-house" Team Alliance Partnership so your CoinMD Team is protected and you can now start generating $1500 daily BTC commissions starting today.

Build a cryptocurrency portfolio and get Titan Trend Alerts to increase your cryptocurrency portfolio!

Register and watch the automated webinar system do the explaining, enrolling and training for you!
Here's an idea; perhaps McMurrain can "prequalify" himself for a $100,000 unsecured loan.
I mean if it's good enough to push onto CoinMD investors, why not "be a product of the product" and save CoinMD in the process?
Sure beats begging Nigerians for more money…
Update 7th March 2019 – In a followup email set out to CoinMD affiliate investors, Tom McMurrain is now claiming all is well.
Update 20th July 2019 – Tom McMurrain has taken the "State of the Union" video referenced in this article offline.