FTC fraud lawsuit making life difficult for Jason & Eunjung Cardiff

The FTC's ongoing lawsuit against Redwood Technologies and owners Jason and Eunjung Cardiff, is evidently making life very difficult for the defendants.
Facing eviction from the family home, a Judge has also now denied a request for the return of the Cardiff's passports – without which Jason claims he'll lose his new job.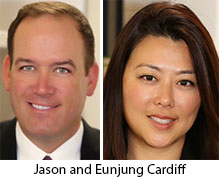 The FTC allege that Redwood Technologies and the Cardiffs 'have for years operated a fraudulent multi-pronged scheme that has bilked consumers out of millions of dollars'.
So far the FTC has been awarded a preliminary injunction and asset freeze. A Receiver has also been appointed and tasked with recovering Redwood related assets.
Among those assets is the Cardiff's Californian home.
According to Jason Cardiff;
the home is now under serious threat of foreclosure. Payments to the lender are now five months in arrears.
Rather than continue to pay the mortgage, the Redwood Receiver has opted to preserve frozen assets.
To that end the Cardiffs have been told 'the Receiver will soon take steps to remove (them) from the home'.
Following the Redwood Receiver's appointment, the Cardiffs approached
As his appointment, the Cardiffs approached the Redwood Receiver regarding a living allowance.
They were turned down, supposedly prompting Jason to seek alternative employment.
On about December 10th, 2018 Jason Cardiff accepted a position as a management consultant for Pharmastrip, a startup firm whose headquarters is located in Toronto, Canada.
According to their own marketing material Pharmastrip manufactures 'organic medical cannabis-infused in oral thin film strips'.
No idea how similar Pharamstrip's strips are to Redwood Technologies' own strips, suffice to say Redwood and the Cardiffs allegedly marketing their strips using  "false and unsubstantiated claims".
In any event, Jason Cardiff's "employment" with Pharamstrip will require him to "travel globally" and "attend brand launch events" in Toronto and Vancouver.
When he's outside of the US, Pharmastrip will provide the him with temporary housing accommodation.
To travel however Jason needs his passport, which was surrendered as part of the granted preliminary injunction.
On March 13th Jason and Eunjung Cardiff filed an ex parte motion requesting the return of their passports.
Without their passports, the Cardiffs can not travel for the requirements of the consulting contract which Mr. Cardiff has procured with Pharamstrip Corp.

If the Cardiff's [sic] can't travel so as to be able to fulfill Mr. Cardiff's consulting obligations, the Cardiff's [sic] will have no income whatsoever and, soon, no place to live and likely no job.

The government's attorneys have essentially hamstrung Mr. Cardiff's ability to move on with his life.
The same day it was filed, the Cardiff's motion was denied. No reasoning for the denial is provided in the order.
By his own admission, Jason Cardiff acknowledges
that (his) past conduct and past statements have resulted in certain skepticism of my conduct in the eyes of the Court, particularly about certain jewelry items.

The trip I took to Arizona on or about October 13th and the efforts I made to access funds in a bank in Arizona was to pay a requested retainer to hire an attorney. That was ill-advised.
Bear in mind that the Cardiff's predicament appears to be mostly of their own doing.
First you have the FTC's allegations, which nobody else can take responsibility for.
Before the Cardiff's filed their passport motion they contacted the FTC, who advised they weren't prepared to continue settlement negotiations until 'certain outstanding written discovery responses (are) formalized'.
Prior to the filing of the consumer fraud lawsuit, the Cardiff's dragged their feet on discovery since at least August, 2017 (and continue to do so).
Had the Cardiff's simply provided what was requested by the FTC in a timely manner, the return of their passports might very well have been negotiated via settlement by now.
Oh well.
Other developments in the case include Jason and Eunjung's answers to the FTC complaint, filed on March 1st.
Default has also been entered by the court clerk against
Advanced Mens Institute Prolongz LLC;
Runaway Products, LLC;
Carols Place Limited Partnership;
Redwood Scientific Technologies, Inc (California, Nevada and Delaware); and
Identify, LLC
Stay tuned…
Update 9th May 2019 – On April 23rd Jason Cardiff withdrew his passport motion.
It was refiled on May 7th with an additional request for funds release for a living allowance, attorney fees and costs.
A hearing on the motion has been scheduled for June 10th.
Additionally on May 3rd most of the Cardiffs' defenses in their filed response were struck down. On about half of the defenses they've been given leave to amend.
The Cardiffs were also denied their asserted reservation of rights and demand for a jury trial.
Can't see their passports being released or any carve outs, but we'll keep you posted.