DOJ able to use OneCoin insider attorney communications

On September 25th a court order gave OneCoin insiders the courtesy of asserting communications with their attorneys were privileged.
The insiders had ten days to file their assertions.
An October 9th order reveals none of them did, meaning the DOJ now has full access to a treasure trove of OneCoin insider communications.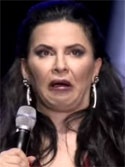 The court order was made in the DOJ's case against OneCoin founder Ruja Ignatova (right).
While we don't know the source of the DOJ's collected evidence or entire scope (here's a taste), we do know it pertains to communications between
a. OneCoin Ltd., OnePayments Ltd., OneNetwork Services Ltd., OneAcademy, OneLife, and RavenR Capital Limited, and attorneys for those entities; and

b. Communications between Ruja Ignatova, Frank Ricketts, Manon Hubenthal, Irina Dilkinska, International Marketing Services GmBH, International Marketing Services Singapore Pte, International Marketing Strategies Ltd., and B&N Consult EOOD, and attorneys for those individuals and entities, regarding OneCoin-related financial transactions and the continued operation of the OneCoin scheme.
No doubt there's some juicy stuff in there that will aid the DOJ's case.