California issue USFIA a cease and desist

Better late than never?
Following the SEC and having shut it down, the Business, California's Department of Business Oversight has issued USFIA, Steve Chen, Leonard Stacy Johnson and Weiwen (Wayne) Zhao a cease and desist.
The state regulator is accusing USFIA and it's principals of violation sections 25110 and 25401 of California's Corporations Code.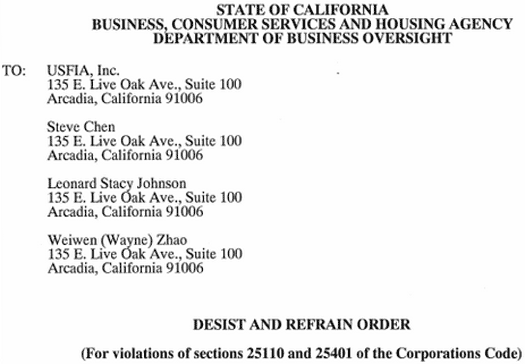 The notice is signed off on October 1st by Jan Lynn Owen, Deputy Commissioner of the Enforcement Division,
"All investment fraud is intolerable, but this Gemcoin scheme ranks high on the egregious scale," said DBO Commissioner Jan Lynn Owen in a statement.

"The perpetrators' claims are outlandish and disturbing, and their unlawful conduct required quick action to help prevent further victimization."
USFIA principals identified in the cease and desist, along with their roles within USFIA are as follows:
Steve Chen – owner and President of USFIA
Leonard Johnson – Vice President of Investor Relations and company spokesman
Weiwen Wayne Zhao – "an executive at USFIA" and company spokesperson
Not surprisingly, the Department of Business Oversight have taken issue with USFIA's offering of unregistered securities.
The investment contracts offered and sold by (USFIA) constitute securities.

These securities were offered for sale in the State of California in an issuer transaction.

(USFIA) have neither applied for nor secured from the California Commissioner of Business Oversight a qualification to offer or sell securities in California.

These securities have not been qualified under the California Corporate Securities Law of 1968, n violation of dection 25110 of the Corporations Code.
The Department then goes on to call out USFIA's various marketing claims, citing four in particular:
USFIA misrepresented the endorsement, approval or registration of GemCoin and USFIA's GemCoin auction house and exchange by local, state of national governments.
USFIA misrepresented that USFIA investors would be able to cash out or sell their investments within 60 days of purchasing their investment contracts.
USFIA misrepresented that the value of GemCoin was "guaranteed", "secured" and less subject to risk than other virtual currencies.
USFIA failed to disclose the risk of obtaining and the expense of obtaining regulatory approvals necessary to operate USFIA's GemCoin auction house and exchange.
Pursuant to various sections of the California Corporate Securities Law of 1968, the Department concludes
USFIA, Steve Chen, Leonary Stacy Johnson and Weiwen (Wayne) Zhao are hereby ordered to dsist and refrain from offering and selling any security in the State of California.

These orders are necessary, in the public interest, for the protection of investors and consistent with the purposes, policies and provisions of the Corporate Securities Law of 1968.
Steve Chen meanwhile, or someone representing they are him, is insisting that USFIA is "clean of all false accusations".
This interruption during the investigation will be used to continue to test the process, update data and system and to continue to transform the bonus points in crypto Gemcoin currency.

Please note that this survey is a great opportunity for Gemcoin launder and wash once and for all the name of all suspicion of embezzlement.

Once this investigation is complete we can reach the heights that we have set, free of legal pitfalls.

As pioneers in this new phase gemcoin of cryptocurrency, it is hoped that we will all be patient for the next 13 days. We wish you the best!
Stay tuned…