Notorious MoneyMakerGroup forum domain redirects to HYIP site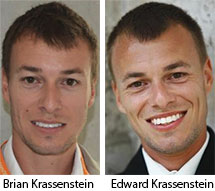 In August 2017 two of the most prominent websites used to promote scams were taken offline within minutes of each other.
The MoneyMakerGroup and TalkGold forums, owned by brothers Edward and Brian Krassenstein, were used to promote fraudulent investment and pyramid schemes for over a decade.
The websites eventually caught the attention of the authorities, which lead to the Krassenstein brothers being the subject of a DOJ forfeiture complaint filed mid last year.
In their complaint, the DOJ referred to MoneyMakerGroup and TalkGold as 'discussion forums in which HYIP operators advertise and promote their fraud schemes to potential victims'.
For those unfamiliar with the term, "HYIP" stands for "high yield investment program. The term is synonymous with Ponzi schemes.
And a good percentage of the Ponzi schemes advertised on MoneyMakerGroup and TalkGold were of the MLM variety.
The business model of both MoneyMakerGroup and TalkGold was straight-forward: The Krassenstein brothers collected advertising fees from scammers wanting to promote their schemes.
On August 22nd 2017, the day after the DOJ's forfeiture complaint was filed, both the MoneyMakerGroup and TalkGold websites went offline.
When queried about the website disappearance in retrospect, Edward Krassenstein replied;
We decided to take the sites down as we no longer wanted to be a part of them as it's not worth the possibility of getting sued and having to defend ourselves yet again.

Additionally the websites were costing money to run.
To date both forum websites remain offline. Recently however the MoneyMakerGroup domain began redirecting visitors to another scam promotion platform.
HYIP.com is pretty much a clone of what MoneyMakerGroup and TalkGold were:
A platform on which the world's worst online scams are promoted – either by admins in exchange for advertising fees, or by investors looking to profit by luring new victims into their schemes.
The MoneyMakerGroup domain record shows the last change to the domain was made on September 10th, which is presumably when the redirection was implemented.
The MoneyMakerGroup domain registration is set to private, so we can't confirm who currently owns it.
An August/October discussion thread on BitcoinTalk suggests the MoneyMakerGroup domain might have been bought.
We do know that as of October 2017, the Krassenstein brothers still owned the domain.
At the time of publication the TalkGold website domain is still parked.
In an attempt to learn more we reached out to Ed Krassenstein, on an email he contacted us through in the past.
That was four days ago and we've yet to receive a reply.
Meanwhile there's no details of ownership provided on the HYIP.com website.
The HYIP.com website domain registration was last updated on January 4th, 2018.
Alex Smirnoff is listed as the owner, through an offshore virtual address in Seychelles.
A LinkedIn profile with what is assumed to be a bogus profile picture cites Smirnoff as CEO of HYIP.com and residing in New York.
A Google Plus account bearing the name "Alex Smirnoff (admin)" suggests syndication of cryptocurrency related news on HYIP.com began around 15 weeks ago.
Alexa traffic estimates for the HYIP.com website show an uptick in interest from late July 2018.
The Google Plus record fits in with the Alexa traffic timeline for the domain (15 weeks ago was late July).
Is Smirnoff a real person though? Probably not. Who knows.
What we do know is someone is trying to capitalize on MoneyMakerGroup's notoriety with a clone platform.
Despite the domain being around for a while, as I write this HYIP.com is very much in a fledgling state.
There's not much going on, other than a small group of usernames drumming up interest in various scams.
The prominent forums topics discussion on HYIP.com is segragated into are HYIP;
High-Yield Investment Programs. All information about projects to invest – reviews, discussions, news and scams. Forex, Crypto, trading HYIPs.
And Crypto;
Crypto is everywhere! You will find all possible crypto information, investment opportunities, ICOs and new coins discussions.

Future events, regulators news, bullish/bearish market discussions.
Both MoneyMakerGroup and TalkGold were in decline before the Krassenstein brothers pulled them offline.
Whether HYIP.com recreates their "success" for whoever owns it remains to be seen.
Update 16th November 2018 – Edward Krassenstein has replied to our email query.
Here's the email we sent Ed on November 11th;
Hi there Edward,

Care to explain why the MMG forum domain now redirects to HYIP.com?
On November 16th Ed sent us the following reply;
No, I don't.
Make of that what you will.