No criminal charges pending against Krassenstein brothers
Two days ago I became aware of an asset seizure related to a property owned by Edward and Brian Krassenstein.
The brothers are the owners of the now closed Ponzi promotion platforms, MoneyMakerGroup and TalkGold.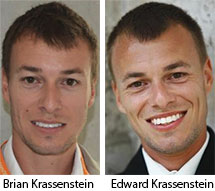 In their forfeiture complaint, filed August 21st, the DOJ accused the Krassenstein brothers of conspiring to commit wire fraud. This strongly implied that the Krassenstein brothers were facing a wire fraud case of their own.
A number of related cases have been filed under seal which, along with information previously not on the public record, reveals the DOJ are not pursuing criminal charges against the Krassensteins.
Following publication of BehindMLM's initial article covering the Krassenstein forfeiture, Edward Krassenstein reached out to us.
Krassenstein explains the asset forfeiture is in relation to
Homeland Security (having) probable cause to believe we had information on a group of scammers or that we were working directly with a particular group of scammers.
The property seized was a rental property in Cape Coral. Krassenstein claims he and his brother continue to live in two other homes in the area.
Other assets seized, including those in the September 2016 raid, have since been returned.
As per an undated settlement between the DOJ and the Krasssenstein brothers,
The United States Attorney also agrees not to seek any additional forfeitures, civil or criminal, arising from any federal offense at the time of the execution of this agreement.

To the extent they have not already been turned over to the Krassensteins, the United States agrees to return all items seized during the execution of Federal search warrants at the Krassensteins' residences within 30 days of this agreement being fully executed.
An undated letter from Acting Assistant Attorney General Kenneth Blanco, representing the DOJ's Organized Crime and Gang Section, states that as at the time the letter was sent to the Krassensteins' attorney;
The Organized Crime and Gang Section of the U.S. Department of Justice, Criminal Division, agrees not to charge Brian Krassenstein with committing any federal offense known tot he Criminal Division at the time of the execution of this agreement related to the alleged conspiracy to commit wire fraud and substantive wire fraud.

Please note that this agreement is limited to the Organized Crime and Gang Section fo the U.S. Department of Justice, Criminal Division, and cannot bind any other federal, state, or local prosecuting authorities, although this office will bring Brian Krassenstein's cooperation, if any, to the attention of other prosecuting officer or others, if requested.
The extent of Brian Krassenstein's cooperation and in what regard are at this point in time not public knowledge.
Unfortunately the cases the DOJ are investigating that are tied to the seized proceeds of the Krassensteins' rental property are also under seal.
I'm not sure if it's any indication as to who or what the DOJ are investigating, but specific scams referenced in the forfeiture notice include
Leopard Fund (2005) – owner David Prince was convicted of five counts of wire fraud following an FBI investigation
PanaMoney (2008) – 2.8% daily ROI Ponzi scheme, bought advertising on TalkGold and MoneyMakerGroup
CSMFinance (2009) – 1.7% daily ROI Ponzi scheme, forum thread on TalkGold was used to distribute virus that granted CSMFinance direct access to investor's Liberty Reserve accounts
ReproFinance (2010) – 1.9% daily ROI Ponzi scheme
Safe Depositary (2010) – 2.3% daily ROI Ponzi scheme
Technocash Inc (2009) – tied to Profitable Sunrise HYIP via an SEC investigation, funds received from TechnoCash were used to purchase the Krassensteins' seized property
Whether the DOJ are building a case against the Krassenstein brothers outside of the cases related to the forfeiture are unknown.
Edward Krassenstein maintains neither he or his brother "have ever broken the law in our lives".
Edward insists that his providing of a platform for discussion of HYIP scams makes him no different to 'Google, Facebook, and just about every other major website on the net'.
There is NO case against us.  There was never any criminal charges or case brought by the DOJ against us, and there never will be.  There was never a court hearing, nor will there be.

There is no crime in selling ads to a third party.  The First Amendment clearly protects Facebook as well as us.
The fact remains however that at least one asset belonging to the Krassensteins has been linked to the proceeds of suspected wire fraud.
The DOJ also differentiate TalkGold and MoneyMakerGroup from sites like Facebook by defining the forums as "websites devoted to the promotion of fraudulent HYIPs".
In response to why he and his brother consented to forfeiture of their rental property if they believed they hadn't committed a crime, Edward replied;
This was an agreement we made with the government because the cost of fighting the civil complaint would have likely cost us more money/stress than what the government was requesting via the forfeiture.

We both have new born children and couldn't keep dragging this civil matter on any longer, as attorney fees were quickly adding up.

This is why civil forfeiture is such a hotly debated topic in America.

Assets were seized without any criminal charges ever being brought and then it was up to us to spend 100's of thousands of dollars on attorneys to fight for those assets back.

We decided to give up a small portion of our assets, and move on.
The DOJ maintain that if challenged, they had enough evidence to 'establish reasonable cause (to) meet (their) burden of proof at trial'.
With respect to the MoneyMakerGroup and Talk Gold forums being simultaneously shut down within 24 hours of the DOJ's forfeiture complaint being filed, Edward explains
We decided to take the sites down as we no longer wanted to be a part of them as it's not worth the possibility of getting sued and having to defend ourselves yet again.

Additionally the websites were costing money to run.
At the time of publication both the MoneyMakerGroup and TalkGold website domains remain in the possession of the Krassenstein brothers through E&B Advertising.