Master Distributors sue Nerium International for over $100 million

Mark and Tammy Smith aren't just top earners in Nerium International, they're the top earners.
As Master Distributors of the company, Mark and Tammy Smith were held up as posters of Nerium's success.
As of late 2014, Ted Nuyten's BusinessForHome clocked the Smith's at $9 million career earnings and around $2.4 million in commissions annually.
That makes their $100 million dollar plus lawsuit against Nerium International all the more interesting.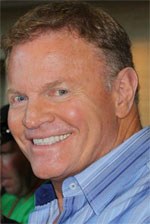 Mark and Tammy Smith's lawsuit was filed on February 23rd and names Nerium International, JO Products LLC (JOP) and Jeff Olson as defendants.
Jeff Olson (right) is the Founder and CEO of Nerium International. He is also cited as the manager of JOP.
Detailing a successful MLM career with Prepaid Legal, the Smiths allege they "became acquainted" with Olson while they were still promoting the company.
Olson attempted to entice the Smiths to leave Prepaid Legal and join Nerium International.
This was right before the time Nerium International started to gain notoriety for secret backroom deals.
Mark and Tammy Smith's own Nerium backroom deal is a perfect example of why;
The Smiths advised Olson that they had made many significant sacrifices to build their business at Prepaid Legal and they would not leave Prepaid Legal without assurances of an ownership interest in Nerium International and significant compensation based on their sales (a significant royalty payment).

Olson told the Smiths that the compensation they would receive as "Brand Partners" at Nerium International would look like "play money" in comparison to the equity distributions they would be entitled to as equity holders in Nerium International and the 15% monthly royalty fees from "Nerium Edge".
That wasn't enough to seal the deal right then and there, but it was enough to get the Smiths to meet again with Olson to 'further discuss the Smiths' opportunities at Nerium International'.
And so a meeting took place "in or about September of 2011";
During this meeting, Olson made the following promises to the Smiths on behalf of himself and Nerium International:

1. Mark Smith and Tammy Smith would each receive a 5% equity interest in Nerium International (the Smiths would together own 10% of Nerium International);

2. The Smiths would be named "co-founders" of Nerium International and;

3. Nerium International would pay the Smiths a combined 15% royalty, in perpetuity, on all the back office subscription fees generated by Nerium International, which was subsequently referred to as "Nerium Edge".
To the best of my knowledge neither Mark and Tammy Smith, Nerium International or Jeff Olson ever publicly revealed or acknowledged this agreement.
And now you can probably guess why the Smiths' filed their lawsuit…
Prior to the Smiths leaving Prepaid Legal, Olson told the Smiths that Prepaid Legal's standard practice was to sue anyone who left to join a competitor.

Olson told the Smiths that because the Smiths generated such tremendous sales for Prepaid Legal, Prepaid Legal would almost certainly sue Olson and Nerium International the moment they started working for Nerium International.

In anticipation that Prepaid Legal would sue Nerium International and the Smiths, Olson told the Smiths that Olson could not document and could not put into writing the ownership promises until after potential litigation with Prepaid Legal had been resolved.

Olson indicated that any written agreement which documented the ownership promises would be discoverable in litigation with Prepaid Legal and would be used against Olson, Nerium International and/or the Smiths.
ProTip: If your secret backroom MLM deal can be used against you in a court of law, it's probably an agreement not worth signing.
As anticipated by Olson, immediately after the Smiths joined Nerium International, Prepaid Legal initiated litigation against Nerium International and the Smiths.

Ultimately, the cases filed by Prepaid Legal against the Smiths were settled on or about mid-2013.
And then, as agreed, Jeff Olson upheld his deal with the Smiths, right?
Nah.
Immediately after the settlement of the Prepaid Legal lawsuits, the Smiths began requesting that Olson memorialize the ownership promises into writing.

Olson provided excuse after excuse why the timing was not right to memorialize the ownership promises, but repeatedly assured the Smiths at all times, from prior to joining Nerium International to the present, that Olson would honor the ownership promises.

On or about May of 2016, lawyers working for Nerium International and the Smiths began working on multiple drafts of a formal agreement to put into writing the ownership promises.

Six years after the ownership promises were initially made, after almost two years of drafting by each party's attorneys to hammer out the finer points of the ownership promises, and after numerous meetings in California to discuss the oral promise and agreement to formalize the ownership promises, to date Olson and his attorneys refuse to sign off on an agreement.
The "finer points" the Smiths mention?
These ridiculous and unfair terms have included:

(1) a provision that Olson must receive tens of millions of dollars before the Smiths would receive a penny;

(2) a provision that Olson would have power of attorney over the ownership interests granted to the Smiths and could take control of the 10% ownership interest at any time and;

(3) that the 10% ownership interest would be in JOP instead of Nerium International.
After seven years, the Smiths claim
it is now apparent that Olson has no intention of honoring the ownership promises, and has merely been leading the Smiths along to buy himself more time (and retain for himself significantly more profits).
Make no mistake though, while it doesn't excuse Olson's alleged behavior, the Smiths aren't downtrodden victims by any stretch.
The Smiths were able to generate an astonishing $100,000,000 in sales in their first year of business.

Since then, the Smiths have helped Nerium International achieve record-breaking global sales of over $500,000,000 annually and over $1,500,000,000 in aggregated sales in its first five years of business.
The secret to their success?
Most of the Smiths' sales leaders at Nerium International came from the network they developed at their own expense and on their own time while at Prepaid Legal.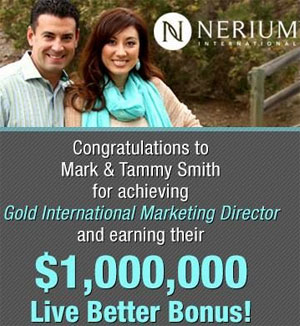 In 2016 Olson also agreed to pay the Smiths a 'Live Better Bonus permanently when earned', which 'would ensure the Smiths were compensated at the highest level achieved under the Nerium International compensation plan'.
The Smiths frame the agreement as bait, designed to get them to 'agree to turn away from their personal interests and focus on the company as a whole'.
Not surprisingly, the Smiths claim that after qualifying for the highest compensation level in October, 2016, they haven't been paid at the same level as promised.
This, the Smiths allege, equates to around a half million in unpaid commissions.
In addition to unkept promises and broken business deals, the Smiths lawsuit also details allegations pertaining to "personal attacks, erratic behavior and gross mismanagement" on Olson's behalf.
Olson … represented to the Smiths that he was an honest and ethical businessman and treated his customers, employees, and brand partners honestly, with integrity, and respect.

Instead of an honest businessman, Olson revealed himself to be (among other things) dishonest, insincere, duplicitous and anti-Christian.

Moreover Olson revealed himself to have a nasty habit of spreading hurtful falsehoods about the Smiths (and others) behind their backs.

Olson's behavior created an extremely uncomfortable and hostile work environment, which the Smiths found insufferable and at times completely unbearable.

Olson would tell others in the company that:

(1) the Smiths did not work hard;

(2) the Smiths added no value to the company;

(3) no one wanted Tammy Smith to work at the company;

(4) the Smiths were "not who you think they are";

(5) the Smiths have marriage problems and;

(6) the company's mistakes were attributable to the Smiths' decision-making, among other things.

Olson also started to express disdain for the multi-level marketing industry.

Olson began to disparage other MLM companies saying they were terrible companies with bad products and other disparaging things.
Somewhat ironic that such sentiments were purportedly only aired after Olson made millions of dollars as an MLM company owner.
Some of those millions, the Smiths allege, was put toward 'bully(ing) individuals and companies with litigation and the threat of litigation'.
This significant litigation was siphoning millions upon millions of dollars of cash from Nerium International creating significant cash flow issues, which has crippled the company's ability to function.
And to hear the Smiths tell it, Olson also isn't above manipulating religion for his own personal gain.
On one occasion, at a public restaurant, Olson loudly proclaimed that Christian and the Mormon religions were "frauds".

This particular meeting was over breakfast at a Dallas hotel that the Smiths called upon to discuss memorializing the ownership promises.

Olson explained how the story of Jesus Christ is so unbelievable "far-fetched and stupid" that he could not believe so many "idiots" fall for it.

Olson knew that the Smiths were Christians. This was not an isolated incident.

However, when Olson is in front of audiences trying to promote Nerium International, Olson has been known to quote Bible verses or discuss his spirituality.

The Smiths were highly offended by Olson's conduct, in particular his demeaning statements about Christianity, and have felt discriminated against.
Personally I don't find it offensive if Olson wants to shit on religion, but to do so at what was effectively a business meeting is pretty unprofessional.
In general, Olson is a very rude and aggressive person. He treats subordinates very poorly.

The Smiths have witnessed Olson engage in numerous hostile encounters with flight attendants, service people and innocent bystanders.

Olson frequently makes rude and insensitive comments towards such persons calling them "fat", "ugly", "stupid", "disgusting", just to name a few.
Nerium Biotechnology's 2015 lawsuit against Nerium International and Olson is also cited, and provides fascinating incite into what went on at the time.
In anticipation that Nerium International would lose the above mentioned lawsuit, and that as a result Nerium International would lose access to the "Nerium" product line, Olson directed Nerium International to begin developing alternative products.

The SMiths were told that the clinical trials for the new products developed at Olson's direction were inferior to the existing products in certain respects.

Despite the trials of the new products, Olson represented to Brand Partners and customers that the clinical trials for the new products produced better results than the old products in certain respects.

The Smiths were vehemently opposed to these false representations about the new products, and Olson was extremely unhappy that the Smiths' refused to participate in his dishonesty.

Immediately after the Smiths refused to participate in Olson's dishonesty and disregard for the truth, Olson embarked on a pattern of conduct designed to demean and belittle the Smiths, including repeatedly slandering them to their Brand Partners and publicly insulting their religion.
Across sixteen counts of action Mark and Tammy Smith are suing Nerium International, Jeff Olson and JOP for
fraud
breach of oral contract
breach of partially oral and written contract
breach of implied covenant of good faith and dealing (oral contract)
breach of implied covenant of good faith and fair dealing (partially oral and written contract)
breach of fiduciary duty
defamation
civil conspiracy
conversion
accounting
breach of contract (implied in fact)
violations of Business and Professions Code Section 17200
constructive trust
declaratory relief (oral contract)
declaratory relief (partially oral and written contract)
intentional infliction of emotional distress
The Smiths have asked for compensatory, incidental, special, punitive and exemplary damages.
The Smiths estimate their interest in Nerium International alone has a value "in excess of $100 million dollars.
The ethics of secret backroom deal aside (I'm certainly no fan), personally I can't see Nerium International defending this.
I'd be very surprised if the company doesn't settle with a (confidential) payout.
Meanwhile the question emerges of whether Nerium International can survive without its Master Distributors.
No doubt Mark and Tammy Smith have been advised to steer clear of any MLM opportunity while this plays out, but from the sounds of it most of Nerium's Brand Partners are connected to the Smiths from Prepaid Legal days.
I have a feeling some people's personal loyalties will be pitted against their hip-pockets over the coming months, which without knowing those involved could go either way.
Unfortunately I don't appear to be able to track the Smiths' lawsuit through Pacer. Nonetheless I'll do my best to keep you informed of any updates I come across.
Stay tuned…
Update 27th June 2020 – The Smiths lawsuit against Neora was voluntarily dismissed on June 1st.