John Oliver's Last Week Tonight exposes "pyramid scheme" MLMs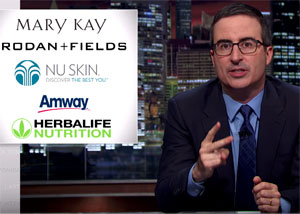 In line with the nature of Last Week Tonight, this is more of an entertainment piece as opposed to BehindMLM's regular coverage.
In the latest episode of Last Week Tonight, an Emmy award-winning weekly news and current events show aired on HBO, host John Oliver discusses MLM.
Oliver begins the segment with the familiar MLM cliché; "I would like to talk to you about an exciting opportunity. I just need thirty minutes of your time".
The segment initially focuses on the recruitment aspect of the industry, contrasting it against retail product sales as a competing interest.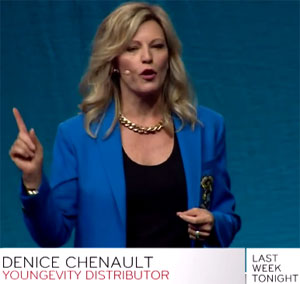 Elements of the MLM industry examined by Oliver include:
celebrity endorsements
the "cult-like status" of company founders
MLM marketing claims
health benefit claims
inventory loading
convoluted compensation plans
chain-recruitment
income disclosure (including retail sales disclosures)
FTC regulation of the MLM industry
exploitation of minorities
pseudo-compliance and
lobbying on behalf of the MLM industry
Vemma, Herbalife, Max International, Advocare, Youngevity, Kyani, Le-vel, Jusuru, Usana, Nu Skin and Mary Kay are all featured in the segment.
The show wraps up with Oliver launching his own MLM company, #thisisapyramidscheme.
I want to tell you about a fantastic product that you can share with friends and family.

The product is this entire video about why MLMs are fucking awful.

Let me break it down for you. By sharing this (video), you can be an independent for a leading web video about the dangers of MLMs.

You can do this full-time or part-time and give your family the lifestyle they deserve. Which is frankly not getting caught up in this bullshit.

You need scientific proof that it works?

We told a dog that we were going to product this video… and look, the dog is walking now!

Was it able to walk before? Sorry, we don't keep those records.

Here is how it works:

Simply watch this video and then forward it to five people. And then instruct them to forward it to another five people and so on and so on and so on.

Within fourteen cycles every single person on Earth will have seen this, to the point that we will need to start fucking to create more people to watch it.

So please, share this video to stop people from getting involved with these schemes. Because MLMs are hurting people and we need to spread the word about their dangers.

Send this to twenty people, thirty people, a hundred people. What are you waiting for?! This system will work!

And it's not a dimaryp, it's an anti-dimaryp. This is a pyramid, right?

Right! This is a pyramid! We are in a pyramid!