Xtreme Coin Review: 2×2 matrix bitcoin Ponzi cycler

Other than claiming to be Xtreme Coin provide no information on their website about who owns or runs the business.
The Xtreme Coin website domain ("xtremecoin.com") was privately registered on May 30th, 2017.
This is somewhat ironic, as Xtreme Coin claim it is run by "real people" who "believe in transparency and accountability".
In an Xtreme Coin marketing video titled "Xtreme Coin Launch", published to Darren Little's YouTube channel, Ari Maccabi claims
[5:33] We found out the main owner of the business is actually the guy behind Ingreso Cybernetico.
Ingreso Cybernetico was a matrix cycler Ponzi scheme launched in 2014.
Alexa traffic estimates show a sharp decline from January earlier this year, strongly suggesting Ingreso Cybernetico has collapsed.
Ingreso Cybernetico was headed up CEO Dwayne Golden. At the time of publication however it's unclear whether Golden is the "main owner" referenced by Ari Maccabi.
As always, if an MLM company is not openly upfront about who is running or owns it, think long and hard about joining and/or handing over any money.
Xtreme Coin Products
Xtreme Coin has no retailable products or services, with affiliates only able to market Xtreme Coin affiliate membership itself.
Xtreme Coin affiliate membership provides access to "world class video training".
The Xtreme Coin Compensation Plan
Xtreme Coin affiliates purchase positions in an eight-tier 2×2 matrix bitcoin cycler.
A 2×2 matrix places an Xtreme Coin affiliate at the top of a matrix, with two positions directly under them: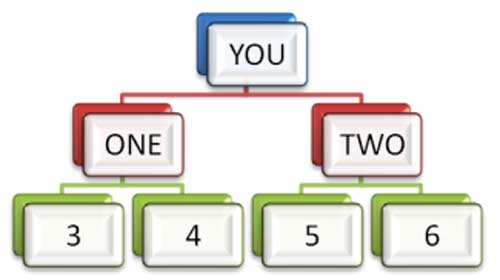 These two positions form the first level of the matrix.
The second level of the matrix is generated by splitting these first two positions into another two positions each (4 positions).
Positions in the matrix are filled when newly recruited and existing affiliates purchase positions in the cycler.
Once all six positions in a 2×2 matrix are filled, a "cycle" is generated and a commission paid out.
How much of a commission is paid out is determined by which cycler tier an Xtreme Coin affiliate purchases a positions in:
Sapphire – invest 0.05 BTC and receive 0.15 BTC
Pearl – invest 0.1 BTC and receive 0.3 BTC
Ruby – invest 0.25 BTC and receive 0.75 BTC
Emerald – invest 0.5 BTC and receive 1.5 BTC
Diamond – invest 1 BTC and receive 3 BTC
Blue Diamond – invest 4 BTC and receive 12 BTC
Xtreme Diamond – invest 10 BTC and receive 30 BTC
There is also an "Executive Club" membership upgrade costing 0.15 BTC a year.
A recruitment commission of 0.05 BTC is paid out when an Executive Club affiliate convinces another affiliate to upgrade.
Joining Xtreme Coin
Xtreme Coin affiliate membership is tied to the purchase of one or more cycler positions:
Sapphire – 0.05 BTC
Pearl – 0.1 BTC
Ruby – 0.25 BTC
Emerald – 0.5 BTC
Diamond – 1 BTC
Blue Diamond – 4 BTC
Xtreme Diamond – 10 BTC
Conclusion
Our Company is built from the ground up on strong relationships. Xtreme Coin is more than a just a company–we are family. YOUR family, and we are excited about bringing you the first ever bitcoin cycler in history!
Through their MLM opportunity, Xtreme Coin claim affiliates earn "triple payouts on all packages".
The problem is 100% of commission revenue is sourced from subsequent affiliate cycler position purchases, making Xtreme Coin a Ponzi scheme.
The "triple payouts on all packages" marketing claim can be reduced to a simple 300% ROI offering. You invest in a cycler position and once enough subsequent investments have been made you receive a 300% ROI.
As with all Ponzi schemes, once affiliate recruitment slows down Xtreme Coin will be unable to meet its advertised ROI obligations.
Being a matrix cycler, this will correlate with position cycling slowing down, before stalling altogether.
At that point a collapse is triggered, resulting in the majority of Xtreme Coin affiliates losing money.