TruIQ Global Review: Medical claims & TruQoin securities fraud

TruIQ Global launched in November 2017 and provides a UPS Store address in Utah on its website.
TruIQ Global's original launch saw it combine a "Uniq Beauty Drink" with 1ViZN weight loss supplements, Bella Allume personal care products and essential oils.

There was also some weird "TruIQ TruLife" test;
Through TruIQ's TruLife program, you'll be able to test, track and improve your personal, social and environmental IQ.
Today TruIQ Global's product line up is similar but they've also jumped on the hemp oil bandwagon. Oh and about a year ago, TruIQ also introduced a cryptocurrency investment scheme through TruQoin.
TruIQ Global fails to provide ownership or executive information on its website.
Further research reveals two founding executives in TruIQ Global's marketing material; CEO Preston Stewart and President Jason Erik Golly.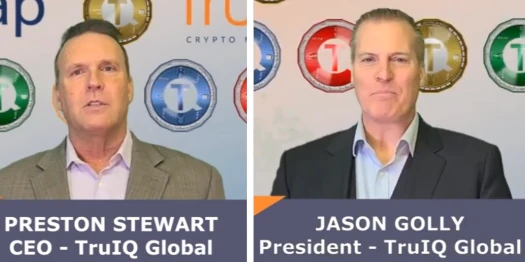 Preston Stewart's MLM history has seen him provide communication and software solutions to MLM companies since 1989.
As per Stewart's LinkedIn profile, he launched Xennsoft in August 2005.
Xennsoft develops software for and supports the Direct Sales, Network Marketing and Party Plan industries.
Xennsoft's website is still up but things seem pretty quiet.  seems pretty dead. Xennsoft's FaceBook page was abandoned in November 2019.
Its Twitter profile was abandoned in June 2018. In December 2021 it was resurrected as part of TruIQ's transition into cryptocurrency.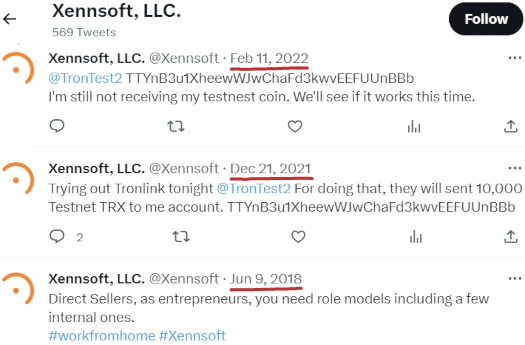 BehindMLM featured Jason Golly as co-founder and CEO of Engage Global in November 2017.
Engage Global's website is still up but, like TruIQ Global, no executive information is provided. Golly co-founding TruIQ Global suggests he might have left the company sometime in 2018.
When exactly Dan Lutz joined TruIQ Global corporate isn't clear but in March 2021, Lutz put together the TruQoin whitepaper: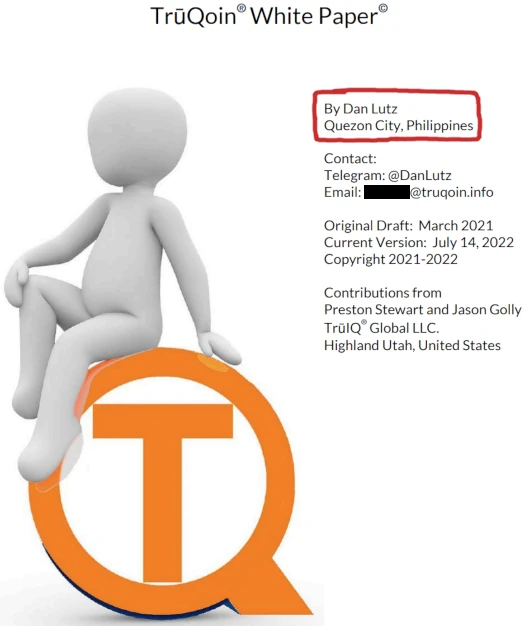 Dan Lutz is one of the ringleaders behind The Billion Coin Ponzi scheme.
The Billion Coin launched in 2016. It was a pretty simple non-MLM crypto Ponzi that primarily targeted third-world countries.
Investors invested in TBC, which went up in value the more money was invested. The problem was TBC was locked up by The Billion Coin and TBC couldn't be cashed out.
In September 2016, Lutz appealed to The Billion Coin investors to elect him "TBC Leader for America".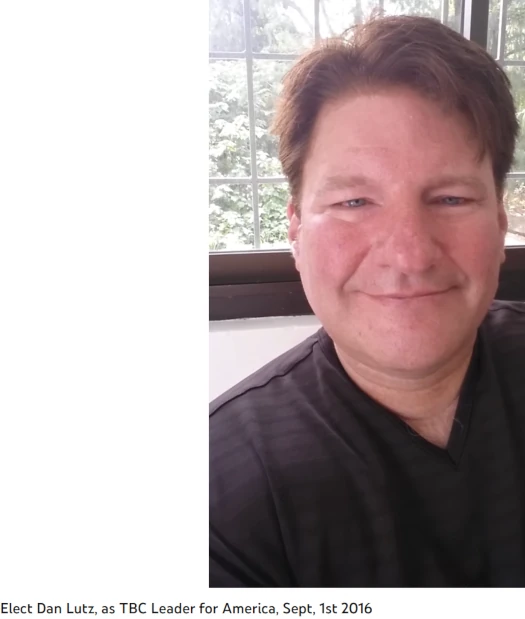 My name is Dan Lutz and I'm running for the Leader of The Billion Coin community for America.

I've been part of The Billion Coin Community since the prelaunch. And since the very beginning I recognized the genius of a coin whose price only goes up.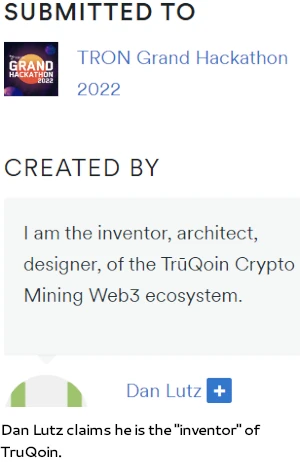 Lutz spends the rest of the video trotting out whacky conspiracy theories in an attempt to justify stealing money through Ponzi schemes.
In April 2020 the Philippine SEC issued a The Billion Coin fraud warning.
The public must be wary that any promise of ridiculous rates of return with little or no risks is an indication of a Ponzi Scheme where monies from new investors are used in paying fake "profits" to earlier investors.

Also, any promise that defies the normal financial logic is surely unreliable and sketchy.
Although he's believed to be a US national, Lutz's TruQoin whitepaper places him in Quezon City, Philippines.
Preston Stewart and Jason Golly are believed to be US nationals residing in Utah.
As always, if an MLM company is not openly upfront about who is running or owns it, think long and hard about joining and/or handing over any money.
TruIQ Global's Products
TruIQ Global markets a range of hemp oil, weight loss, personal care and essential oil products.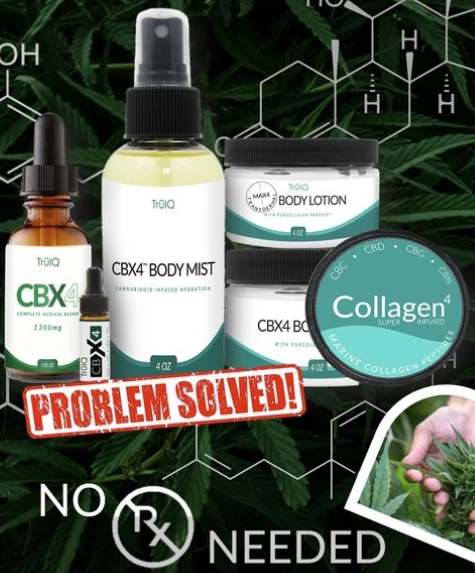 And although TruIQ Global claims it "doesn't sell cryptocurrency"…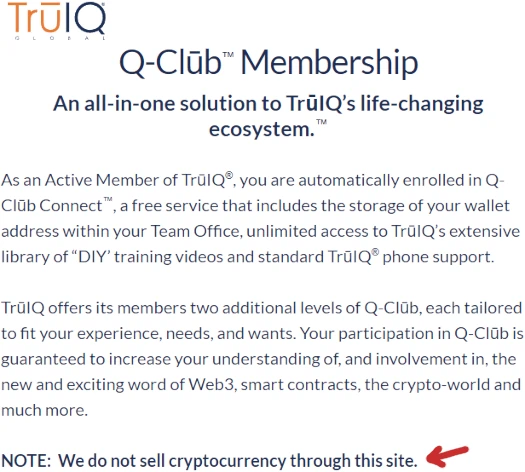 TruIQ Global also sells its TruQoin cryptocurrency direct to investors.
Hemp Oil
CBX4 – "broad spectrum hemp oil", retails at $90 for a 30 ml bottle
Weight Loss
Mykro – "stimulates your ENTIRE body to help burn unwanted fat and calories", retails at $109 for a bottle of 60 capsules
Personal Care
Silky Smooth – "enhances the youthful and radiant look of skin, nails and hair by delivering a unique blend of rich nutrients from Rice Bran Oil and other natural ingredients", retails at $100 for a 45 ml bottle
CBX4 Super Infused Collagen4 – collagen cream with 250 mg CBX4 Hemp, retails at $85 for a 4 oz jar (118 ml)
CBX4 All-Natural CBX4 Body Lotion – "ultra-rich face and neck moisturizing lotion with a special blend of organic oils and botanicals", retails at $65 for a 4 oz jar (118 ml)
CBX4 Body Mist – " you will get over 7ml of pure hemp seed oil, with 250mg of CBX4″, retails at $55 for a 4 oz bottle (118 ml)
Essential Oils
TruIQ Global markets various essential oils for $20 to $65 per 15 ml bottle.
TruIQ Global also markets "signature blend" essential oils:
120/80 – "helps the body keep a healthy heart by regulating blood pressure", retail sat $36 for a 15 ml bottle
Abo – "keeps the blood moving through the body by increasing circulation", retails at $30 for a 15 ml bottle
BodyPur – "works with the body to rid it of day to day toxins", retails at $25 for a 15 ml bottle
CardioHealth – "assists in maintaining a healthy heart", retails at $25 for a 15 ml bottle
DeepRelief – "works to decrease swelling, irritation, and aches", retails at $33 for a 15 ml bottle
Deep Tranquility – "aids in relaxation and helps to increase restful sleep", retails at $36 for a 15 ml bottle
Fractionated Coconut – "one of the healthiest and hydrating oils on earth", retails at $15 for a 4 oz bottle (118 ml)
ImmuGuard – "supports the immune system by fighting common viruses, decreasing inflammation, and guarding against common parasites", retails at $33 for a 15 ml bottle
Macadamia Nut – "very moisturizing, regenerating, and softening to the skin … anti-inflammatory and anti-microbial", retails at $15 for a 4 oz bottle (118 ml)
Mental Clarity – "works to improve focus", retails at $33 for a 15 ml bottle
OxiShield – "works as an antioxidant for the body, aids in digestion and curbing sugar cravings, helps to improve memory and fight fatigue", retails at $28 for a 15 ml bottle
PureNRG – "assists in feeling younger by working with your body to regenerate cells, detoxify, fight everyday stress and enhance moods", retails at $25 for a 15 ml bottle
Tamanu – "this oil has been used in beauty routines, and additionally in healing and external health", retails at $35 for a 15 ml bottle
WeightAbate – "helps curb cravings and boost weight loss", retails at $36 for a 15 ml bottle
TruQoin
TruIQ Global sells TruQoin direct to investors via "catches".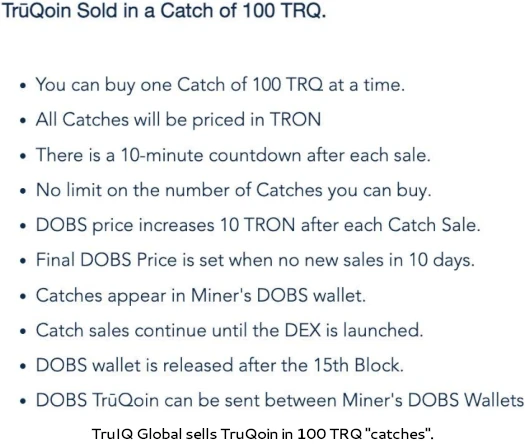 As per the above TruIQ Global marketing slide, affiliates can directly invest into 100 TRQ at a time. There also appears to be an increasing 10 TRX fee added to each investment.
Once invested in, TruQoin can be held in the hope "number go up", or invested again into TruIQ Global's staking investment scheme.
TruIQ Global offers 10 block or 100 block staking investment plans (total 110 blocks combined per staking plan).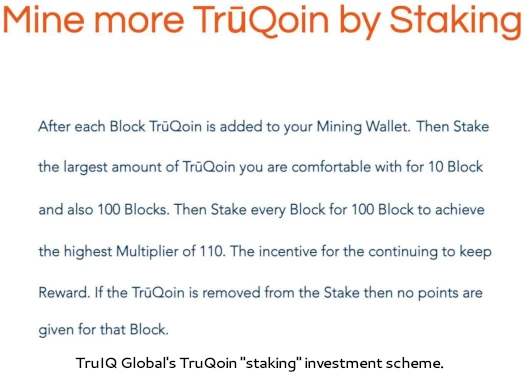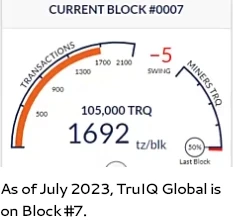 These correspond with TruQoin mining blocks.
It should be noted that, as of July 2023, TruIQ Global has only mined 7 TruQoin blocks.
Specific TruQoin staking returns aren't disclosed but TruIQ Global does represent the more TruQoin is staked the higher the passive return: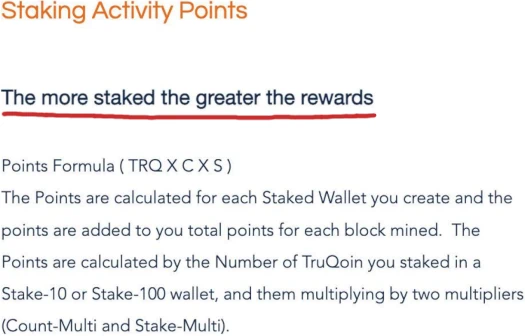 Staking rewards also increase sequentially per block mined on active staking investment plans.
TruIQ Global's Compensation Plan
TruIQ Global hides details of its "TruIQ Fusion Pay Plan" from the public.
Typically this would be an issue but the MLM side of TruIQ is secondary to its TruQoin scheme. The MLM side of TruIQ Global today is basically a feeder for TruQoin investment.

In a nutshell, TruIQ Global's MLM compensation plan pays out commissions like a regular MLM company.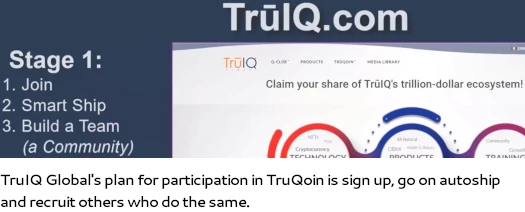 Commissions however are reduced, as TruPoints are paid out in lieu of full fiat commission payouts.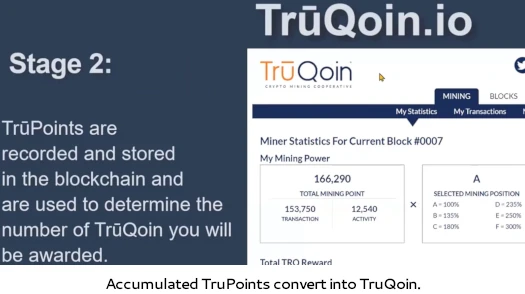 I don't know what the exact split is because TruIQ Global hides this information from the public.
TruPoints are multiplied based on recruitment legs and recruited affiliates on autoship.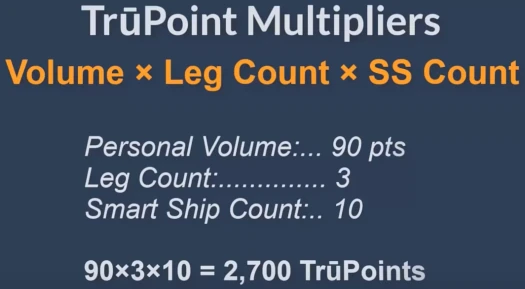 TruPoints, along with direct investment, are used to calculate completion of TruQoin mining blocks. There are 2500 blocks within TruQoin.
When a TruQoin mining block completes, a fixed amount of TruQoin is distributed to TruIQ Global affiliates. "Mined" TruQoin is distributed pro-rata based on accumulated TruPoints.
Currently, TruQoin only exists within TruIQ Global. Affiliates cash out into tron (trx) or tether (USDT), through TruIQ Global's internal TruSwap exchange.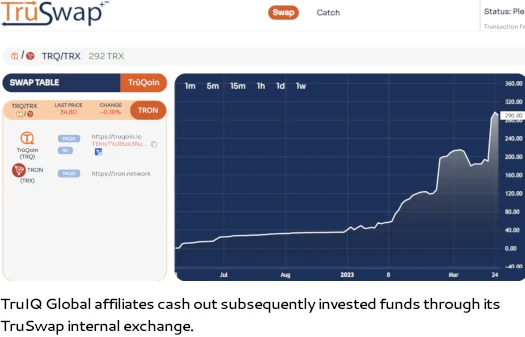 Alternatively, TruIQ Global affiliates can participate in a staking investment scheme.
The staking investment scheme sees TruIQ Global affiliates invest received TruIQ Global affiliates with the company. This is done on the promise of passive TruQoin returns, tied into the creation of mining blocks.
The final component of TruIQ Global's compensation plan is an NFT investment scheme.
TruIQ Global affiliates purchase up to five NFT positions, costing between 5 and 25 million TRX each:
first NFT position = 5 million TRX (currently ~$407,800 USD)
second NFT position = 10 million TRX (currently ~$815,600 USD)
third NFT position = 15 million TRX (currently ~$1.22 million USD)
fourth NFT position = 20 million TRX (currently ~$1.63 million USD)
fifth NFT position = 25 million TRX (currently ~$2.03 million USD)
TruIQ Global affiliates who hold NFT investment positions receive a share in 5% of generated TruQoin.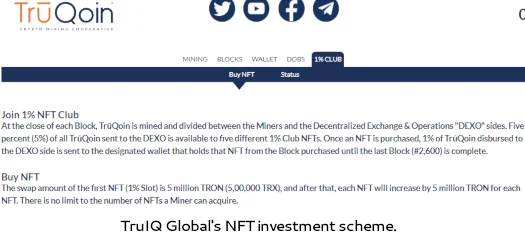 The generated 5% is split into five smaller 1% pools, which correspond with the five available NFT investment tiers.
TruQoin solicits investment into NFT positions on the representation "each 1% NFT could bring is [sic] over 100,000 TruQoin".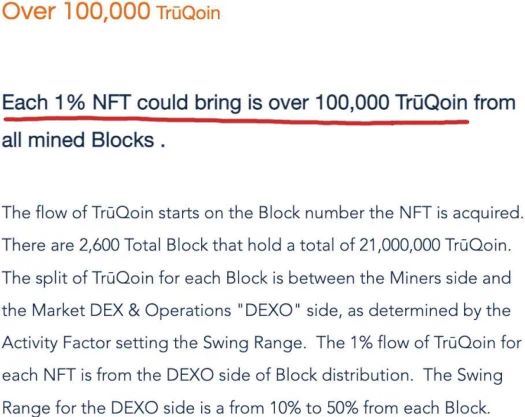 Joining TruIQ Global
TruIQ Global affiliate membership depends on whether you want products or just to participate in the TruQoin investment scheme.
MLM Membership
TruIQ Global's regular MLM membership is a call-back to their non-crypto MLM roots:
1-Bottle Silky Smooth – costs $90 and comes with one bottle of Silky Smooth (note product not featured on TruIQ Global website) and 100 TruPoints
1-Bottle MYKRO – costs $90 and comes with one bottle of Mykro and 100 TruPoints
1-Bottle CBX4 – costs $90 and comes with one bottle of CBX4 and 100 TruPoints
CBX4 Family Pack – costs $250 and comes with assorted TruIQ Global products and 300 TruPoints
Starter Pack – costs $400 and comes with assorted TruIQ Global products and 500 TruPoints
Builders Pack – costs $900 and comes with assorted TruIQ Global products and 1000 TruPoints
Note that the more is spent on membership the more products are bundled.
TruPoints are converted into TruQoins for participation in the TruQoin investment scheme.
If a TruIQ Global affiliate only wants to participate in the TruQoin investment opportunity, they sign up for Q-Club:
Q-Club Protect – $34.95 a month (wallet, video library and phone support, account retrieval)
Q-Club Pro – $89.95 a month (Q-Club Protect plus increased TruPoints)
Q-Club Prime – $149.95 a month (Q-Club Pro plus greater increased TruPoints, baked-in monthly autoship and access to "TruQoin University")
TruIQ Global Conclusion
TruIQ Global started off as a traditional MLM company. Today the MLM side of the business is a Trojan horse for various TruQoin investment schemes.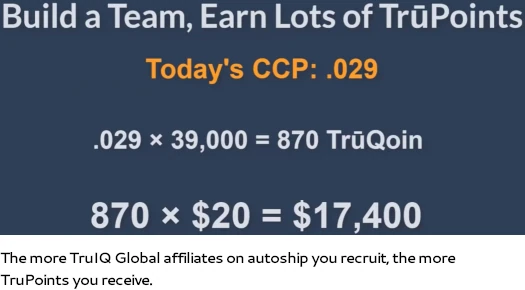 Before we get into the core of TruIQ Global's offering, I do want to point out the illegal medical claims used to market its non-crypto products.
At a glance TruIQ Global's essential oils are problematic in light of there being no peer-reviewed medical studies to back up medical claims made.
CarioHealth, OxiShield, ImmuGuard and Abo are particular standouts.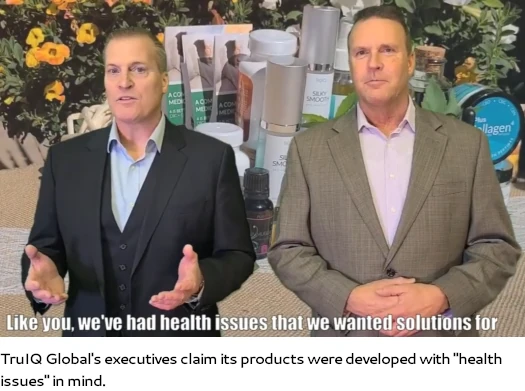 TruIQ Global pitches ImmuGuard as supporting "the immune system by fighting common viruses, decreasing inflammation, and guarding against common parasites".
Where is the evidence to prove ImmuGuard does any of those things???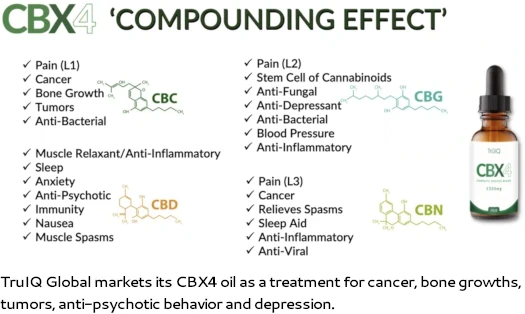 On the regulatory front TruIQ Global's medical claims are most certainly a violation of the FTC Act. I wouldn't be surprised if, after investigating TruIQ Global's claims, the FDA classified its essential oils as drugs too.
As bad representing huffing an essential oil can fight viruses and protect against parasites, things get even more egregious in TruIQ Global's marketing videos.
On May 11th, 2023, Jason Erik Golly claimed in one such video that
[4:01] The TruIQ products contain natural medicines that are guaranteed to boost your immune system … and even address the Asperger's, autism, ADD, ADDHD spectrum.
Unsupported baloney, definitely a violation of the FTC Act and obvious FDA bait.
As much as TruIQ Global's MLM products are just an excuse for autoship to generate TruPoints, it is still dangerous to be making unsubstantiated medical claims about them.
Moving onto TruQoin, we have a TRC-20 shitcoin.
TRC-20 shitcoins are issued on the tron network. They can be created in a few minutes at little to no cost.
TruQoin's transition to cryptocurrency securities fraud began with an internal ICO for insiders.
Again, this is quoted from Jason Golly in the May 11th marketing video;
[10:08] Members of TruIQ were allowed to buy TruIQ's TruQoin at about 6-10 cents a piece, only inside TruIQ not too long ago. About a year ago'ish.
Once insiders had been locked in, TruIQ Global opened up the coin and began artificially raising the price. Today TruQoin's internal value sits at 292 TRX (~$23.86).
Broken down, these are the components of TruIQ Global's TruQoin investment scheme:
sign up as a TruIQ Global affiliate with autoship, recruit others on autoship, generate TruPoints and get TruQoins, wait for "number go up" because other people invest and cash out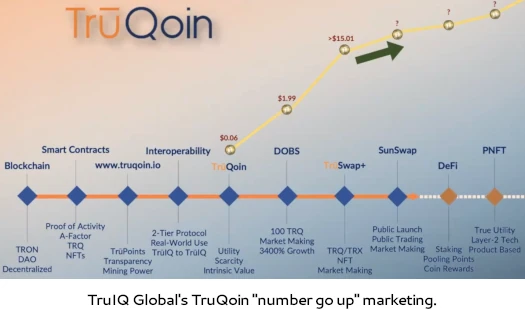 invest directly into TruQoin catches, wait for "number go up" because other people invest and cash out
stake TruQoin, get more TruQoin as a passive return and cash out
invest in ~$407,000 to $2 million NFT positions, receive TruQoin as a passive return and cash out
Each of these investment schemes constitutes an investment contract as per the Howey Test.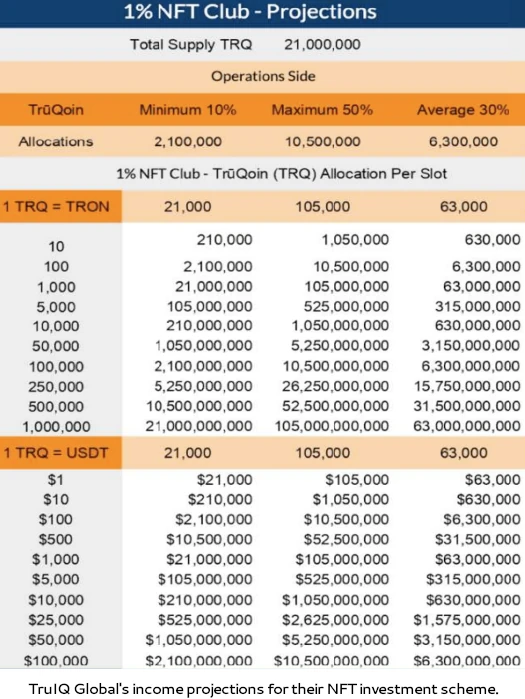 TruIQ Global is required to register its investment contracts as securities offerings with the SEC.
A search of the SEC's public Edgar database reveals neither TruIQ Global, TruQoin or any of its executives are registered.
This means that at a minimum, TruIQ Global is committing securities fraud.
Why?
Because all they're doing is recycling invested funds to pay TruQoin cash out requests on the backend. There's not even an attempt at a bullshit external revenue ruse.
The second TruQoin is released from internal manipulation (i.e. it's dumped on dodgy public exchanges), the ~$23.86 value will plummet as investors cash out.
More importantly, this constitutes a classic MLM crypto Ponzi scheme.
As with all MLM Ponzi schemes, once affiliate recruitment dries up so too will new investment.
This will starve TruIQ Global of ROI revenue, eventually prompting a collapse.
The math behind Ponzi schemes guarantees that when they collapse, the majority of participants lose money.
Update 3th August 2023 – Within a few days of this review being published TruIQ started deleting evidence.
This review originally contained a link to a video on TruIQ's YouTube channel, in which Jason Golly made several cited illegal medical claims about TruIQ's products.
That video has been marked private as at the time of this update. As such, I've disabled the previously accessible link to the video.