TronGrace Review: 200% ROI TRX Ponzi scheme

TronGrace fails to provide company ownership or executive information on its website.
Known domains TronGrace operates from include:
trongrace.space – privately registered in September 2021, registration last updated on October 1st, 2022
trongrace1.space – privately registered on December 4th, 2022
trongrace.io – privately registered on November 30th, 2022
These websites appear to correspond with different TronGrace smart contracts. In layman's terms, TronGrace has already launched and collapsed at least once.
TronGrace's .IO domain is company's current operational website.
SimilarWeb website traffic reports for TronGrace's known three domains are as follows:
trongrace.space – 110,000 visits in November 2022, 83% of traffic from Vietnam, 9% from the US and 5% from Zimbabwe
trongrace1.space – not enough traffic to track
trongrace.io – 5700 visits in November 2022
At the very least we can surmise that TronGrace is primarily being promoted in Vietnam. Whoever is running the company could also be from Vietnam but website traffic data alone is inconclusive.
As always, if an MLM company is not openly upfront about who is running or owns it, think long and hard about joining and/or handing over any money.
TronGrace's Products
TronGrace has no retailable products or services.
Affiliates are only able to market TronGrace affiliate membership itself.
TronGrace's Compensation Plan
TronGrace affiliates invest 100 to 4,000,000 tron (TRX) at a time. This is done on the promise of a 200% ROI.
Returns are paid 1% every 24 hours, with the following bonuses available:
0.1% per hour an affiliate investor does not withdraw, capped at 1% and reset daily
0.2% per hour to every affiliate investor per 1 billion in active TRX investment company-wide, capped at 0.5% a day
0.1% per hour to every affiliate investor per 10 million investors in TronGrace, capped at 0.5% a day
TronGrace pays referral commissions via a unilevel compensation structure.
A unilevel compensation structure places an affiliate at the top of a unilevel team, with every personally recruited affiliate placed directly under them (level 1):

If any level 1 affiliates recruit new affiliates, they are placed on level 2 of the original affiliate's unilevel team.
If any level 2 affiliates recruit new affiliates, they are placed on level 3 and so on and so forth down a theoretical infinite number of levels.
TronGrace caps payable unilevel team levels at eleven.
Affiliates are paid a percentage of TRX invested across these eleven levels as follows:
level 1 (personally recruited affiliates) – 10%
level 2 – 4%
level 3 – 2%
levels 4 and 5 – 1%
levels 6 and 7 – 0.5%
level 8 – 0.4%
level 9 – 0.3%
level 10 – 0.2%
level 11 – 0.1%
Joining TronGrace
TronGrace affiliate membership is free.
Full participation in the attached income opportunity requires a 100 to 4,000,000 TRX investment.
TronGrace Conclusion
TronGrace is a simple MLM crypto Ponzi scheme. To hide who owns and runs TronGrace, the company resorts to a decentralized lie.
Completely Decentralized – Trongrace is not managed by anyone, including its own software team.

It is developed as a fully autonomous system. No person has access to funds. Your funds are secured between you and the smart contract.
Someone created TronGrace and someone manages TronGrace's website. Whether they are acting alone or in a group, whoever runs TronGrace can pull the plug at any time.
At time of publication there is ~6.5 million TRX in TronGrace's smart-contract.
The original TronGrace smart-contract climbed to a peak of 21.9 million TRX on October 29th. That fell to 9.5 million TRX by November 25th and thereafter was quickly drained.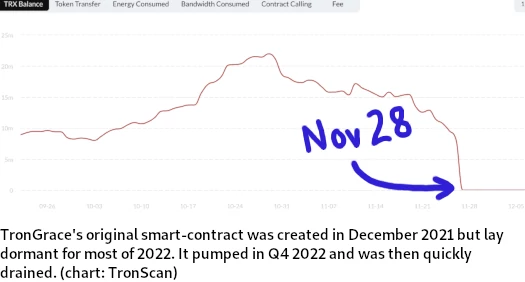 As with all MLM Ponzi schemes, once TronGrace affiliate recruitment runs dry so too will new investment.
This will starve TronGrace of ROI revenue, eventually prompting a collapse.
We know TronGrace has collapsed at least once before, if not twice.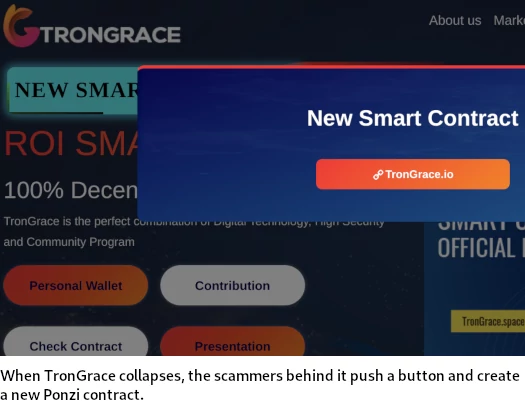 When TronGrace collapses for a second or third time, the majority of investors will lose money (again).
Update 22nd January 2023 – TronGrace has collapsed again.
As at the time of this update, all three of TronGrace's known websites are offline.