TlintAdCash Review: $8.50 five-tier matrix Ponzi cycler

There is no information on the TlintAdCash website indicating who owns or runs the business.
The TlintAdCash website domain ("tlintadcash.com") was registered on the 16th of February 2015, however the domain registration is set to private.
Further research reveals affiliates touting a group titled "TouchingLivesINT" as an official TlintAdCash Facebook presence.
An individual named "Charles Aladesiun" is the sole admin of the group.
If a visitor clicks the "forum" link off the TlintAdCash website, they are redirected to a forum hosted on the domain "moneytalkpalace.com".
This domain was also registered on the 16th of February 2015, with Aladesiun listed as the owner.
An address in Lagos, Nigeria is also provided, which is likely where Aladesiun is running TlintAdCash from.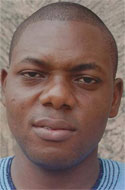 Charles Aladesiun (right) runs something he calls "Touching Lives International". Through this brand, prior to TlintAdCash Aladesiun launched TlintCashClub in late 2014.
TlintCashClub saw affiliates pay $7.50 to participate in a matrix-based recruitment scheme.
Under the Touching Lives International brand, Aladesiun was advertising a number of matrix-based schemes throughout mid to late 2014.
Prior to that Aladesiun was involved in Helping Hands International, a $40 a pop matrix cycler.
Putting all of this together, once Helping Hands International collapsed Aladesiun then got involved in a number of low-key pyramid schemes. As they collapsed one after another he then launched his own scheme in late 2014.
That too collapsed and now he's trying again with TlintAdCash.
Read on for a full review of the TlintAdCash MLM business opportunity.
The TlintAdCash Product Line
TlintAdCash has no retailable products or services, with affiliates only able to market affiliate membership to the opportunity itself.
Once signed up, TlintAdCash affiliates can purchase matrix positions.
Bundled with these matrix positions are a series of advertising credits, which can be used to display advertising on the TlintAdCash website itself.
The TlintAdCash Compensation Plan
The TlintAdCash compensation plan sees affiliates purchase $8.50 matrix positions.
These positions run through a series of matrices, which are filled via subsequent position purchases.
TlintAdCash utilize five matrices in their cycler system as follows:
Phase 1 (4×1 matrix, 4 positions to fill) – positions cost $8.50 and once the matrix is full $5 is paid out and one new position in Phase 1 and Phase 2 are awarded
Phase 2 (4×1 matrix, 4 positions to fill) – once the matrix is full $10 is paid out and one entry into Phase 3
Phase 3 (4×1 matrix, 4 positions to fill) – once the matrix is full $30 is paid out and one entry into Phase 4
Phase 4 (4×1 matrix, 4 positions to fill) – once the matrix is full $100 is paid out and one entry into Phase 5
Phase 5 (3×1 matrix, 3 positions to fill) – once the matrix is full $500 is paid out
A referral cycle commissions for personally recruited affiliates are available in Phases 3 to 5, paying out as follows:
Phase 3 – $10
Phase 4 – $20
Phase 5 – $100
Additionally a $1 recruitment commission is also paid on the recruitment of all position-purchasing TlintAdCash affiliates.
Joining TlintAdCash
Affiliate membership with TlintAdCash is tied to the position of a matrix position ($8.50).
Conclusion
This is the ULTIMATE in PASSIVE INCOME!

Earn $645 over and over again Without having to Recruit or Advertise
As the above marketing copy from the company website explains, TlintAdCash is a relatively simple straight-forward matrix cycler.
Nothing is marketed or sold to retail customers, with funds from new affiliates shuffled around to pay off those who have already bought positions.
As such TlintAdCash can be viewed as an $8.50 Ponzi scheme, paying out an eventual $645 ROI once enough new positions have been invested in.
Despite the obviously fraudulent nature of the scheme, Charles Aladesiun appears to be in denial about the schemes he operates.
As per the TlintAdCash FAQ:
Is TlintAdCash an Investment Program?

No! TlintAdCash is an advertising site that will cater for your advertising needs. We are not an investment company, HYIP or Ponzi scheme.
I say "appears" because on the very same website, under Terms and Conditions, the following is written:
TlintAdCash will continue to do profit sharing with you as long as people keep on investing in the system, either through reinvestment of their earned money, or by buying new ad packages.
Evidently Aladesiun is well aware of the nature of the schemes he operates.
As with all Ponzi schemes, once new investment dries up the scheme will collapse. Being a matrix cycler, this equates to no new matrix positions being purchased.
Given Aladesiun's past scheme TlintCashClub barely saw a month or so out before collapsing, one can safely assume TlintAdCash is going to be a repeat performance.