Helping Hands International Review: $40 recruitment opp

Helping Hands International went into prelaunch in late 2013 and appear to have gone on to officially launch in early 2014.
The company claims to be based out of Angels City in the Philippines, and was co-founded by Luzviminda Mac-Elvis (who also serves as CEO) and Ramiel Policarpio.
Note that Helping Hands International the MLM company uses the "helpinghandsinternational.biz" website domain. A charity with the same name exists over at "helpinghandsinternational.com", however it appears to be an unrelated business.
The Helping Hands International .BIZ website domain was registered anonymously on October 31st, 2013.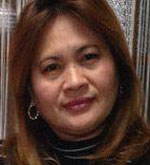 In her Helping Hands corporate bio, Mac-Elvis (right) describes herself as being
a simple lady of little beginning who has enjoyed the mercy and grace of God.

My growth experience has shown me that irrespective of background, location or education, you can still achieve your dreams.
Whether or not Mac-Elvis has any prior MLM experience is unclear, as her name only appears on the internet in conjunction with Helping Hands International (often abbreviated as H2i).
Ditto Policarpio, whose name also only appears online in conjunction with Helping Hands.
Read on for a full review of the Helping Hands International MLM business opportunity.
The Helping Hands International Product Line
Helping Hands International do not have any retailable products or services. The company's website contains a boatload of copy about charities and loans, however none of this appears to have anything to do with the MLM business opportunity itself.
The Helping Hands International Compensation Plan
The Helping Hands International compensation plan revolves around affiliates buying matrix positions, and then recruiting others who do the same.
As an ASSOCIATE member your helping hands international account is enabled to sponsor and introduce others with your referral link or direct referring. You can then introduce at least 2 and these 2 introduce their own 2 each.
Note that a Helping Hands International affiliate must personally recruit at least two new affiliates, otherwise they don't qualify to earn commissions.
Positions in the Helping Hands matrix cost $40, with commissions paid out as each matrix fills. There are five matrix levels in the first tier of Helping Hands International's compensation plan, and they are as follows:
Associate (2×2 matrix, 6 positions) – $10 cycle commission plus $8 per position filled by a personally recruited affiliate (max commission = $58) and entry into Master
Master (2×5 matrix, 62 positions) – $1000 cycle commission, a "free laptop or iPad" and entry into Super Master
Super Master (2×5 matrix, 62 positions) – $3000 cycle commission, "a brand new Hyundai ix10", $2000 to be "given away" to two recommended people and entry into Minister
Minister – (2×5 matrix, 62 positions) – $6000 cycle commission, "an executive Hyundai", $1000 to be paid to "one motherless home or disabled home in your neighborhood", an "interest FREE loan due – up to $12,000 (no collateral is required)" and entry into Prime Minister
Prime Minister (2×2 matrix, 6 positions) – $11,500 cycle commission, re-entry into a new Prime Minister matrix (up to 6 re-entries)
Note that additional benefits such as an "international trip, housing fund, educational fund, yearly infinity bonus and yearly elite club members loan (up to $44,000) are also mentioned as bonuses if an affiliate cycles out of a Prime Minister matrix, however no specific information is provided.
Matching Bonuses are also paid out from the Master matrix level. These commissions are paid out to the affiliate who recruited the affiliate earning a cycle commission:
Master – $100
Super Master – $150
Minister – $300
Prime Minister – $600
After a Helping Hands International affiliate cycles out of six Prime Minister matrices, they are then moved up to the second tier of the company's compensation plan.
This second tier involves the filling of a single "Trustee" 2×3 matrix, which has 14 positions to fill. Four of these positions must be filled by personally recruited affiliates.
Once their Trustee matrix is filled, a Helping Hands International affiliate receives:
an $80,000 "Trustee Bonus"
a $10,000 annual "Global Profit Pool" bonus
$10,000 in "residual income for life"
"Director" status in the "next country" Helping Hands International starts recruiting in, which qualifies the affiliate for a "1% commission on all sign ups" in the new country
"Scholarship awards" are also mentioned, however again no specifics are provided.
Joining Helping Hands International
Affiliate membership to Helping Hands International is $40. This covers the cost of entry into an Associate level matrix.
Conclusion
HELPING HANDS INTERNATIONAL was born out of passion for helping others to live, ours is a premier non-governmental organization, Unique and second to none, offering humanitarian services that empowers both members and nonmembers through our life changing and empowerment business opportunity.
Any time you're approached about an MLM opportunity and they hit you with a hard-sell on charity, alarm bells should almost immediately start going off.
The reason is that, to date I've yet to see any of these companies base their compensation plans around anything but recruitment. In the end, all your left with is your stock-standard pyramid scheme, with a little of the money pumped into the scheme by affiliates diverted to (insert random charitable cause here).
Why some pyramid schemes do this is obvious. First and foremost it's used as a marketing tactic. "Help the kids!", "Change the world!" and similar catch-phrases are commonly used to pitch charity frontend, pyramid scheme backend opportunities.
In the case of Helping Hands International, not only is it right there in the name of the company, but it's also the first thing visitors to their website see:
WELCOME!

Helping hands international is an empowerment-based- membership program, a global empowerment opportunity born out of passion for helping the less privileged.
The second primary reason recruitment-driven schemes hide behind charity is to evoke the "but we do good!", "what about all the people we help?" and similar justifications.
Strawman arguments at best, ultimately what is done with pyramid scheme money doesn't make a pyramid scheme any less of a pyramid scheme. If anything, these companies are hurting charities by pumping fraudulently obtained funds into them.
In regards to Helping Hands International, all you have is your typical $40 a pop matrix-driven recruitment scheme. Affiliates buy in, and then set about recruiting others who also pump $40 (or more if multiple positions are bought) into the company.
If you peel back the charity facade, Helping Hands are actually quite candid about what the opportunity is really about. Taken from their FAQ:
How many members would I need directly under me?

Just two. However, you can bring as many as possible.

What if I register more than two?

Yeah, if you do it will be of great advantage to you in speed and earnings.

Can I have multiple Account?

Certainly yes, you can have 6, 10 or 12 accounts directly to your name, before you do that you must be sure you can refer 2 each under the rest accounts, else you will find it difficult to grow.
Helping Hands' "How it works" page breaks things down even further:
Members are required to introduce at least two (2) persons and this two (2) will have to do same to enjoy all benefit listed above plus others in our compensation plan and reward.
In the compensation plan, Helping Hands even refer to an affiliate's position purchase as an investment, complete with "wonderful" return:
If you introduced at least 2 members – you make $26, giving you 80% of your investment back same day. Incredible right?

How much more when you introduce all 6 in your matrix, You will make $58 that is over 150% return-wonderful!

So what you waiting for call friends and relations, refer as many as you can and rake in good money.
"Rake in the money", as with all pyramid scheme, that's all that's really happening here. Divert a few thousand from the entry fees paid by thousands of people required to reach the upper matrix tiers of Helping Hands and hope to lure countless suckers into the scheme below them.
No doubt Luzviminda Mac-Elvis and Ramiel Policarpio have multiple positions at the top of the company-wide matrices, and stand to gain the most from those recruited into the bottom.
As with all pyramid schemes, once recruitment and subsequently the purchasing of $40 matrix positions by affiliates stops, Helping Hands International will implode.
What that means for the loans and "guaranteed annual incomes" the company purportedly offered is unclear – leave alone the question of how they are regulated or by who.
Footnote: There's likely to be Helping Hand International affiliates who only read the title of this review, and then rush to leave a comment praising the merits of any charitable activities that occur as a side-effect to the running of the pyramid scheme.
Please be advised that these comments will be marked as offtopic spam.
If you want to change the world, by all means donate to legitimate charities or volunteer your own time with reputable organisations – don't join pyramid schemes in the hope you'll "rake it in" and then try to pass it off as humanitarianism.
You're not fooling anybody.