Titus Community Review: Towah scammers launch Titus Coin

Titus Community operates in the cryptocurrency niche and is headed up by CEO Maxim Moneta.
As per Moneta's Titus Community corporate bio;
He is from Ukraine but has the last five years lived in Stockholm, Sweden, where he has been involved in several startup IT projects.
Presumably Titus Community is operated out of Sweden, however the company appears to consist of shell companies in various European jurisdictions.
Titus Community is the operating company in the Titus sphere.

The community and networking model is essential in the creation of many distributors able to link online and offline merchants to the Titus Coin world.

The linked companies will join Titus Community loyalty program and offer various discounts and cash backs.

30% of the profits from these services is used to operate Titus Community Ltd and profits are forwarded to Titus Invest Ltd.

Titus Invest Ltd is a holding company registered in Malta, holding the Intellectual Properties and 100% of the shares in Titus Community Ltd.

Titus Invest Ltd is owned 90% by Maddox Business Services Ltd, London, UK and 10% by VIP Coin Sparkassa Financial Union.

VIP Coin Sparkassa is a Swedish Financial Union and as such under control of the Swedish Financial Inspection according to the law (2004:297).
Seems pretty extreme for an MLM company no?
Of note is the mention of Fennas Finance, which Titus Community states
is an external service engaged by Titus Community and Titus Invest to deliver software for direct sales activities, payment services, compliance services and some operational functions.
Fennas Finance first popped up on BehindMLM's radar in 2015, as part of the Icon Sachs Limited Ponzi scheme.
With the ownership of Ichon Sachs Limited also unknown, I concluded Fennas Finance was "a shady payment processor run by persons unknown."
And here's where things get really murky…
Swedish incorporation records for VIP Coin Sparkassa list Elena Anguelova Chipkovenska, Tor Anders Petteroe and Henning Witte on its Board of Members: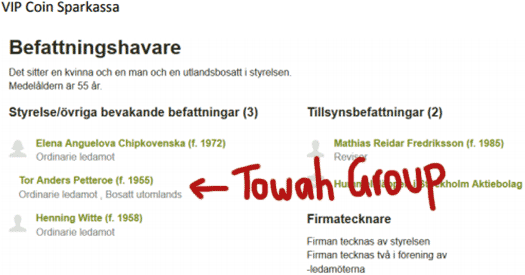 Tor Anders Petteroe is the CEO of Towah Group, a payment processor responsible for millions of dollars in Ponzi losses over the years.
Towah processed funds for Bidify, Funky Shark, Wenyard and Conligus. All Ponzi schemes whose respective collapses resulted in widespread investor losses.
The owner of Towah, Harald Ekker, recently launched his own Ponzi scheme, Crowdbridge Global.
In 2013 Norway's FSA opened an investigation into Towah Group, however nothing appears to have come of it. Ekker and Petteroe remain at large.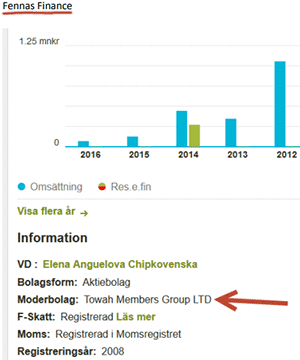 Who Elena Anguelova Chipkovenska is I have no idea, but she's the (Russian/Ukranian) link between Towah and Fennas Finance.
"Moderbolag" is Swedish for "parent company". Ie. Anders Petteroe owns Fennas Finance, which means he was also behind Ichon Sachs Limited.
This is a crucial link because VIP Coin Sparkassa is responsible for selling Titus Coins to Titus Community affiliates.
VIP Coin Sparkassa has been issued 200 million Titus coins. These are to be sold to members of the Titus Community.
Or in other words, VIP Coin Sparkassa (Anders Petteroe) controls all of the money going in and out of Titus Community.
Everything else built around that is just for show.
And so now you know why, instead of appearing as a legitimate MLM company, Titus Community's corporate structure looks and sounds more like an organized crime syndicate.
Read on for a full review of the Titus Community MLM opportunity.
Titus Community Products
Titus Community has nor retailable products or services, with affiliates only able to market Titus Community affiliate membership itself.
The Titus Community Compensation Plan
Titus Community affiliates sign up and invest in Titus Coins.
Ambassador JR – invest €200 EUR and receive 200 Titus Coins
Ambassador – invest €1000 EUR and receive 1000 Titus Coins
Commissions are paid when Titus Community affiliates recruit others who also invest.
These recruitment commissions are paid down two levels of recruitment (unilevel):
level 1 (personally recruited affiliates) – 15% commission on invested funds
level 2 – 10% commission on invested funds
Titus Community affiliates who invest at the Ambassador level also participate in the Titan Ambassador Pool.
The Titan Ambassador Pool is made up of 15% of company-wide invested funds and shared between all Titus Ambassador affiliates.
Joining Titus Community
Titus Community affiliate membership is
€200 EUR for an Ambassador JR position or
€1000 EUR for an Ambassador position
The primary difference between the two positions is income potential via the Titus Community compensation plan.
Conclusion
Titus Coin is currently not publicly tradeable and is marketed with the usual "we're better than bitcoin" cliches.
As per Titus Community's "Titus Coin – Short Introduction" marketing material;
Titus Coin is a digital currency with instant transactions.

It is based on Bitcoin, but it has a double-tier network to improve it.
Eventually Titus Community plan to launch a merchant network, through which affiliates will be able to spend Titus Coins through.
The reality however is no legitimate merchant is going to accept Ponzi points launched by serial scammers.
Towah Group are selling Titus Coins to Titus Community affiliates at a rate of €1 EUR per coin.
Titus Community claim
as the number of affiliated merchants grow, the use of the Titus Coin will increase.

Increased use of the coin will lead to a higher coin value, but it will also increase the bonuses paid to the members.
Sounds nice in theory but again, what merchant is going to attach their legitimate business to Ponzi points?
Titus Coin might go public at some time in the future, which will temporarily push the coin's value higher.
However with affiliates the only interested parties, Titus Coin will inevitably follow the typical pump and dump MLM altcoin crash trajectory.
On the money side of things, Towah Group are selling Titus Community affiliates a dream.
They accept real money for worthless points on the promise of future value (securities fraud), and pay investors commissions to recruit new investors (pyramid fraud).
New platform sure, but otherwise just more of the same from Petteroe and the Towah Group gang.