Icon Sachs Limited Review: Shady offshore investment pools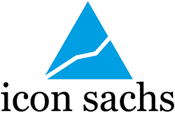 There is no information on the Icon Sachs website indicating who owns or runs the business.
The company does have a "history" and "team" page, however only the following vague marketing spiel is provided:
Icon Sachs is the result of the meeting between a group of sophisticated investors that met in Geneva, Switzerland during mid 2000.

Among this group, two gentlemen from Switzerland had worked for large investment banks and hedge funds, one had experience from the trading floor in Frankfurt, and two more were asset managers working out of Dubai.

The group decided to put together a combination of products into a Structured Leverage Product: a combination of bank guarantees and bonds in the base, but with a big portion of leverage product on the top.

They tested the product with some of the investment banks in Geneva with a fantastic reception. The group formed the internal project "Icon Sachs Sophisticated Investors of Dubai" in 2010 and invested own money.

In 2015 they decided to make the information about these products available to the public. Education packages were created and are now sold from Icon Sachs.
The Icon Sachs Limited website domain ("iconsachs.com") was registered on the 2nd of April 2015, however the domain registration is set o private.
Icon Sachs appears to be primarily marketed in Europe, with Alexa currently estimating that Sweden and Switzerland make  up a combined 100% of the traffic to the Icon Sachs domain.
It is therefore highly likely that Icon Sachs is being run out of one of these two countries.
As always, if an MLM company is not openly upfront about who is running or owns it, think long and hard about joining and/or handing over any money.
The Icon Sachs Product Line
Icon Sachs has no retailable products or services, with affiliates only able to market Icon Sachs affiliate membership itself.
Once signed up, Icon Sachs affiliates are then given access to an Education Plan, based on how much they spend when signing up:
Silver Education Plan – €75 EUR
Gold Education Plan – €175 EUR
Platinum Education Plan – €575 EUR
Black Education Plan – €975 EUR
These plans purportedly cover general banking information, investment strategies, "management & leadership" (training?) and "the financial market".
The Icon Sachs Compensation Plan
The Icon Sachs compensation plan sees affiliates sign up, pay between €75 to €975 EUR and then get paid to recruit others who do the same.
Direct Recruitment Commissions
Icon Sachs affiliates are paid direct recruitment commissions, with how much of a commission paid out tied into how much a newly recruited affiliate spends on their membership:
Silver Education Plan (€75 EUR) – €20 EUR commission
Gold Education Plan (€175 EUR) – €60 EUR commission
Platinum Education Plan (€575 EUR) – €160 EUR commission
Black Education Plan (€975 EUR) – €400 EUR commission
Residual Recruitment Commissions
Residual recruitment commissions in Icon Sachs are paid out via a binary compensation structure.
A binary compensation structure places an affiliate at the top of a binary team, split into two sides – left and right: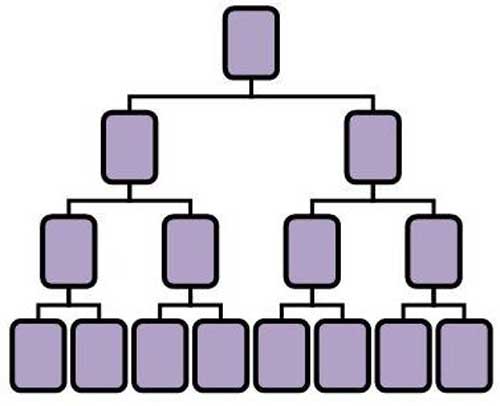 Positions in these two binary sides are filled via recruitment of new affiliates, with how much an affiliate spends generating points on the binary side they are allocated to:
Silver Education Package – 300
Gold Education Package – 700
Platinum Education Package – 2300
Black Education Package – 3900
Generated points are tracked across both binary sides, with a €5 EUR commission paid out per 200 points matched on both sides of the binary (using a 1:1 ratio).
Note that 25% of all binary commissions paid out (€1.25 out of every €5) is placed into an "investment account".
Investment Account
Each Icon Sachs affiliate is given an investment account, through which they can make investments into a "pool".

As per official Icon Sachs marketing material, this pool pays out a daily ROI of between 0.5-3.2%: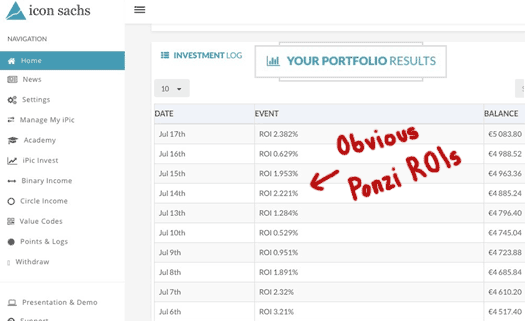 Note that there may be a greater ROI variance outside of the provided sample dates.
Circle Bonus
The Circle Bonus is another recruitment commission, paying a percentage of affiliate fees paid by personally recruited affiliates and any affiliates they recruit (2 levels).
The Circle Bonus pays 10% of affiliate fees paid, per eight affiliates recruited (down two levels of recruitment). If a circle is filled with 8 new recruits within 24 hours, the 10% bonus is bumped up to 20%.
Note that the quota of eight must be satisfied each time before the Circle Bonus is paid out (once one circle is filled with 8 recruits, another starts).
Joining Icon Sachs
Affiliate membership with Icon Sachs is tied to the purchase of an "education plan":
Silver Education Plan – €75 EUR
Gold Education Plan – €175 EUR
Platinum Education Plan – €575 EUR
Black Education Plan – €975 EUR
Conclusion
Goldman Sachs are one of the best-known investment banking firms around the world. And it is on their name the derivative Icon Sachs are hoping to associate themselves with.
The first glaring red flag with Icon Sachs is the investment portfolio nonsense. Why would a company operating out of Europe have investors dump funds into a bank in New Zealand?
The account holder appears to be Fennas Finance LTD, a shady payment processor run by persons unknown.
There is no information on the Fennas Finance LTD website about the owners of the company, with the website domain registered anonymously on the 15th of May, a month and a half after the Icon Sachs domain.
Could be a co-incidence, but with anonymous ownership of both… probably not.
As to the investment pool itself, who is making the investments or where is not disclosed.
Why?
Because all Icon Sachs are doing is shuffling newly invested funds to pay off existing investors. Hence the secrecy and use of offshore payment processors and bank accounts.
Coupled with this is a stock-standard recruitment scheme, seeing Icon Sachs investors directly and indirectly compensated to recruit new investors into the scheme.
That along drags Icon Sachs into pyramid scheme territory, with the investor pool making it a Ponzi pyramid hybrid.
As with all such schemes, once recruitment of new investors dries up so too will the daily ROIs Icon Sachs pay out. At first expect to see the daily ROI decrease, followed by withdrawal problems and finally an ultimate collapse.
The recruitment commissions will slow down in tandem, also grinding to a halt once new affiliates stop pumping new funds into the scheme.
Given that Icon Sachs is run by persons unknown, expect minimal recovery of funds, with the owners of the scheme cleaning out the ANZ bank accounts and doing a runner – well before investors realize the sinking Icon Sachs ship has been abandoned.