Solvasa Review: Personal care targeting stress & inflammation
Solvasa appears to run two websites, which is a little confusing.
There's Solvasa Beaty and Solvasa Life. Solvasa's "beauty" website predates the "life" website.
Visitors to Solvasa's "beauty" website are provided the following message at the top of the page:
Returning Customer? We have securely moved your account information to our new website.
When you click on the provided link however, you stay on the Solvasa Beauty website.
Of the two websites, Solvasa Beauty is the MLM opportunity with products.
Solvasa Life is basically a Solvasa owned blog/podcast website.
Why Solvasa can't just host its blog and podcast on its primary website I don't know.
Things get even more messier when you consider Solvasa's Facebook page, which links to the "life" website – which contains no information about Solvasa's MLM opportunity or products.
Solvasa's marketing identity is a bit all over the place.
To keep things simple I'm going to pretend Solvasa Life doesn't exist. This review is based on Solvasa Beauty, which I believe is the MLM company.
Solvasa operates in the personal care and nutrition MLM niches. The company is based out of California in the US.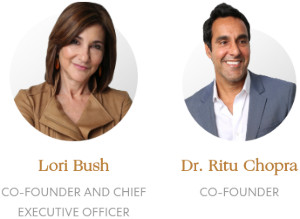 Heading up Solvasa is co-founders Lori Bush and Ritu Chopra.
So the story goes;
A diagnosis of breast cancer led beauty industry executive, Lori Bush, to Dr. Ritu Chopra for reconstructive surgery.

It also led to deep discussions between patient and doctor about a major need-gap in the skincare market: products and practices to help manage the impact of stress and inflammaging on appearance and overall well-being.

With a mission to address this universal need, Solvasa Integrative Beauty was born.
Lori Bush has a history in the personal care industry dating back to 1993.
As per her LinkedIn profile, Bush's MLM executive career began in 2000 as President of Nu Skin.
Feb 2000 – Jan 2006, President of NuSkin
Sep 2007 – Jan 2016, President and General Manager of Rodan & Fields
Aug 2018 – Jul 2019, Chairman of Board of Managers at Avon
Solvasa was founded in May 2018, so there's a bit of overlap between it and Bush's Avon role.
Ritu Chopra runs a plastic and reconstructive practice in California. As far as I can tell Solvasa is his first MLM venture.
One name on Solvasa's executive list that caught my eye was Chairman of the Board of Directors, Truman Hunt.
BehindMLM is familiar with Truman Hunt as the former long-standing CEO of NuSkin (2003 to 2016).
During Hunt's tenure NuSkin's Chinese bribery shenanigans came to light.
In a nutshell, in 2014 Chinese authorities announced they thought NuSkin was a pyramid scheme. Wheels were greased and the investigation went away.
This didn't sit right with US authorities. In late 2016 the SEC began proceedings against NuSkin.
NuSkin settled the SEC's bribes and corruption allegations for $765,688.
Shareholders filed their own lawsuit pertaining to NuSkin's misconduct in China. This resulted in a $47 million dollar settlement in October 2016.
Truman Hunt resigned as NuSkin CEO two months later in December 2016.
Read on for a full review of Solvasa's MLM opportunity.
Solvasa's Products
Solvasa's flagship range is a series of personal care products.
Crystal Energy Wand – "enables effective lymphatic drainage, while its battery-operated vibration depuffs under the eyes, eases muscle tension, and help release endorphins", retails at $200
Golden Moment Turmeric Elixir – "golden milk … infused with Ayurvedic spices turmeric and ashwagandha at nutritional levels that support your body's ability to fight stress and inflammaging", retails at $38 for a box of 15 single-serve sachets
Beathe Mindful Oil – "help(s) stimulate the production of calming biomolecules and protect your mind, body and skin", retails at $44 a bottle
Crystal Blue Smoothing Gel – " a daily alternative to injectable wrinkle treatments", retails at $69 a tub
DeStressance Serum + Glide – "fortified with both powerful anti-stress adaptogenic ashwaganda and chaga mushroom, as well as skin-plumping and firming peptides, to boost your skin's resilience and radiance", retails at $85 for a 1.01 fl. oz. bottle (30 ml)
Golden Harmony Cleansing Mask – "a two-minute cleansing treatment, draws out impurities and helps remove both dead skin cells and makeup to reveal fresher, smoother, clearer skin", retails at $41 a tube
Clarity Soothing Eye Wipes – "created by an ophthalmologist to be used several times a week to remove pollutants and potential irritants", retails at $38 for a box of 40 wipes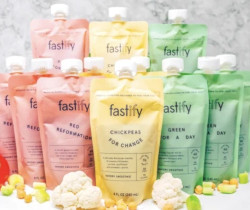 Solvasa recently added nutrition to its product offering under the brand Fastify.
Fastify is flavor-locked and nutrient-loaded to support resilience to stress and keep you from caving to your cravings when you are eating for beauty and overall wellbeing.
Fastify is available in three flavors:
Chickpeas for Change – "a delicate Moroccan medley of creamy chickpeas, curried cauliflower, and aromatic spices"
Red Reformation – "a vibrant gazpacho with sun-ripened tomatoes, red wine vinegar and smokey paprika"
Green for a Day – "a tangy Tuscan mix of leafy greens, creamy beans, peppery balsamic and sweet basil"
Solvasa's Fastify range retails at $36 for three packs or $135 for twelve packs.
Solvasa's Compensation Plan
Solvasa pays affiliates on the sale of products to retail customers.
Personal and Group volume is used to calculate ranks, residual commissions and a Generational Bonus.
Solvasa Affiliate Ranks
There are eight affiliate ranks within Solvasa's compensation plan.
Along with their respective qualification criteria, they are as follows:
Connector – sign up as a Solvasa affiliate
Advanced Connector – generate and maintain 75 PV a month
Lead Connector – maintain 75 PV and generate 750 PGV a month
Ambassador – maintain 75 PV a month, generate 1000 PGV a month and have one Lead Connector anywhere in your downline
Premier Ambassador – maintain 75 PV and 1000 PGV a month and have one Lead Connector in two unilevel team legs
Influencer – maintain 75 PV and 1000 PGV a month, generate 25,000 GV a month and have one Lead Connector in three unilevel team legs
Premier Influencer – maintain 75 PV and 1000 PGV a month, generate 50,000 GV a month and have one Lead Connector in four unilevel team legs
Elite Influencer – maintain 75 PV and 1000 PGV a month, generate 100,000 GV a month and have five Lead Connector in four unilevel team legs
PV stands for "Personal Volume" and is sales volume generated by retail sales and an affiliate's own orders.
PGV is PV generated by an affiliate's own preferred customers and PV from affiliates they've personally recruited.
A preferred customer is a retail customer who has agreed to place a monthly standing order in exchange for a discount.
GV stands for "Group Volume" and is PV generated by an affiliate and their entire downline.
Note that for rank qualification, up to 40% of required GV can be counted from any one unilevel team leg.
Commission Qualification
To qualify for commissions (including retail commissions), Solvasa affiliates must generate and maintain 75 PV a month.
Retail Commissions
Solvasa affiliates earn a commission on the sale of products to retail customers.
Residual Commissions
Solvasa pays residual commissions on generated sales volume down two levels of recruitment (unilevel):
10% on level 1 (personally recruited affiliates)
8% on level 2
Note that Advanced Connector is the minimum rank required to qualify for residual commissions.
Personal Team Commissions
Solvasa pays Lead Connector and higher ranked affiliates a 6% Personal Team Commission.
Personal Team Commissions are paid on sales volume generated by personally recruited affiliates and referred preferred customers.
Generational Bonus
Solvasa pays a Generational Bonus via a unilevel compensation structure.
A unilevel compensation structure places an affiliate at the top of a unilevel team, with every personally recruited affiliate placed directly under them (level 1):

If any level 1 affiliates recruit new affiliates, they are placed on level 2 of the original affiliate's unilevel team.
If any level 2 affiliates recruit new affiliates, they are placed on level 3 and so on and so forth down a theoretical infinite number of levels.
Solvasa don't specify how they define a generation within the unilevel team.
Typically a generation is defined when a set rank affiliate is found in a leg.
Seeing as the Generational Bonus starts at the Ambassador rank, it's likely a generation is capped off when an Ambassador is found in a unilevel team leg.
Regardless of the rank used to calculate a generation, the process is the same: when an affiliate at the specified rank is found in a leg, they cap off the first generation for that leg.
A second generation begins after them, up until another affiliate at the same (or higher) rank is found deeper in the leg.
If found that affiliate caps off the second generation for the leg, with the third beginning immediately after.
If no such ranked affiliate exists, the second generation runs the full depth of the leg.
Note that generations are defined in each unilevel team leg independently of other legs.
Using this generational structure, Solvasa pays the Generational Bonus on up to five generations per unilevel team leg:
Ambassadors earn a 5% Generational Bonus on one generation per leg
Premier Ambassadors earn 5% on the first generation and 4% on the second
Influencers earn 5% on the first generation, 4% on the second and 3% on the third
Premier Influencers earn 5% on the first generation, 4% on the second, 3% on the third and 2% on the fourth
Elite Influencers earn 5% on the first generation, 4% on the second, 3% on the third, 2% on the fourth and 1% on the fifth
Joining Solvasa
Basic Solvasa affiliate membership is $45.
Optional affiliate product pack bundles are:
Feel the Glow – $275 (personal care products)
Integrative Beauty Basics – $330 (fastify meals and personal care products)
Note the two packs above provide no financial benefit through Solvasa's compensation plan.
Conclusion
The pairing of a patient and plastic surgeon to front an MLM company is certainly unusual.
Lori Bush has a long history of involvement in personal care MLMs. Ritu Chopra I don't get.
I could understand a dermatologist perhaps launching a personal care MLM, but a plastic surgeon?
I suppose like any surgery there's healing involved in plastic and reconstructive procedures, so maybe there's some expertise being tapped into there.
Might even be a bit of a money-spinner of Solvasa is being sold at Chopra's clinic.
Anyway they seem to have made it work so more power to them.
Product wise Solvasa targets inflammation and stress. The only product that stood out to me was the "Crystal energy wand".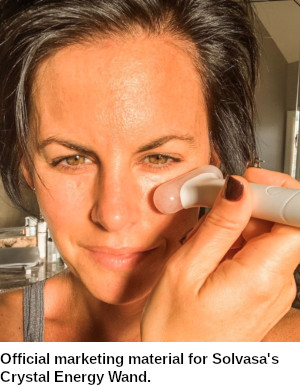 The contact part of the wand is made from "genuine rose quartz crystal".
Cooling stone and ergonomically-designed wand provide comfortable leverage to unblock lymphatic congestion and flush toxins from the skin.
My first thought was to head on over to Alibaba and see if I could find anything similar.
The handle Solvasa are using didn't come up but there's plenty of alternative rose quartz massaging rollers with vibration.
I think the "crystal energy" product name is a bit misleading, seeing as there's no actual energy being released – at least not in the way the wand's name is implying.
Even outside of Alibaba, rose quartz roller massage wands go for <$50. I'm unclear on what the justification is for Solvasa's $200 asking price.
In contrast the Fastify meals look pretty decent. It's good to see an MLM company offer actual food instead of the usual powders and capsules route.
$135 for a 12 pack comes to $11.25. Bit pricier than a supermarket meal and a viable convenience alternative to take-away. Certainly a hell of a lot healthier.
Moving on to Solvasa's compensation plan, PV coming from either retail or your own purchase is a potential issue. Be sure to check how your potential upline is generating their 75 PV each month.
What you're looking for is at a minimum ~35 PV a month in actual retail order volume.
For their part Solvasa's affiliate agreement states;
If Connector purchases Products for resale to customers, Connector must retain receipts showing that at least 70% of those Products were resold within 30 days of the Product order date. Connector shall furnish copies of sales receipts upon request by Solvasa. Falsely representing the resale of Solvasa Products shall be grounds for termination.
But I have no idea how tightly that's policed. From experience it's rare for an MLM company to actually enforce this kind of clause.
Other niggles with Solvasa's compensation plan was the active requirement for retail sales.
You need to only be an Active Connector to earn Retail Profit.

Advanced Connector – The first promotion RANK an Active Connector may achieve.
Being active requires 75 PV a month. Which, unless I'm missing something, means a Solvasa affiliate has to generate 75+ PV a month in retail to get paid on those orders.
Unless they self-qualify for commissions with their own 75+ PV order, which brings us to potential autoship recruitment territory (you sign up as a Solvasa affiliate, buy 75 PV a month and recruit others who do the same).
It'd be great to see Solvasa introduce some retail qualifiers. A quick fix would be excluding an affiliate's own purchases from the 75 PV monthly requirement.
Finally I thought limiting residual commissions to just two levels was odd. Even with a Generational Bonus, we still usually see residual commissions paid down at least five levels. Two just seems really shallow and, considering the lack of other bonuses available, I'm not sure why that's the case.
I think Solvasa could do better by their affiliates on that specific commission payout.
Other than those niggles there aren't any major red flags with Solvasa's MLM opportunity. I'd probably avoid the crystal energy wand but the rest of the products look solid.
Personal care is of course always going to be targeted to a specific audience so approach marketing accordingly. The Fastify range is complimentary. Good luck!