Solar Oil Project Review: 10 yr ROI smart-contract Ponzi scheme

Solar Oil Project operates in the cryptocurrency MLM niche. The company does not provide a corporate address on its website.
Heading up Solar Oil Project is CEO Hitesh Juneja.
One of the key driving figures behind the 'Beyond Oil™' initiative, Mr. Juneja brings an invaluably diverse set of skills and experience to the project.
Juneja last popped up on BehindMLM's radar only recently. In April BehindMLM reviewed Apex Financial, an MLM crypto Ponzi scheme Juneja was cited as a co-owner of.
Juneja typically works with Jason Rose, also an Apex Financial co-founder.
Rose is Solar Oil Project's Chief Financial Officer.
Prior to Apex Financial, the last time we came across Rose and Juneja they were launching Rise Network. This was back in November 2019.
Read on for a full review of Solar Oil Project's MLM opportunity.
Solar Oil Project's Products
Solar Oil Project has no retailable products or services, with affiliates only able to market Solar Oil Project affiliate membership itself.
Solar Oil Project's Compensation Plan
Solar Oil Project affiliates invest bitcoin and/or ethereum into SOAX tokens. This is done on the representation of a ten-year passive return.
SOAX tokens are generated by Solar Oil Project at little to no cost. They are then sold to Solar Oil Project affiliate investors for 10 cents each.
Solar Oil Project affiliates must invest in at least 200 SOAX tokens at a time ($20).
Once invested in, SOAX tokens are parked with Solar Oil Project (staked). Once this is done Solar Oil Project represented the parked tokens will generate returns for ten years.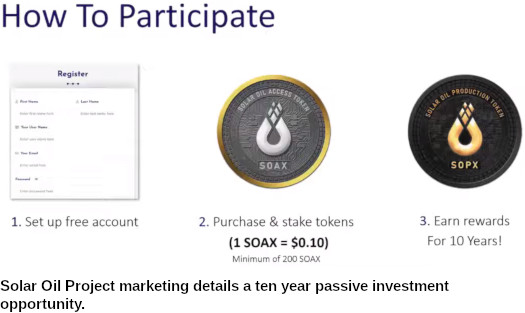 Returns are paid in SOPX tokens, which affiliates cash out for bitcoin or ethereum.
Solar Oil Project claims it pegs the SOPX withdrawal rate to the current West Texas Intermediate Crude Oil (WTI) price.
The MLM side of Solar Oil Project pays affiliates to recruit new affiliate investors.
Referral Commissions
Solar Oil Project pays referral commissions via a unilevel compensation structure.
A unilevel compensation structure places an affiliate at the top of a unilevel team, with every personally recruited affiliate placed directly under them (level 1):

If any level 1 affiliates recruit new affiliates, they are placed on level 2 of the original affiliate's unilevel team.
If any level 2 affiliates recruit new affiliates, they are placed on level 3 and so on and so forth down a theoretical infinite number of levels.
Solar Oil Project caps payable unilevel team levels at six.
Referral commissions are paid as a percentage of bitcoin and ethereum invested across these six levels as follows:
level 1 (personally recruited affiliates) – 10%
level 2 – 3%
levels 3 and 4 – 2%
levels 4 to 6 – 1%
Joining Solar Oil Project
Solar Oil Project affiliate membership is free.
Full participation in the attached income opportunity requires a minimum $20 investment in SOAP tokens.
Note that Solar Oil Project solicits investment in bitcoin and ethereum only.
Conclusion
Solar Oil Project is a simple smart-contract Ponzi scheme.
invest bitcoin and/or ethereum;
get SOAX tokens;
park SOAX tokens with Solar Oil Project;
collect SOPX tokens for 10 years; and
cash out SOPX tokens at value set by Solar Oil Project.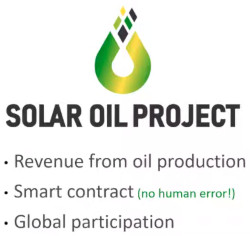 The ruse Solar Oil Project are running their Ponzi on is oil production from abandoned oil wells.
The Solar Oil project takes over these oil wells in partnership with local independent operators.

We replace the antiquated pump jacks with new, Solar-powered eco-friendly pumps that are significantly more efficient, automated, and cost effective.

This revitalization turns these old abandoned oil wells into productive, profitable locations.
Solar Oil Project claims that once an affiliate invests in SOAX tokens,
Within a few days, we deploy new eco-friendly equipment on these wells and begin generating profitable oil.

The oil being produced from these properties is represented by our second token – The SOPX – or Solar Oil Production.
Solar Oil Project claims that for each barrel of oil extracted out of the ground, one SOPX token is generated.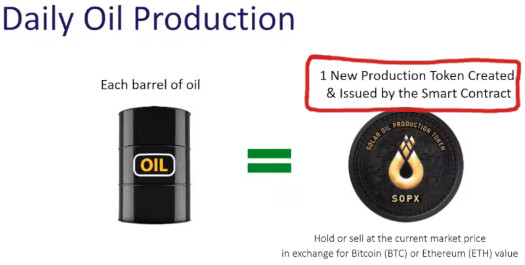 So, as a potential Solar Oil Project affiliate investor, how do you verify Solar Oil Project is doing what it claims it is.
Being a passive investment opportunity, Solar Oil Project is required to register with the SEC. After registering their securities offering, Solar Oil Project is then required to provide the SEC, its investors and the public with detailed financial reports.
These reports are required to be audited. More importantly, they're the only verifiable way to confirm Solar Oil Project is using external money to pay withdrawals.
Having launched on or around late 2020, by now there should be at least two quarters worth of financial reports filed with the SEC.
The good news is the SEC's Edgar database is readily searchable.
The bad news is neither Solar Oil Project or Hitesh Juneja are registered to offer securities in the US.
By not registering the with the SEC, Solar Oil Project and Juneja are committing securities fraud.
This is doubly concerning, seeing as Alexa estimates 96.4% of Solar Oil Project website traffic originates from the US.
Based on Apex Financial corporate records, Hitesh Juneja operates out of Texas. His partner in crime, Jason Rose, operates out of Alabama.
In the US, promotion of unregistered securities is just as illegal as offering unregistered securities.
With Solar Oil Project, we have a BVI shell company, run by American residents, offering and promoting unregistered securities to US residents.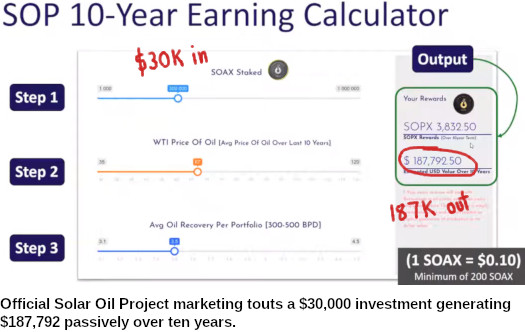 In what appears to be an attempt to justify securities fraud, Solar Oil Project has a "due-diligence" section on their website.
Here, a meaningless shell company registration in the scam-friendly BVI jurisdiction is provided. There's some equally meaningless oil pump patent, marketing videos, reserve reports (not a substitute for audited financial reports), and right at the bottom of the page, a "legal opinion and regulatory review".
Solar Oil Project has engaged multiple legal experts in the areas of cryptography, oil production, and regulatory oversight.

In relation to this, SOP has received detailed legal opinion letters on the merits and regulatory views on the SOAX and SOPX tokens by an attorney group specializing in this area of regulation.
Here's the problem: Solar Oil Project are ignoring their passive investment opportunity. Instead they're arguing that their tokens aren't securities offerings.
Whether SOAX and SOPX are securities offerings in and of themselves is irrelevant.
Solar Oil Project soliciting investment on the advertisement of a ten year passive return is a securities offering.
Solar Oil Project do not address this anywhere on their due-diligence page.
In the absence of any verifiable source of revenue, the only verifiable source of revenue entering Solar Oil Project is new investment.
Using new investment to fund SOPX withdrawal requests makes Solar Oil Project a Ponzi scheme.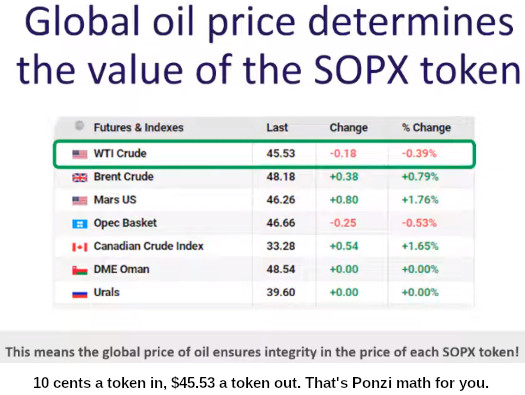 This shouldn't come as a surprise if you're familiar with Juneja's other recently launched crypto Ponzi, Apex Financial.
As with all MLM Ponzi schemes, once affiliate recruitment runs dry so too will new investment.
This will starve Solar Oil Project of ROI revenue, eventually prompting a collapse.
The math behind MLM Ponzi schemes guarantees that when they collapse, the majority of participants lose money.