Solar Group Review: Another "Russian inventor" Ponzi scheme

Solar Group is an investment themed MLM company based out of Russia.
Solar Group also goes by "Duyunov's Motors", referencing its founder Dmitry Duyunov.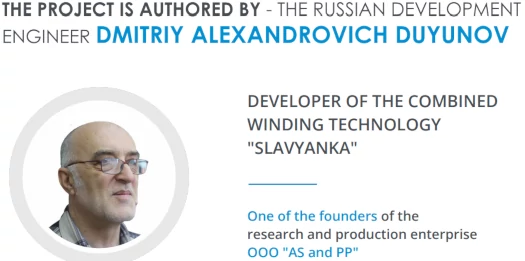 As far as I can tell Duyunov doesn't have a digital footprint prior to Solar Group surfacing in 2019. He appears to be a random Russian citizen leading the company.
Whether that's just on paper (puppet owner) or in actuality is unclear.
In an attempt to appear legitimate, Solar Group claims to be incorporated in Vanuatu as Solar Group LTD.
The bar to register a shell company in Vanuatu is low. There is also no active regulation of MLM related fraud.
Unless it is actually operating out the country, any MLM company representing it is incorporated in Vanuatu raises a red flag.
A "front office" address in Moscow is provided on Solar Group's website. Punching the address into Google suggests it belongs to a hotel.
Solar Group operates from the domains "solar.group" and "solargroup.pro". These are the domains known to me, there are probably others.
Alexa traffic estimates reveal the majority of visitors to Solar Group's website are from Russia and Vietnam.
Read on for a full review of Solar Group's MLM opportunity.
Solar Group's Products
Solar Group has no retailable products or services.
Affiliates are only able to market Solar Group affiliate membership itself.
Solar Group's Compensation Plan
Solar Group affiliates invest funds in virtual shares:
Package $500 – invest $500 and receive 107,500 shares
Package $750 – invest $750 and receive 173,250 shares
Package $1000 – invest $1000 and receive 242,000 shares
Package $1500 – invest $1500 and receive 385,500 shares
Package $2000 – invest $2000 and receive 542,000
Package $3000 – invest $3000 and receive ~831,000 shares
Package $200,000 – invest $200,000 and receive an undisclosed amount of shares
Package $250,000 – invest $250,000 and receive an undisclosed amount of shares
Package $300,000 – invest $300,000 and receive an undisclosed amount of shares
I believe there are investment packages between $3000 and $200,000 however these are not publicly disclosed.
Note that in exchange for slightly less shares, Solar Group affiliates can invest upfront or via a monthly plan.
Solar Group Affiliate Ranks
There are five affiliate ranks within Solar Group's compensation plan.
Along with their respective qualification criteria, they are as follows:
Partner – sign up as a Solar Group affiliate
Specialist – invest at least $250, recruit two Partners who have each invested at least $100 and generate at least $450 in downline investment volume
Master – invest at least $500, recruit three Partners who have each invested at least $200 and generate at least $2,000 in downline investment
Expert – invest at least $1500, recruit three Masters and generate at least $5000 in downline investment volume
Professional – invest at least $5000, recruit thee Experts and generate at least $10,000 in downline investment volume
Referral Commissions
Solar Group pays referral commissions via a unilevel compensation structure.
A unilevel compensation structure places an affiliate at the top of a unilevel team, with every personally recruited affiliate placed directly under them (level 1):

If any level 1 affiliates recruit new affiliates, they are placed on level 2 of the original affiliate's unilevel team.
If any level 2 affiliates recruit new affiliates, they are placed on level 3 and so on and so forth down a theoretical infinite number of levels.
Solar Group pay referral commissions across twenty unilevel team levels.
How many levels referral commissions are earned on is determined by rank:
Partners earn 15% on level 1 (personally recruited affiliates)
Specialists earn 15% on level 1, 5% on level 2, 4% on level 3, 2% on level 4 and 1% on level 5
Masters earn 15% on level 1, 7% on level 2, 5% on level 3, 3% on level 4, 2% on levels 5 and 6 and 0.5% on level 7
Experts earn 15% on level 1, 7% on level 2, 5% on level 3, 4% on level 4, 3% on level 5, 1% on level 6 and 0.5% on levels 7 to 9
Professionals earn 16% on level 1, 7% on level 2, 5% on level 3, 4% on level 4, 3% on level 5, 1% on level 6, 0.5% on levels 7 to 9 and 0.3% on levels 10 to 20
Rank Achievement Bonus
Solar Group rewards affiliates who qualify at Expert and Professional with the following one-time Rank Achievement Bonus:
qualify at Expert and receive $500
qualify at Professional and receive $1000
If an affiliate exceeds their Expert or Professional rank qualification by a factor of two in a quarter, an additional $1000 bonus investment package is issued.
Joining Solar Group
Solar Group affiliate membership appears to be free.
Solar Group solicits investment in USD via bank account, Payeer and BestChange. The company also solicits investment in various cryptocurrencies.
Solar Group Conclusion
Solar Group has been soliciting investment into "Slavyanka" motors for over four years.

Apparently these motors already exist and can be designed and manufactured.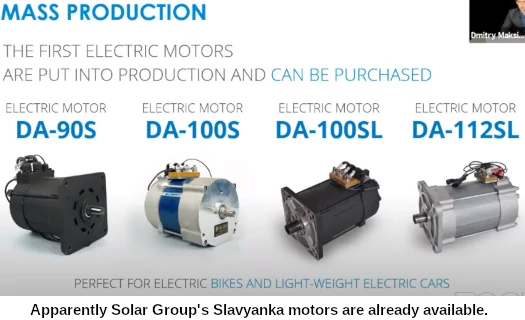 I'm not an engineer so I'm not going to pretend to be an authority on electric motors.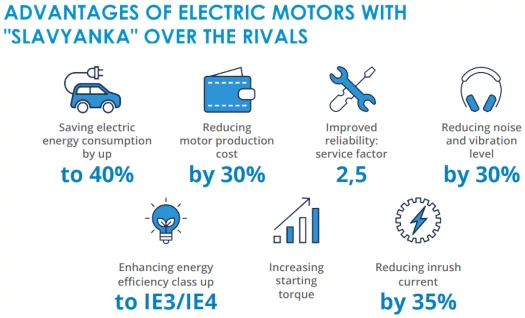 What I can tell you is that whatever legitimacy Duyunov Motors' Slavyanka motor might have had, went out the window when they attached it to a Ponzi scheme.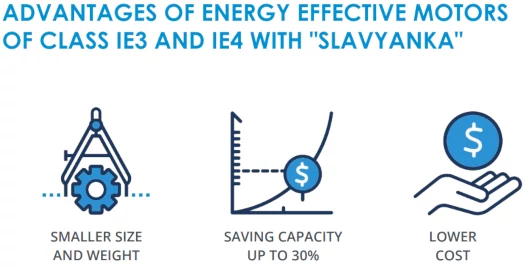 Solar Group today is a variation of the "Russian inventor" Ponzi scheme model.
The most notorious of these scams is Skyway Capital, fronted by Anatoly Yunitskiy.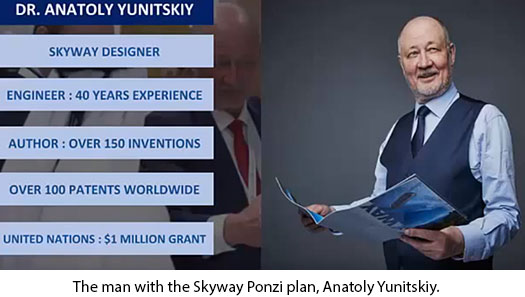 I also recently reviewed Weter, fronted by Dennis Tiaglin.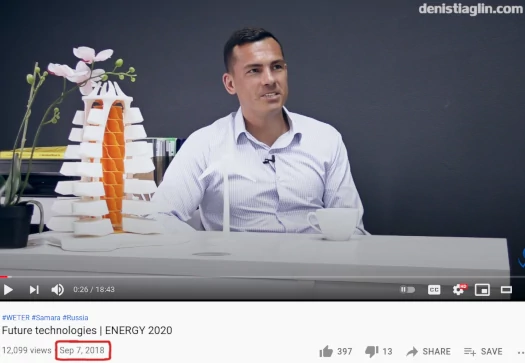 Skyway Capital has been pretending to develop a monorail for over a decade. Weter's shtick is turbines inside skyscrapers.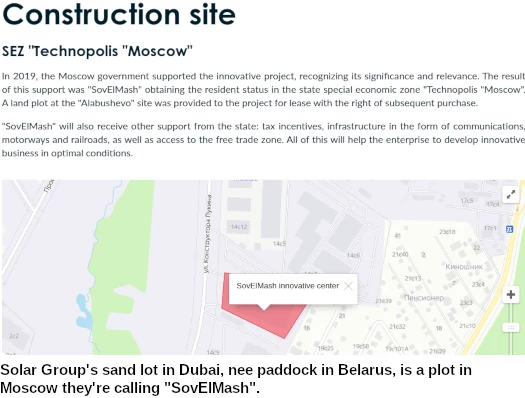 The common thread between these schemes and Solar Group is investment in alleged Russian technological innovation.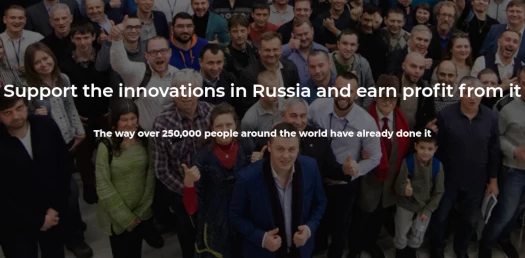 In reality all that's happening is money is being fleeced from new investors to pay those who've already invested.
The MLM side of Solar Group is straight up pyramid scheme territory.
Solar Group represents investors are investing in virtual shares.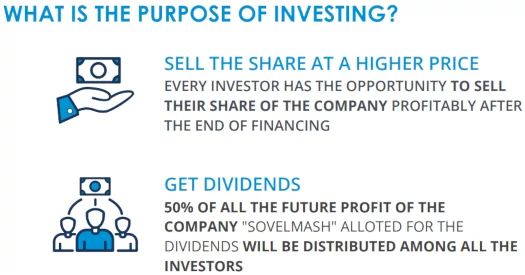 These shares can be traded among Solar Group investors and supposedly also pay dividends.
The made-up "nominal value" of each share is $1. E.g. you invest $3000, get ~$831,000 shares and Solar Group would have you believe that, when the time comes, there's suckers lining up to pay you $831,000 for your shares.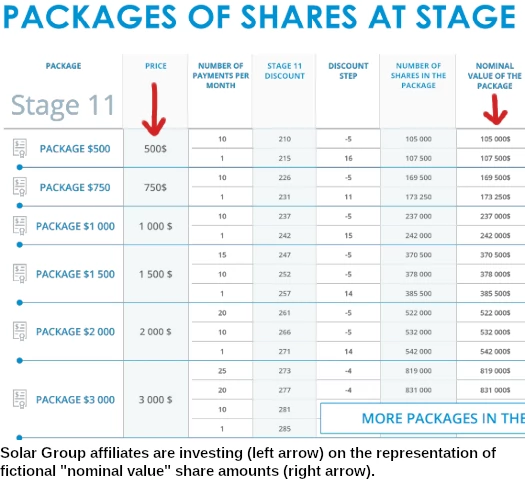 "When the time comes" is hinged on the promise of an IPO, which will of course never happen.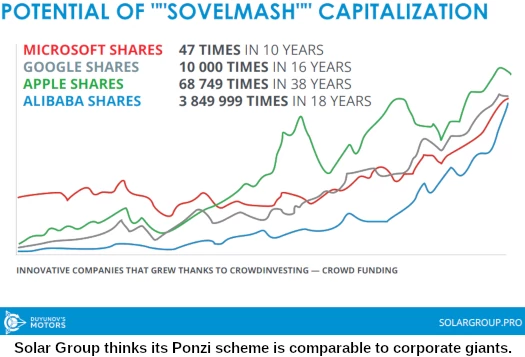 Even if it did, offering virtual shares on the representation of passive earnings is a securities offering regardless.
Solar Group isn't registered to offer securities in Russia or anywhere else in the world.
As previously stated, for the purpose of due-diligence Solar Group's shell incorporation in Vanuatu is meaningless.
What isn't meaningless is securities fraud. Outside of Russia Solar Group is being promoted by these scammers: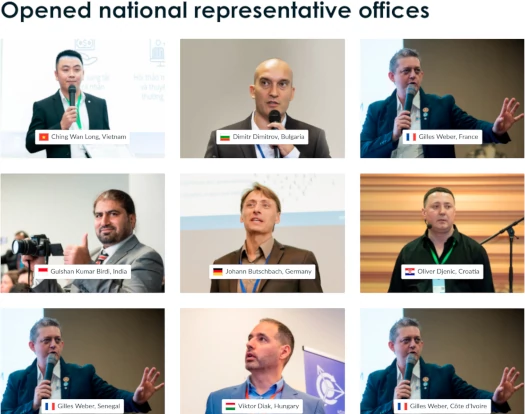 For reference:
Ching Wan Long, Vietnam
Dimitr Dimitrov, Bulgaria
Gilles Weber, France, Senegal and Cote d'Ivoire
Gulshan Kumar Birdi, India
Johann Butschbach, Germany
Oliver Djenic, Croatia and
Viktor Diak, Hungary
None of whom are registered to offer securities in their country of residence.
Without registration with financial regulators and legally required audited financial reports, Solar Group's claim it pays returns via motor sales isn't credible.
Not withstanding gullible investors investing for over four years now, and the only earnings being paid out are tied to recruitment.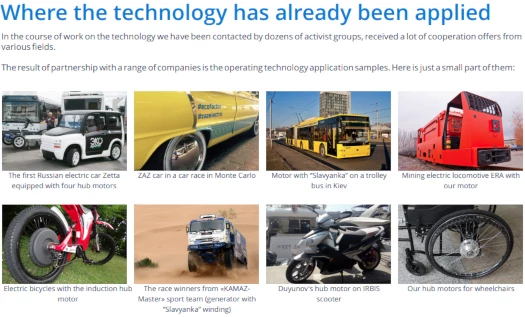 I imagine at some point an internal exchange will be set up, allowing Solar Group affiliates to withdraw some of their represented share value.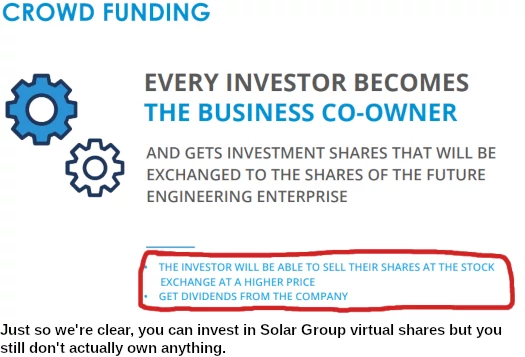 After all, even the most gullible of people can only be lead on for so long.
Solar Group will pay withdrawals till whatever threshold Duyunov and the gang have agreed to, after which they disappear.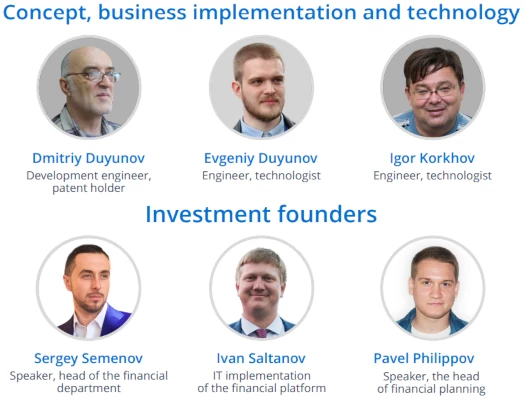 Best of luck recouping invested funds from randoms in Russia.
As with all MLM Ponzi schemes, once affiliate recruitment dries up so too will new investment.
This will starve Solar Group of ROI revenue, eventually prompting a collapse.
The math behind Ponzi schemes guarantees that when they collapse, the majority of participants lose money.
One additional note; While I'm not ready to call three companies a trend, hopefully we're not seeing the start of a new "Russian inventor" Ponzi niche.
Although a Boris CEO inventor not bound to the constraints of reality might be fun.