SingliWorld Review: Forex investment through TFX Global?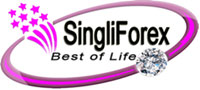 SingliWorld get off to a bad start by advertising on their website that they were "founded in 2007".
The SingliWorld website domain ("singliworld.com") however, was only registered on the 21st of January 2013.
It's possible that the company existed under a different name, however SingliWorld, as it's presented on their website, has only been around for a few years.
Credited as the Founder and Managing Director of the company is Hermes Leong (full name Hermes Leong Koon Wah).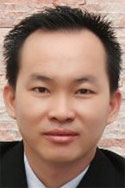 There is no information about Leong (right) provided on the SingliWorld website, with the company instead providing a copy and pasted generic marketing spiel:
To be properly introduced to Singliworld is to learn about the individual(s) who had the unique vision to start it in the first place.
If you copy and paste "is to learn about the individual(s) who had the unique vision to start it in the first place" into Google, the same phrase is used in 288 unrelated results.
It appears to have been first used by Aspire Worldwide in 2011 and subsequently copied numerous times.
Further research reveals SingliWorld affiliates crediting Leong with '20 years of experience in regional business' and a 'degree in computer management and information technology'.
No specifics are provided and I was unable to find anything MLM related to Leong. For the most part who this individual is remains a mystery.
Of note is that on his LinkedIn profile, Leong lists his current location as Singapore. This is likely where the company is being run out of.
This is important because Singliworld Pte Ltd appears on an "investor alert list" maintained by the Monetary Authority of Singapore.
As Singapore's central bank, the Monetary Authority of Singapore (MAS) is an integrated supervisor overseeing all financial institutions in Singapore.

The Investor Alert List provides a listing of unregulated persons who, based on information received by MAS, may have been wrongly perceived as being licensed or authorised by MAS.
Read on for a full review of the SingliWorld MLM business opportunity.
The SingliWorld Product Line
SignliWorld has no retailable products or services.
A number of services as advertised on the SingliWorld website, however these don't have anything to do with the SingliWorld MLM opportunity.
Reflecting that, at the time of publication most of the links did not work:
SingliTravel – redirects to expired domain (broken)
SingliForex – related to the business opportunity (see compensation plan analysis below)
SingliMall – redirects to broken e-commerce site (links don't work (eg. "buy it now"), images missing)
SingliDeal – link on the SingliWorld website does not work (broken)
SingliBid – link on the SingliWorld website does not work (broken)
SingliSocial – link on the SingliWorld website does not work (broken)
The SingliWorld Compensation Plan
The SingliWorld compensation plan is not provided to the general public on their website.
As such, the following analysis has been put together with compensation plan material sourced from SingliWorld affiliates.
Forex Investment
SingliWorld accept investment amounts of $1000 or more, with an advertised ROI of 5-15% a month.
This is referred to as the "Superman EA Forex Trading Platform", and appears to be wholly passive.
Unique trading platform. You are completely "hands free". Just leave it to the traders to trade for you.
SingliWorld keep 30% of the ROI generated each month and also charge $2 a month per investment made and retained with the company.
An initial $30 fee to set up the investment also applies.
Referral Commissions
Referral commissions are paid out to encourage recruitment of new SingliWorld affiliate investors.
These commissions are paid out via a unilevel compensation structure.
A unilevel compensation structure places an affiliate at the top of a unilevel team, with every personally recruited affiliate placed directly under them (level 1):

If any personally recruited affiliates go on to recruit new affiliates of their own, they are placed on level 2 of the original affiliate's unilevel team.
If any level 2 affiliates recruit new affiliates, they are placed on level 3 and so on and so forth down a theoretical infinite number of levels.
SingliWorld cap payable unilevel levels at 5, with commissions paid out per investment made by recruited affiliates as follows:
level 1 (personally recruited affiliates) – $3
levels 2 and 3 – $1
levels 4 and 5 – 50 cents
Joining SingliWorld
Affiliate membership with SingliWorld is free, however affiliates must invest at least $1000 if they wish to participate in the income opportunity.
As such the defacto minimum cost of SingliWorld affiliate membership is $1000 (investment) plus a $30 admin fee.
Note that an ongoing $2 fee per month is also charged per investment made with the company.
Conclusion
When you combine the following:
shady individual with no verifiable history (MLM or otherwise)
copy and pasted text appearing on the SingliWorld website
product and service site links broken on the SingliWorld website
5-5% a month guaranteed "passive" ROIs and
SingliWorld appearing on an investor watchlist in Singapore
It's pretty obvious that the SingliWorld MLM business opportunity doesn't add up.
Seeing as SingliWorld is little more than a passive investment opportunity with an MLM-style referral plan attached, that's what we'll focus on (everything else on the SingliWorld website is smoke and mirrors).
The trades supposedly generating 5-15% a month ROIs for SingliWorld affiliates are being handled by TFX Global.
To that end a SingliWorld affilaite login button appears on the TFX Global website: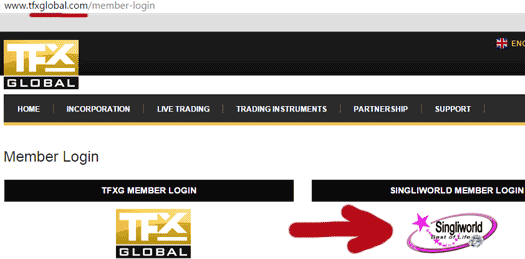 So who runs TFX Global then?
Like the SingliWorld website, much of the TFX Global website does not work (links broken, FAQ has no answers etc.).
Additionally the TFX Global website domain registration is set to private. The domain itself was registered 21st of October 2013, nine months after that of SingliWorld.
Further research reveals a TFX Global "Limited Power of Attorney" document, which reveals that Hermes Leong owns both TFX Global and its parent company,  Triumph Global (Asia) Limited.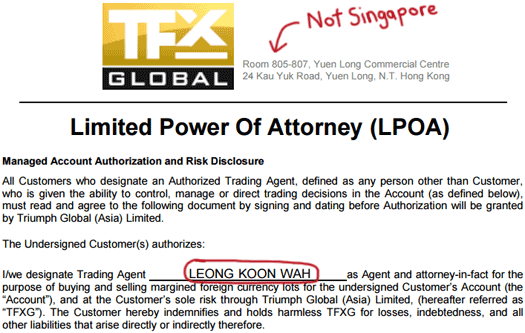 I/we designate Trading Agent LEONG KOON WAH as Agent and attorney-in-fact for the purpose of buying and selling margined foreign currency lots for the undersigned Customer's Account (the "Account"), and at the Customer's sole risk through Triumph Global (Asia) Limited, (hereafter referred as "TFXG").
An address on the first page of the document lists an address for TFX Global in Hong Kong.
A search of the address reveals it to be used by multiple businesses, indicating that it is no more than a rented mailbox.
Why Leong has registered his Forex business in Hong Kong, when he himself is operating out of Singapore is a mystery.
Adding fuel to the Ponzi fire is the following statement, which appears on the TFX Global website:
TFX Global does not service US entities or residents of any kind.
Well gee, I wonder why that is.
Could it be what little amount of Forex may or may not be going on serves only as a ruse to use newly invested funds to pay off existing investors?
Marketing presentations and the SingliWorld website itself are full of financial jargon, charts and general information. The idea is to obviously overwhelm visitors, seeing as SingliWorld itself is little more than a $1000 or more in, 5-15% a month ROI passive investment scheme.
The kind of people attracted to such claims aren't going to understand or even try to understand the financial information presented on the SingliWorld site.
All they need to know is that some guy in Singapore, who has no verifiable history, is offering them a 5-15% ROI for infinity months.
There's a reason the Monetary Authority of Singapore has put SingliWorld on their investor alert list, and it's not because they are legitimate.
If SingliWorld were, surely they'd be able to clear up the situation with MAS and have their company removed from the list?
Yet there it remains.
Oh and surprise surprise, TFX Global are also on the MAS investor alert watchlist.
Yeah I know, bet you didn't see that coming…
As with all Ponzi schemes, once new investment dries up SingliWorld are going to find themselves unable to meet their advertised 5-15% a month ROI obligations.
This will first manifest itself by way of the monthly ROI dropping and remaining at close to 5%, before either stopping altogether or dipping further.
At that point Hermes Leong does a runner, with anyone with funds still left in the scheme losing out.
Update 5th July 2018 – SingliWorld Founder Leong Koon Wah and five co-conspirators have been arrested in Singapore.
The group are facing charges in relation to the illegal operation of SingliWorld and related entities.