Aspire Worldwide Review: $36,336 pay-to-play cashback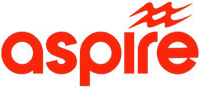 There is no information on the Aspire website indicating who owns or runs the business.
The company does have an "About Us' section on their website, but clicking through reveals multiple vague marketing spiels linking to a "corporate brochure".
This brochure contains no information about Aspire Worldwide's management and ownership. The document does little more than advertise the purported benefits of Aspire Worldwide affiliate membership.
The company's "Contact Us" page lists an address in Oxon in the United Kingdom, which is presumably where Aspire Worldwide is being run out of.
Earlier this month it was revealed that the Australian Competition and Consumer Commission (ACCC) are investigating Aspire Worldwide. A report covering the investigation names Andy Hansen as one of the co-founders of the company.
Why this information, along with Hansen's fellow co-founders, is not presented on the Aspire Worldwide website is a mystery.
Prior to founding Aspire Worldwide in 2013, Hansen was heavily involved with Lyoness.
The ACCC are currently suing Lyoness after alleging it to be a pyramid scheme. In their Statement of Claim the ACCC write
From about September 2011 until about April 2012 the Lyoness Loyalty Program was promoted to people in Australia by Andy Hansen, Wendy Hansen, Phil Watts and Sally Watts operating under the collective name "Global Go Getters".
Andy Hansen was evidently instrumental in the establishing of Lyoness in Australia.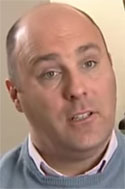 One BehindMLM reader  who wrote in describes Hansen (right) as being "responsible for the pre-launch of Lyoness in Australia". One Lyoness affiliate contacted by News.com.au
said she paid $3000 to be part of that scheme back in 2011 after watching Mr Hansen's training videos. She said watching an Aspire webinar was like déjà vu.

"It's disgusting, it's absolutely disgusting," she said. "I had to turn it off. I couldn't watch. It's the same story all over again, it makes me sick.

I listened to his Lyoness webinars promising the earth, three times a week — Tuesday, Thursday, Saturday — for months and months. We thought it was legitimate."

Property developer Kevin Taylor, 64, told news.com.au he lost $6000 all up in the Lyoness program — $3000 paid to Mr Hansen, and a further $3000 to join the Australian Lyoness operation.

"He's like a cobra — he puts his head up, bites someone, and once he's bitten them he looks for the next one to bite," Mr Taylor said.
Whether Hansen was involved in the MLM industry prior to joining Lyoness is unclear. He seems to have quit Lyoness shortly prior to the founding of Aspire Worldwide.
Read on for a full review of the Aspire Worldwide MLM business opportunity.
The Aspire Worldwide Product Line
Aspire Worldwide appears to have no retailable products or services.
The Aspire Worldwide website has three main sections; "About", "opportunity" and "contact".
The footer of the website does contain a link to "shop", however it currently links through to an empty replicated storefront.
At the time of publication, Aspire Worldwide would appear only to sell affiliate memberships to the opportunity itself.
The Aspire Worldwide Compensation Plan
The Aspire Worldwide compensation plan is not available to the general public. The company does have a "monetisation plan" section on their website, however if one clicks through, instead of being presented with Aspire Worldwide's compensation plan, a visitor is requested to "register for a webinar".
The following Aspire Worldwide compensation plan analysis is based on two such webinar, hosted by Andy Hansen on the 6th and 22nd of September 2014.
Aspire Worldwide Affiliate Ranks
There are eight affiliate ranks within the Aspire Worldwide compensation plan.
Along with their respective qualification criteria, they are as follows:
Partner – 100 MSVP
Executive – 200 MSVP
Senior Executive – 600 MSVP
Group Executive – 1500 MSVP
Senior Group Executive – 2500 MSVP
Director – 4000 MSVP
Senior Director – 10,000 MSVP
Group Executive Director – 20,000 MSVP
Andy Hansen states on a webinar that 1 MSVP is worth $75 AUD. Presumably this is $75 spent by either an affiliate or customer.
Note that these ranks must be qualified for monthly, and that only 50% of qualifying MSVP can come from any one personally recruited affiliate and their downline.
Shopping & Merchant Commissions
Despite Aspire Worldwide's shopping network not being up and running yet, the company advertises a 20% commission on "personal shopping" done by customers. What this 20% is paid out on is unclear.
Aspire Worldwide also advertise a 20% commission paid out on merchant license fees, marketing packages and their shopping. As with customers however, what the percentage is paid out on is unclear.
A 10% commission is paid out on shopping by customers and merchant services charged to merchants acquired by personally recruited affiliates.
An additional 1% is paid to Regular Affiliates, paid out down 7 levels of recruitment.
Recruitment Commissions
Recruitment Commissions in Aspire Worldwide are paid out based on how much an affiliate pays when they sign up.
Regular Affiliates ($6116)
Regular Aspire Worldwide affiliates are paid 20% of the affiliate fees newly recruited affiliates pay ($6116).
Regular affiliates also receive a 10% commission on the recruiting efforts of their personally recruited affiliates.
An additional 1% is paid out down seven levels of recruitment.
Coach Affiliates ($36,336)
In addition to receiving the recruitment commissions Regular Affiliates qualify for, Coach Affiliates qualify to earn 20% of the fees paid by Coach affiliates they recruit ($36,336).
Coach affiliates also earn a 10% commission on the recruitment of Coach Affiliates and any coaching services purchased by merchants instigated by personally recruited affiliates.
An additional 1% is paid out on the fees Coach Affiliates pay and any coaching services Merchants pay for, paid out down seven levels of recruitment.
Career Bonus Pool
The Career Bonus pool is made up of "8% of the gross sales of your community". Whether "community" is defined as an affiliate's downline or geographically is unclear.
The Career Bonus Pool is paid out via a system of points, with each point corresponding to one share in the pool.
Points are allocated to Aspire Worldwide affiliates based on their affiliate rank:
Partner – 1 point
Executive – 2 points
Senior Executive – 6 points
Group Executive – 15 points
Director – 40 points
Senior Director – 100 points
Group Executive Director – 200 points
The Career Bonus Pool is paid out monthly.
Curiously, Aspire Worldwide advertise monthly "minimum" amounts that each affiliate rank can earn in the pool.
These amounts are as follows:
Partner – $175.42
Executive – $350.85
Senior Executive – $1052.55
Group Executive – $2631.37
Director – $7,017
Senior Director – $17,542.50
Group Executive Director – $35,085
How these amounts are calculated is not disclosed.
Worldwide Bonus
The Worldwide Bonus is made up "3% of the worldwide sales" generated by Aspire Worldwide affiliates.
What "sales" is defined as is unclear, but it would appear to be the recruitment of affiliates and any fees charged to participating merchants.
Director, Senior Director and Group Executive Director ranked affiliates qualify for shares in the Worldwide Bonus pool.
The same point structure for these ranks used in the Career Bonus Pool are used, however once again minimum monthly guaranteed earnings are cited:
Director – $3750
Senior Director – $9,375
Group Executive Director – $18,750
Founders Bonus
The Founders Bonus is made up of 2% of the worldwide sales generated by Aspire Worldwide affiliates.
Senior Director and Group Executive Director ranked affiliates qualify for shares in the pool, which are again the same as those allocated in the Career Bonus Pool.
Quoted "minimum possible bonus" guaranteed earnings for Senior Director and Group Executive Director ranked affiliates are as follows:
Senior Director – $90,000
Group Executive Director – $180,000
Note that the Founders Bonus is paid out annually.
Shopping Override
The Shopping Override is a bonus awarded to Coach Affiliates.
When an Aspire Worldwide affiliate joins as a Coach, they are allocated 7 "micro-communities", of which they are paid a 5% bonus on their shopping efforts.
This 5% is paid out income Worldwide Aspire received from participating merchants members of the micro-communities allocated to the Coach Affiliate shop from.
Joining Aspire Worldwide
Aspire Worldwide prospective affiliates have two joining options to consider:
Regular Affiliate (Franchise Network Partner) – $6116 ($3056 till the end of 2014) or
Coach Affiliate – $36,336
The primary difference between the two options is commission qualification and income potential through Aspire Worldwide's compensation plan.
Conclusion
With Aspire Worldwide's cashback platform having launched, affiliate membership options running into the tens of thousands of dollars raise strong questions of legitimacy.
Without the cashback platform having launched, as it currently the case, there are some serious compliance concerns raised.
At the forefront of such concerns is the fact that one can pay $36,336 and then set about recruiting affiliates (who pay either $6116 or $36,336 themselves), and getting paid for it.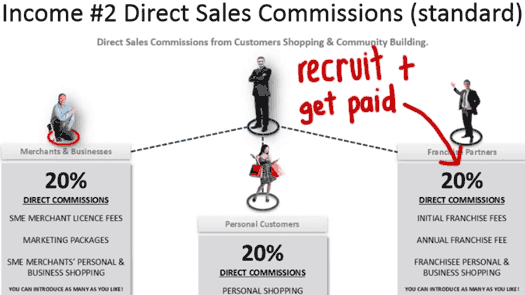 As a single-level affiliate model this is fine, but the $10 level 1 commission and additional 1% paid out down seven levels of recruitment drags Aspire Worldwide squarely into pyramid scheme territory.
And boy are they going for gold. $36,336 to sign up?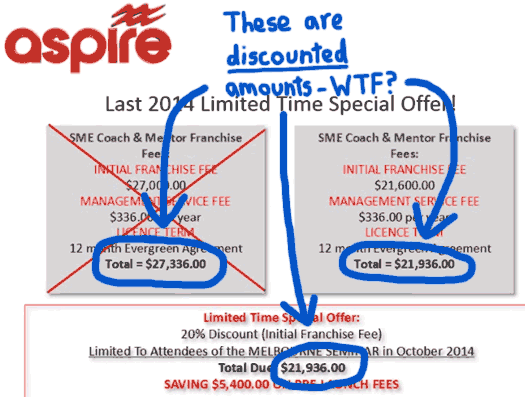 Bloody hell. And I thought Dubli charging $12,000 was bad.
Evidently the idea is to eventually bring the shopping network to the forefront, but first that doesn't negate the fact that chain-recruitment commissions are being paid out. And secondly, what has Aspire Worldwide been paying out this last year or so?
With no shopping network have they only been paying out on the recruitment of new affiliates?
That's about as raw a recruitment-scheme as you can get. No wonder the ACCC are investigating.
In addition to the pyramid scheme nature of the compensation plan, you've also got pay-to-play happening with the Coach Affiliate exclusive commissions. And the guaranteed minimum payouts via the bonus pools?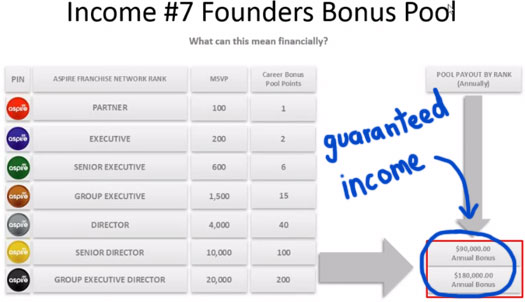 Considering recruitment of affiliates is currently the primary method of generating MSVP points which are in turn needed for rank promotion – we're potentially looking at a pyramid scheme guaranteeing minimum monthly and annual commissions.
Two compliance disasters for the price of one.
Aspire Worldwide appear to be primarily focused on the Australian market, with a stronghold in Perth (Western Australia). This is no doubt a fall-back to Andy Hansen's role in introducing Lyoness to Australia.
Quite obviously Aspire Worldwide has been modeled on Lyoness, although the compensation plans are vastly different.
Why Hansen wasn't happy with Lyoness I can't say, but it might have something to do with the differences between the two company's compensation structures.
Whereas Lyoness is more of a slow game (invest a stack of money and then recruit new investors for an eventual payout), Aspire Worldwide is instead ridiculously top-heavy (20% commissions on tens of thousands of dollars in sign-up fees).
There's no long-term play with Aspire Worldwide, other than affiliates paying annual fees (which aren't disclosed) and the cashback network (which doesn't exist yet in any significant capacity).
With ACCC investigators just coming off an investigation into Lyoness (they attorneys have taken over now), I can't see their investigation into Aspire Worldwide faring a positive outcome.
It's likely that the company is going to go down hard. What that means for Andy Hansen and his anonymous co-founders remains to be seen.
As I understand it Hansen is from the UK, but seems to spend a considerable amount of time in Australia pushing Aspire Worldwide. I'm not sure if he's based out Perth.
Either way, should the ACCC launch legal action following their investigation (pretty much a granted given Aspire Worldwide's compensation plan), the shutdown of operations in Australia would effectively gut the company.
Unlike Lyoness, Aspire Worldwide has no other geographical markets to fall back on.
Approach with extreme caution.