One World Ads Review: $20 a month matrix recruitment

One World Ads identify Manos Sergakis as CEO of the company on their website.
According to Sergakis' Facebook profile he is based out of Athens in Greece. This is presumably where One World Ads is being run out of.
Sergakis appears to be heavily involved in "rev share" opportunities, with promotional material for Triple Threat and Ultimate RevShare appearing on his Facebook timeline.
"Rev share" is code for Ponzi scheme in HYIP and MLM underbelly circles. New affiliates invest funds and that "revenue" is then "shared" with existing affiliates.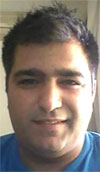 Sergakis (right) appears to have gotten involved in rev share opportunities in late 2015.
Prior to that he was an affiliate in Four Corners Alliance Group, a matrix-based pyramid scheme.
Other MLM opportunities Sergakis has been an affiliate of include DS Domination (2014), Feeder Matrix (2014) and My Fun Life (2013),
Sergakis has pitched various opportunities he's been involved in through what he called the Facebook Millionaire's Club.
In a promotional video for the club, Sergakis claimed he is 'a leader in the network marketing profession for over 8 years'.
Today the Facebook Millionaire's Club website is offline.
Read on for a full review of the One World Ads MLM opportunity.
The One World Ads Product Line
One World Ads has no retailable products or services, with affiliates only able to market One World Ads affiliate membership itself.
Various advertising services are advertised on the One World Ads website, however these have nothing to do with the One World Ads MLM opportunity.
The One World Ads Compensation Plan
One World Ads purchase $20 4×6 matrix positions and are paid when subsequently recruited affiliates do the same.
Direct Recruitment Commission
A $3 direct recruitment commission is paid for each One World Ads affiliate recruited.
Residual Recruitment Commissions
A 4×6 matrix places an affiliate at the top of the matrix, with four positions directly under them: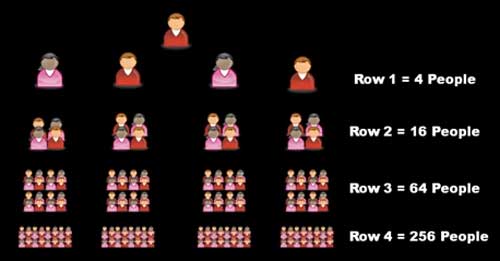 These initial four positions form the first level of the matrix, with the second level generated by splitting each of the four positions into another four positions each (16 positions).
The third level of the matrix is generated in the same manner, again by splitting the sixteen level 2 positions into another four positions each.
Additional matrix levels are generated as required, with positions in the matrix filled via direct and indirect recruitment of One World Ads affiliates.
Commissions are paid when a position in the matrix is filled. How much of a commission is paid out is determined by what level of the matrix a newly recruited affiliate is placed on:
levels 1 to 4 – $1 per affiliate recruited
levels 5 and 6 – $2 per affiliate recruited
Note that the above commissions are paid monthly, subject to monthly payment of the $20 monthly One World Ads affiliate fee.
Joining One World Ads
Affiliate membership with One World Ads is $20 a month.
Conclusion
With nothing being marketed to or sold to retail customers (within the MLM opportunity), One World Ads is a simple $20 a pop recruitment scheme.
One World Ads pay $20 a month and get paid to recruit others who do the same. As long as everybody continues to pay $20 a month, commissions are paid.
Being a monthly-fee based scheme, once recruitment slows down and those at the bottom of the company-wide matrix are unable to earn commissions, they will stop paying their monthly fees.
This means those directly above them will stop getting paid. Unless they can replace those who quit the company, they too will also soon stop paying their monthly fee.
This effect slowly trickles up the entire One World Ads affiliate genealogy until eventually an irreversible collapse is triggered.
At that point anyone who hasn't recruited enough people into One World Ads to recoup their affiliate fees, loses out.
Mathematically this is guaranteed to be the majority of One World Ads affiliates.