Goldmine Ads Review: uFun Club Ponzi scheme feeder?

There is no information on the Goldmine Ads website indicating who owns or runs the business.
The Goldmine Ads website domain ("rnrgoldmineads.com") was registered on the 8th of August 2013, however the domain registration was set to private.
Further research reveals Goldmine Ads affiliates citing Robert Hinrichs and Richie Boman as the admins and owners of the company.
This appears to have been later confirmed by Hinrichs, who wrote the following in a Goldmine Ads related Skype chat with affiliates:
I've been online for many years. Richie and I got tired of being scammed and lured into programs by so-called 'good' people, only to find out that they weren't so good.

We have created a program here that takes the best of many programs and stays away from the false lures and overblown hype that never pans out for the masses.

We have built a program with a custom script, that is meant to last. That is our hope and desire.
I did try to put together an MLM history on these two but unfortunately nothing came up.
Going off of what Hinrichs shared above though, Goldmine Ads would appear to be the duo's first MLM venture.'
Read on for a full review of the Goldmine Ads MLM business opportunity.
The Goldmine Ads Product Line
Goldmine Ads has no retailable products or services, with affiliates only able to market affiliate membership to the company itself.
The Goldmine Ads Compensation Plan
The Goldmine Ads compensation plan sees affiliate sign up and then purchase matrix and revenue-sharing positions.
Before we get into the specifics of Goldmine Ads compensation plan, note that 30% of all commissions paid out must be reinvested back into the company.
Also Goldmine Ads affiliates are capped from withdrawing up to $1500 in funds in a single transaction.
This limit can be increased via recruitment of new affiliates and a Goldmine Ads affiliate's own investment activities.
Revenue-Sharing
GoldMine Ads solicit funds from affiliates and then use those funds to pay commissions on revenue-sharing positions.
Five tiers of revenue-sharing are offered to Goldmine Ads affiliate as follows:
$3 revenue-sharing position = $4.50 ROI
$5 revenue-sharing position = $8 ROI
$7 revenue-sharing position = $11.90 ROI
$9 revenue-sharing position = $16 ROI
$11 revenue-sharing position = $19 ROI
Matrix Commissions
Goldmine Ads operate three tiers of 2×2 matrix cyclers.
A 2×2 matrix places an affiliate at the top of a 2×2 matrix, with two positions directly under them: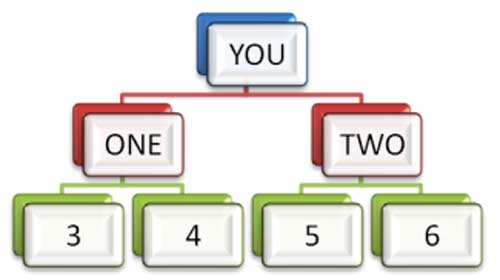 These two positions have two positions each under them, making up a total of six positions in the matrix to be filled.
Positions in the matrix are filled via affiliates purchasing positions, with a cycle commission paid out when all positions are filled.
How much of a cycle commission is paid out depends on which matrix tier a Goldmine Ads affiliate buys a position in:
$2 position tier = $4 cycle commission and one $3 revenue-sharing position
$6 position tier = $12 cycle commission, one $2 matrix position and one $3 revenue-sharing position
$10 position tier = $20 cycle commission, one $2 matrix position and one $5 revenue-sharing position
Four additional "specialty cyclers" are also available, requiring three positions under them to be filled before a commission is paid out.
Position costs and commissions paid out in the specialty cyclers are as follows:
Cycler Advancer ($5 a position) – $10 cycle commission and various cash bonuses and matrix positions attached to specific position purchase numbers
Blaster Cycler ($12 a position) – $24 cycle commission and $2 paid to the last affiliate to sign up with Goldmine Ads
Lode Cycler ($15 a position) – $30 cycle commission and $3 paid to the last affiliate to sign up with Goldmine Ads
Golden Nugget Cycler ($24 a position) – $48 cycle commission and various cash bonuses attached to specific position purchase numbers
Referral Commissions
A 10% referral commission is offered on the purchase of matrix and revenue-sharing positions made by personally recruited affiliates.
Monthly Bonus Pools
Goldmine Ads take an unspecified amount of funds invested each month and pay it out via a series of Monthly Bonus Pools:
25% of the funds allocated are distributed to the "top 4 monthly recruiters"
25% of the funds allocated are distributed to the top 4 investors who invest the most
45-50% of the funds allocated are distributed among "founding members" (affiliates who invested early?)
0-5% (depending on how much is allocated to founding members) of the funds allocated are distributed to specialty cycler investors
Joining Goldmine Ads
Affiliate membership with Goldmine Ads is $5 a month.
Conclusion
With nothing being marketed and sold to retail customers, Goldmine Ads are simply shuffling newly invested funds to pay off existing investors.
In the case of the revenue-sharing positions, this is readily observable:
The revenue shares you purchase will receive daily earnings.

Once you make a purchase, the system automatically calculates earnings for all other members.
The matrices operate in the same manner, requiring instead a specific amount of new investment to be made over simply sharing what is invested with all previous investors.
The core idea however is the same, new affiliate funds flow into the company and are distributed among existing investors.
What's particular troubling about Goldmine Ads is that it appears to be little more than a feeder for the Ponzi scheme uFun Club.
In an email sent out on December 25th to Goldmine Ads affiliates, the admins wrote
We have one BIG announcement and one HUGE new feature about to be unleashed!

As of today, you may fund your account with Utokens! This is the newest and strongest digital currency available, and it will become the online currency of choice in 2015.

If you currently have Utokens and would like to use them to make GoldMine Ads purchases, send them to username: (removed), and then email me immediately at (removed) with your GoldMine Ads username, and I will place your equivalent USD funds in your Main Wallet.

If you would like to invest in Utokens, as we have here at GMA, then send in a support ticket or email me directly at the above email address!
Note only are the Goldmine Ads admins accepting uTokens in exchange for GoldMine ads positions, they are also actively recruiting their Goldmine Ads affiliates into the scheme.
One would imagine some of the money passing through Goldmine Ads is being laundered through uFun Club. Ditto payments received by the admins being laundered back through Goldmine Ads.
As such, the collapse of uFun Club will likely see the collapse of Goldmine Ads too.
What a mess.
As with all Ponzi schemes, once new affiliate investment in matrix and revenue-sharing positions slows down, Goldmine Ads will find itself unable to meet its investment liabilities.
This will first manifest itself via problems with the revenue-sharing positions, are they are supposed to be paid daily.
Any issues with the revenue-sharing position ROIs would suggest problems with a lack of funds fueling the rest of Goldmine Ads.
And speaking of problems and issues, it seems Goldmine Ads might have already triggered money laundering filters with at least one payment processor.
In an affiliate update sent out on January 19th, the admins wrote
ATTENTION ALL MEMBERS STP ON HOLD!

The United States is now requiring all financial providers, regardless of country, to acquire licensing in most states. SolidTrust Pay (STP) is presently working with State governments to ensure they are fully compliant.

Until further notice, Goldmine Ads is unable to accept or send payments via STP. Your support and patience during the regulation procedure is greatly appreciated.

During this time, we can accept Paypal and we are working on making other processors available.
The United States hasn't recently implemented anything new, with the story above being smoke and mirrors to cover the termination of Goldmine Ads' SolidTrustPay account.
SolidTrustPay are currently a darling amongst schemes operating in the MLM underbelly scene, so if they've kicked out Goldmine Ads… something is probably up.
And using Paypal to continue paying Ponzi ROIs in the meantime? Yeah, how long's that going to last?