My Cycler Review: $10 monthly subscription cycler Ponzi

There is no information on the My Cycler website indicating who owns or runs the business.
The My Cycler website domain ("mycycler.com") was registered on the 30th of September 2016. Emmanouil Sergakis is listed as the owner, with an address in Athens, Greece also provided.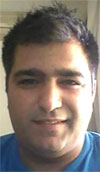 Sergakis (right) first popped up on BehindMLM's radar earlier this year as the admin of One World Ads.
One World Ads was a $20 a pop matrix-based pyramid scheme.
After initially launching in April One World Ads rebooted in August. Recruitment peaked in September and is now in decline.
The imminent collapse of One World Ads has likely promoted Sergakis to launch My Cycler.
Read on for a full review of the My Cycler MLM opportunity.
The My Cycler Product Line
My Cycyler has no retailable products or services, with affiliates only able to market My Cycler affiliate membership itself.
Bundled with My Cycler affiliate membership is access to "videos and E-books", "basic tools required to start your own websites, funnel systems, autoresponders (and) seo tools".
My Cycler claim 'the value of these courses is more than $5000 in the market.'
Adcredits are also provided, which enables an affiliate to display advertising on the My Cycler website.
The My Cycler Compensation Plan
My Cycler affiliates purchase $2 positions in a five-tier 3×1 matrix cycler.
These positions are purchased through a $10 monthly subscription, which generates a new $2 matrix position every five days.
A 3×1 matrix is simple in design, requiring only three positions to be filled. Once all three positions are filled, a cycle is triggered and a commission paid out.
How much of a commission is paid out is determined by what tier of the cycler a My Cycler affiliate cycles out of:
Level 1 (positions cost $2) – no commission, generates a new Level 1 position and cycles into Level 2
Level 2 – $2 commission, generates a new Level 1 position and cycles into Level 3
Level 3 – $4 commission, generates new Level 1 position and cycles into Level 4
Level 4 – $8 commission, generates new Level 1 position and cycles into Level 5
Level 5 – $36 commission and generates 20 new Level 1 positions
A matching bonus is paid when personally recruited My Cycler affiliates cycle out of tiers 3 to 5 as follows:
Tier 3 – $2 matching bonus
Tier 4 – $6 matching bonus
Tier 5  $10 matching bonus
Joining My Cycler
My Cycler affiliate membership is $10 a month.
Conclusion
We are not an investment company, HYIP or Ponzi scheme.

Upon joining, you will be purchasing advertising packages that will enable you to promote your business opportunities to our targeted visitors on our website.
My Cycler is easily broken down into a $10 a month Ponzi scheme.
Affiliates pump $10 into My Cycler each month on the promise of a $50 return per $2 position generated.
This quickly spirals out of control, with just one $2 position generating twenty-four new positions and $1200 in ROI liabilities.
And that's potentially happening five times a month, per affiliate paying the $10 monthly subscription.
Needless to say the first positions in the cycler will withdraw the majority of funds deposited, with these positions preloaded by Emmanouil Sergakis.
And that's on top of the $10 he skims from Tier 5 cycles, some of which is probably intended to prop up One World Ads.
A few My Cycler affiliate positions might cycle and receive $50, but the first few cycles will glut the lower matrices with phantom positions and rapidly drain the system.
At that point My Cyler will have collapsed, leaving the majority of affiliates with a loss.