NuWayTV Review: $299 box streams copyrighted content

There is no information on the NuWayTV website indicating who owns or runs the business.
The NuWayTV website domain ("nuwaytv.com") was registered on the 13th of April 2015, however the domain registration is set to private.
Further research reveals the domain was initially registered to a "Dan McWright", with an Florida address identical to the one currently provided on the NuWayTV website (cited as belonging to "Healthy Investments Inc., d/b/a NuWayTV").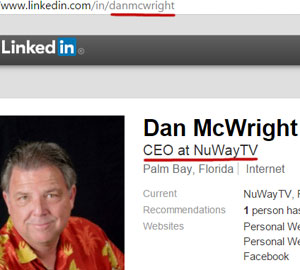 McWright credits himself as the CEO of NuWayTV on his LinkedIn profile (right), suggesting he is indeed the owner of NuWayTV (and Healthy Investments Inc.).
In his LinkedIn profile, McWright also lists involvement in FGXpress as an affiliate from August 2012.
On his personal marketing websites, McWright also reveals himself to have been an affiliate with Dynamic Impact, Cool Trader Pro, LifePharm, Global Hangout, Rain and American Dream Nutrition.
Why this information is not provided on the NuWayTV website is unclear.
Read on for a full review of the NuWayTV MLM business opportunity.
The NuWayTV Product Line
NuWayTV market a $299 stream box, which is purpose-built to access unlicensed copyright content through the internet.
Do you want to receive additional TV channels for your viewing pleasure, without having a dish installed or having to pay a monthly subscription?

NuWayTv allows you to receive streaming unlimited content directly from the internet. The NuWayTv Box offers programs and streams that are currently being published to the internet at large by broadcast networks and program owners such as NBC, CBS, ABC, TBS, USA etc.

These streams are available RIGHT NOW on their websites for you to watch online. But, you just need to watch ads (very much the same as your basic cable service.) This is different with the NuWayTv. You don't have to watch commercials.
Each NuWayTV stream box comes preloaded with Kodi software, which allows a user to access unlicensed copyrighted content out of the box.
The NuWayTV Compensation Plan
The NuWayTV compensation plan sees affiliates paid to sell NuWayTV stream boxes.
These sales can be to retail customers or recruited affiliates, with an affiliate required to sell at least one NuWayTV box every six months to qualify for commissions.
Commissions are paid out via a unilevel compensation structure, down through a maximum nine levels of recruitment.
A unilevel compensation structure places a NuWayTV affiliate at the top of a unilevel team, with every personally recruited affiliate placed directly under them (level 1):

If any recruited affiliates on level 1 recruit new affiliates of their own, they are placed on level 2 of the original affiliate's unilevel team. If any level 2 affiliates recruit new affiliates, they are placed on level 3 and so on and so forth down a theoretical infinite number of levels.
As mentioned earlier, payable unilevel levels in NuWayTV are capped at nine.
How much of a commission paid out is determined by the unilevel team level the sale of a NuWayTV box is made on:
level 1 (sales to retail customers and personally recruited affiliates) – $50
level 2 – $10
levels 3 to 8 – $5
level 9 – $10
Note that NuWayTV affiliates must unlock payable unilevel team levels. This is done by selling NuWayTV boxes to either retail customers or recruited affiliates:
level 1 – sell 1 NuWayTV box
level 2 – sell 2 NuWayTV boxes
level 3 – sell 3 NuWayTV boxes
level 4 – sell 4 NuWayTV boxes
level 5 – sell 5 NuWayTV boxes
level 6 – sell 6 NuWayTV boxes
level 7 – sell 7 NuWayTV boxes
level 8 – sell 8 NuWayTV boxes
level 9 – sell 9 NuWayTV boxes
Joining NuWayTV
Affiliate membership with NuWayTV is free.
Conclusion
Before we get into the NuWayTV compensation plan, I have to point out that selling a purpose-built box designed to access unlicensed copyrighted content is a problem in and of itself.
Yes you can go out and buy a computer and yes you can download software to pirate copyrighted content, but here we have an MLM opportunity marketing an "all in one" product designed for this specific purpose.
This alone carries considerable risk, as NuWayTV is very much a commercial enterprise profiting on the distribution and access of illegal material.
Despite this, NuWayTV reassure their affiliates that a purpose-built box marketed specifically to break copyright law is legal, because they themselves don't host any of the streams.
Is it legal? Yes, it is because the NuWayTv does not download or store any content.

It simply allows you to access and stream content that is already on the internet. It also allows you to customize the menu to your taste!
NuWayTV meanwhile has no licensing or distribution agreements with content copyright holders, whose content is displayed on the NuWay TV website as being readily accessible through their stream box: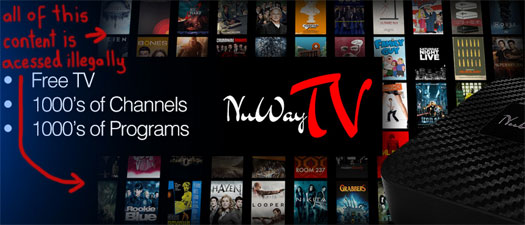 A marketing pitch on the NuWayTV website suggests customers and affiliates can "watch TV without cable bills!" and "invite your friends over for sports events" (illegally accessed pay-per-view).
As to the NuWayTV compensation plan, retail is possible but with affiliate membership being free, the income opportunity is obviously going to be a selling point here.
That threatens retail viability, with there being a strong possibility that NuWayTV affiliates will be the only ones purchasing the company's stream box.
If that winds up being the case, then you're looking at a closed-loop opportunity that functions as a chain-recruitment scheme.
As a prospective NuWayTV affiliate you can verify if this is the case by asking your potential upline how many boxes they've sold to retail customers versus recruited affiliates.
An answer weighted towards affiliate sales would indicate a lack of retail viability.