Global Hangout Review: $99 Google Hangout training

There is no information on the Global Hangout website indicating who owns or runs the business, with the company's "About Us" page only offering up the following vague paragraph:
Our management team is composed of experienced business leaders and technology developers that have established business protocols that will support the Company's growth objectives and the products emerging technology while providing world class service.
Global Hangout's website domain ("globalhangout.com") was registered on the 15th of November 2012, however the domain registration information is set to private.
As always, if an MLM company is not openly upfront about who is running or owns it, think long and hard about joining and/or handing over any money.
The Global Hangout Product Line
Built around Google's "Hangout" service, offered free to members of Google Plus, Global Hangout provides video training on how to use Google Hangout.
Global Hangout claim that by utilising their training, members will enhance 'both their personal and business lives'.
The company also claims to offer members access to "awesome" content, customized apps and how to market themselves or their brand with Google Plus.
The Global Hangout Compensation Plan
Global Hangout pay affilites upfront recruitment commissions, with residual income tied into a binary compensation structure and check match bonus.
Recruitment Commissions
For every three new members a Global Hangout affiliate recruits, the company will pay them $100. $20 is also paid to the direct upline of the affiliate (the person who recruited them) receiving the commission.
Binary Commissions
A binary compensation structure places an affiliate at the top of the structure, with two legs branching out under them.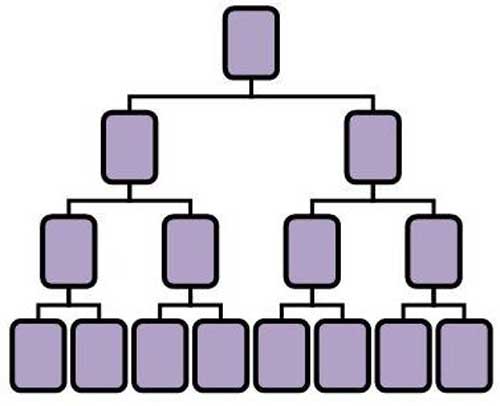 These two legs are member positions and must be filled by recruited members. In turn, these two legs branch out into another two legs and so on and so forth, with each leg representing a member position that can be filled via recruitment.
Using the above binary compensation structure, Global Hangout pay affiliates $20 for every 2:2 ratio pair of new members that are recruited into an affiliate's binary (2 new members on the left side and 2 new members on the right side).
When this commission is generated, $5 is also paid to the upline of the qualifying affiliate.
Additionally, apart from new members having to be recruited to generate binary commissions, affiliates must also personally recruit a new paid member to both their left and right binary teams once every 90 days if they wish to qualify for binary commissions.
Finally, the binary income is capped according to the following membership ranks:
Affiliate – $3000 a week
Executive – $6000 a week
Master – $18,000 a week
Global – $36,000 a week
Note that Global Hangout do not provide qualification criteria for the above affiliate ranks in their compensation plan material.
Check Match Bonus
In order to qualify for a Check Match Bonus, a Global Hangout affiliate must be at the Executive rank and earn $200 a week in binary commissions for four consecutive weeks or earn $800 in a single week.
Once qualified, an affiliate then earns a 10% match on the binary earnings of every personally recruited affiliate they have brought into the company.
The 10% match is also paid on their downlines, up till the first Check Match Bonus qualified affiliate is found (you are paid on the binary earnings of all affiliates inbetween).
Master Ranked affiliates are paid a 20% match on downline earnings up until an Executive affiliate is found who also qualifies for the Check Match Bonus, and an additional 10% on all affiliates after them until another Check Match Bonus Master affiliate is found.
Master affiliates qualify for their Check Match Bonus by having at least 3 personally recruited affiliates in their downline qualify for the Executive affiliate Check Match Bonus.
Global affiliates earn an additional $5 bonus for every two Check Match Bonuses paid out to personally recruited affiliates and their downlines, until another Global Check Match Bonus qualified affiliate is found.
In order to qualify for the Check Match Bonus as a Global affiliate, affiliates must have at least three personally recruited affiliates in their downline who are Master Check Match Bonus qualified (with at least one on each side of their binary).
Joining Global Hangout
Membership to Global Hangout is $99 for the first year and then $29 each year after that.
Conclusion
Despite the marketing hype in the Global Hangout promotional videos, having been launched almost two years ago (June, 2011), the Google Plus social network is nothing new.
Hangouts didn't launch initially with Google Plus but was added two months later in August of 2011.
Why these are being touted as "the next best thing" in social networking by Global Hangouts I have no idea.
Looking at the Global Hangout compensation plan, despite the mention of customers there doesn't appear to be any.
In order to become an affiliate in Global Hangouts you pay the company $99 and then sign up again (no additional cost) as an affiliate. This appears to be nothing more than a thin attempt to differentiate their "customers" from their affiliates, but effectively they are one and the same (all Global Hangout customers have access to the income opportunity at no additional cost).
There is no difference between how "customers" and affiliates are seen compensation wise (other than not being able to recruit). Having "customers" re-sign up to the same company again to become affiliates simply comes off as a token gesture at best or at worst, a blatant attempt to get around internal consumption woes without actually ensuring your affiliates are selling to actual retail customers.
You could make the argument that if Global Hangout was full of non-affiliate subscribers it could claim to be a customer orientated MLM opportunity, however I think this comes down to the actual value of the services they offer.
With the annual fee after the first year being just a third of the initial signup fee, I think this is a much more accurate indication of how much the services Global Hangout are offering are worth.
With the bulk of the $99 fee simply being paid out as commissions that pretty much guarantees that Global Hangouts is just going to wind up full of affiliates. Nevermind the abundance of free or cheaper Google Hangout marketing and training material out there.
At the end of the day the quality of the training Global Hangout provide is irrelevant due to the fact that it can be wholly ignored. You pay Global Hangout $99, you recruit new members and earn commissions tied into how many new members you recruit.
Once the recruitment stops so do the commissions.