MMM United Review: 100% monthly ROI MMM Global clone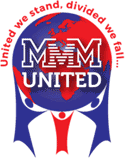 There is no information on the MMM United website indicating who owns or runs the business.
The owner(s) of MMM United however do claim to be "a team of MMM participants":
We are no other than a team of MMM participants from our respective national structures of MMM.
"MMM" refers to MMM Global, a bitcoin-based Ponzi scheme that collapsed earlier this year.
Alexa currently estimate that 84.8% of traffic to the MMM United website originates out of India. This strongly suggests that whoever is running MMM United is based out of India itself.
As always, if an MLM company is not openly upfront about who is running or owns it, think long and hard about joining and/or handing over any money.
The MMM United Product Line
MMM United has no products or services, with affiliates only able to market MMM United affiliate membership itself.
The MMM United Compensation Plan
The MMM United compensation plan sees affiliates invest funds through bitcoin, on the promise of a perpetual 100% a month ROI.
Referral commissions on funds invested by recruited affiliates are paid out via a unilevel compensation structure.
A unilevel compensation structure places an affiliate at the top of a unilevel team, with every personally recruited affiliate placed directly under them (level 1):

If any level 1 affiliates recruit new affiliates, they are placed on level 2 of the original affiliate's unilevel team.
If any level 2 affiliates recruit new affiliates, they are placed on level 3 and so on and so forth down a theoretical infinite number of levels.
Commissions are paid out as a percentage of funds invested by affiliates in the unilevel team.
How much of a percentage is paid out is determined by what level of the unilevel team funds are invested on:
level 1 (personally recruited affiliates) – 5%
level 2 – 3%
level 3 – 1%
level 4 – 0.5%
levels 5 – 0.3%
levels 6 and deeper – 0.1%
Joining MMM United
Affiliate membership with MMM United is tied to an investment via bitcoin.
There doesn't appear to be a minimum or maximum investment amount.
Conclusion
MMM UNITED isn't a bank, MMM UNITED doesn't collect your cash, MMM UNITED isn't a web business, HYIP, investment or MLM program. MMM UNITED is a community where folks facilitate one another.
Wrapped in the "get help, provide help" Ponzi tropes MMM Global spawned, MMM United offers participation in an identical Ponzi scheme.
If you have provided the help of $100 on August 01 2016, your Mavro immediately starts growing every day at the rate of 100% per month.

Once you have completed your PROVIDE HELP, just sit back and relax, your $100 is growing at the rate of 100% per month.

On August 31 2016, your $100 will turn into $200 and you will be able to get them back by clicking GET HELP in your PO.
MMM United is likely operated by Indian MMM Global investors who made a bit of money in MMM Global.
MMM Global saw their Ponzi ROI income collapse, and so now they're attempting to launch their own version of the scam.
Make no mistake, just as MMM Global collapsed paying 130% a month, so too will MMM United paying 100% a month.
By month two an MMM United affiliate is supposed to receive twice the money they initially invested. This liability is multiplied by each affiliate who joins after them and only increases month over month.
As the liability grows the disconnect between newly invested funds and what is owed increases, until eventually MMM United collapses.
This is precisely what happened with MMM Global, the collapse of which saw most investors lose money.
MMM United does little more than provide affiliates the opportunity to lose money all over again, likely to the same people they lose it to the first time around.