Metaverse Foreign Exchange Review: Trading bot Dubai Ponzi

Metaverse Foreign Exchange, abbreviated as MFTE, fails to provide ownership or executive information on its website.
MTFE's website domain ("mtfe.ca"), was first registered in December 2021. The private registration was last updated on November 15th, 2022.
Despite only existing for a year and a half or so at best, a false claim I kept seeing parroted in MTFE marketing was that the company has been around since 2015.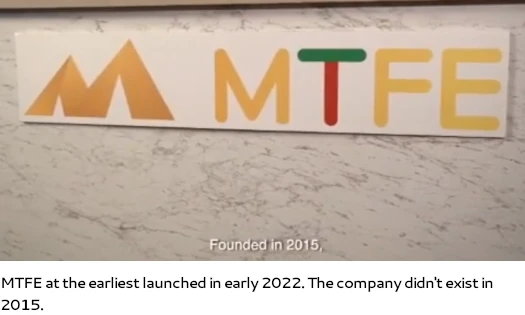 In an attempt to appear legitimate, MTFE provides a Canadian corporate address on its website and FINTRAC registration number.
The corporate address is a virtual office address provided by Davinci Virtual. The FINTRAC registration is meaningless as FINTRAC is not a financial regulator.
It appears MTFE has been fronted by an AI bot avatar: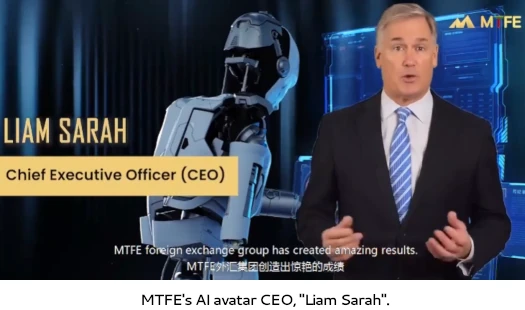 And a Boris CEO actor: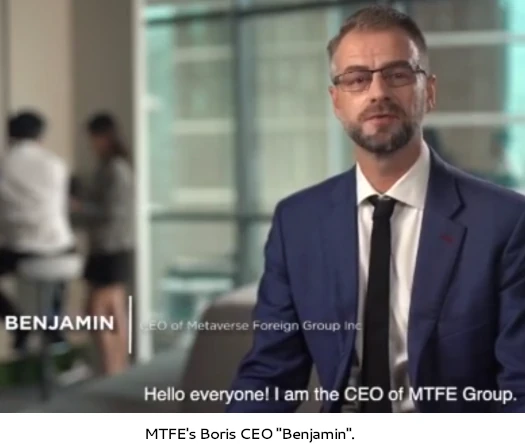 As to who's actually running MTFE, we have CEO Masud Al Islam.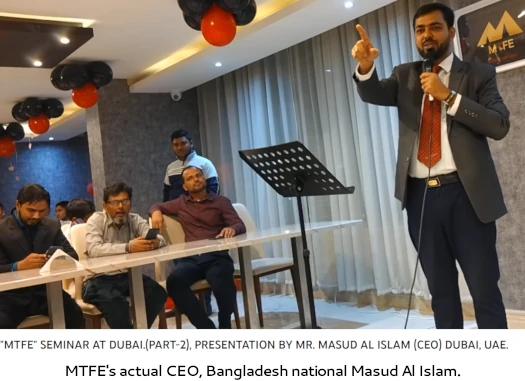 Islam is a Bangladesh national, apparently hiding out in Dubai. This confirms MTFE has no ties to Canada and is in fact a Dubai-based company.
According to his personal LinkedIn profile, Islam has been CEO of something called MyShop Express since 2020.
MyShop Express it is not a name only, it is a symbol of stirring, technology & contentment. In this world technology comes first for any kind of services.

We are creating technologies instrument. With this instrument we can buy, we can sell, we can multiply our businesses and many more. In our country for the first time we are providing full of technologies goods that no one can think before.

We have a strong team who can really build up our business, can produce effective products to the people and many more.

So, we can say that "JAGBEI BANGLADESH", which is our slogan also".
I ran a search for "myshop express Bangladesh" and nothing came up. Not sure if it's an actual company or something Islam made up.
What I was able to confirm is, prior to getting involved in MTFE, Islam was a PLC Ultima Ponzi promoter: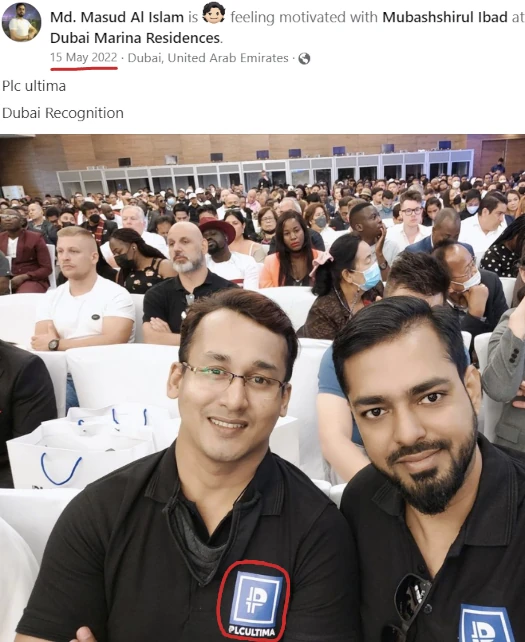 PLC Ultima is a reboot of Alex Reinhardt's PlatinCoin Ponzi scheme.
PLC Ultima began to collapse around mid 2022. This coincides with Islam first posting about MTFE on his FaceBook profile on October 2nd, 2022.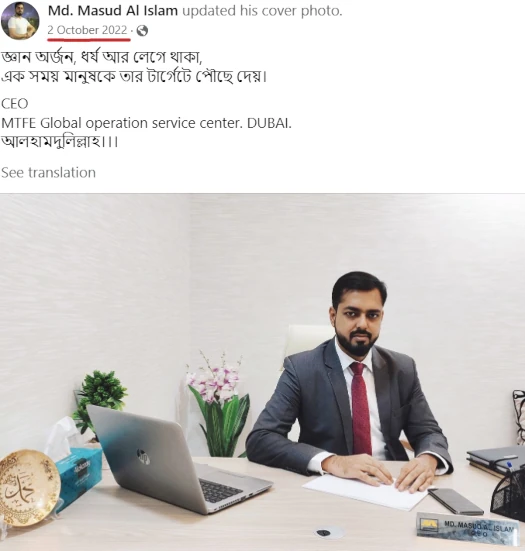 I couldn't help but notice the Chinese subtitles in MTFE's AI avatar marketing video. Given the December 2021 domain registration date, I believe the original iteration of MTFE might have been targeted at Chinese investors.
This suggests Islam might be working with Chinese scammers. Further supporting this is MTFE's original social media profiles having been deleted.
Islam was likely brought on to specifically target people from Bangladesh, Sri Lanka and India – including his PLC Ultima downline.
As of May 2023, SimilarWeb tracks top sources of traffic to MTFE's website as Bangladesh (33%), Sri Lanka (27%), India (12%) and the UAE (7%).
It's safe to assume MTFE's UAE traffic is scammers from Bangladesh, Sri Lanka and India also hiding out in Dubai.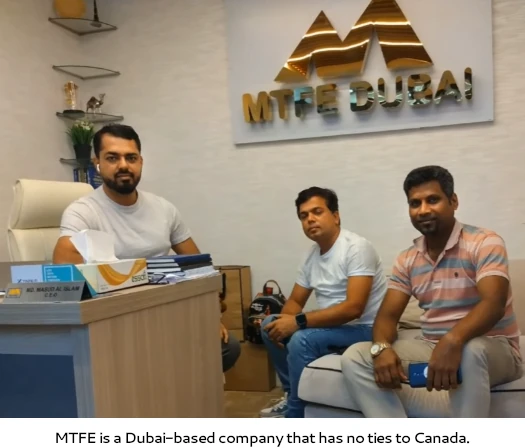 BehindMLM's guidelines for Dubai are:
If someone lives in Dubai and approaches you about an MLM opportunity, they're trying to scam you.
If an MLM company is based out of or represents it has ties to Dubai, it's a scam.
If you want to know specifically how this applies to MTFE, read on for a full review.
Metaverse Foreign Exchange's Products
MTFE has no retailable products or services.
Affiliates are only able to market MTFE affiliate membership itself.
Metaverse Foreign Exchange's Compensation Plan
MTFE affiliates invest tether on the promise of a 3% to 8% daily passive return:
Plan 1 – invest 30 USDT and receive 22 to 44 USDT a month
Plan 2 – invest 60 USDT and receive 40 to 60 USDT a month
Plan 3 – invest 100 USDT and receive 60 to 120 USDT a month
Plan 4 – invest 200 USDT and receive 120 to 180 USDT a month
Plan 5 – invest 500 USDT and receive 300 to 800 USDT a month
Plan 6 – invest 1000 USDT and receive 600 to 1800 USDT a month
Plan 7 – invest 3000 USDT and receive 1800 to 4800 USDT a month
Plan 8 – invest 5000 USDT and receive 3000 to 8000 USDT a month
Plan 9 – invest 7500 USDT and receive 4500 to 12,000 USDT a month
MTFE pays a residual commission on returns paid to recruited affiliates down three levels of recruitment (unilevel):

level 1 (personally recruited affiliates) – 15%
level 2 – 10%
level 3 – 5%
If an MTFE affiliate recruits fifteen affiliates and builds a total downline of one hundred affiliates, they receive $600 a month salary.
Note that recruited affiliates must have invested in order to count towards monthly salary qualification criteria.
Joining Metaverse Foreign Exchange
MTFE affiliate membership is free.
Full participation in the attached income opportunity requires an initial 26 USDT investment.
Metaverse Foreign Exchange Conclusion
MTFE hides its investment scheme and attached MLM compensation plan on its website.
Instead MTFE is presented as a generic fintech firm offering access to a trading platform:
In reality, MTFE has nothing to do with the metaverse or forex trading; it's a simple Ponzi scheme.
Supporting this is MTFE's misdirection website, the fake CEOs and being based out of Dubai.
The most damning evidence MTFE is running a Ponzi scheme is the fact it's committing securities fraud.
MTFE provides no evidence it has registered with financial regulators in any jurisdiction (again, FINTRAC is not a financial regulator).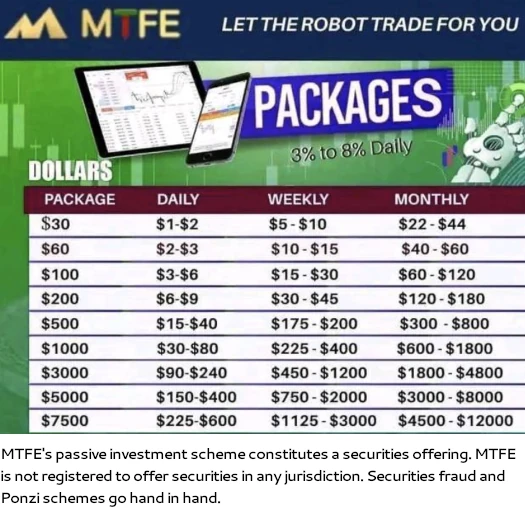 Furthermore, MTFE's own marketing fails the Ponzi logic test.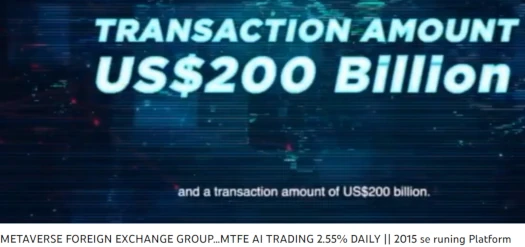 As above, in April 2023 MTFE claimed it had processed $200 billion in transactions.
Even if we assume MTFE has 0.5% of that amount in reserve ($1 billion), at 3% to 8% a day the company would still be making $30 million to $80 million a day.
What on Earth does MTFE need your money for?
As it stands the only verifiable source of revenue entering MTFE is new investment.
Using new investment to pay a daily 3% to 8% ROI makes MTFE a Ponzi scheme.
As with all MLM Ponzi schemes, once affiliate recruitment dries up so too will new investment.
This will starve MTFE of ROI revenue, eventually prompting a collapse.
The math behind Ponzi schemes guarantees that when they collapse, the majority of participants lose money.
Update 16th August 2023 – MTFE has collapsed.