MTFE Ponzi collapses, withdrawals rejected

Metaverse Foreign Exchange (MTFE) is a Dubai-based Ponzi scheme that launched in 2022.
MTFE originally operated from the domain ("mtfe.ca"). Following a regulatory fraud warning from the Ontario Securties Commission in early July however, MTFE abandoned it's original domain for "mtfe.io".
MTFE's .IO domain was registered on July 25th. Now, following delayed withdrawals, MTFE investors report MTFE withdrawals are being rejected.
Although it has a web presence, MTFE primarily operates through an app.
Despite receiving a securities fraud warning from Canada, MTFE's app is still available from both the Apple and Google Play stores.
From what I've been able to piece together (with input from BehindMLM readers), MTFE withdrawal delays began last week.
They continued up until yesterday, wherein MTFE began rejecting withdrawal claims outright. There has been no investor communication since the withdrawal delays last week, suggesting MTFE's admins have disappeared.
MTFE is fronted by Bangladeshi national Masud Al Islam.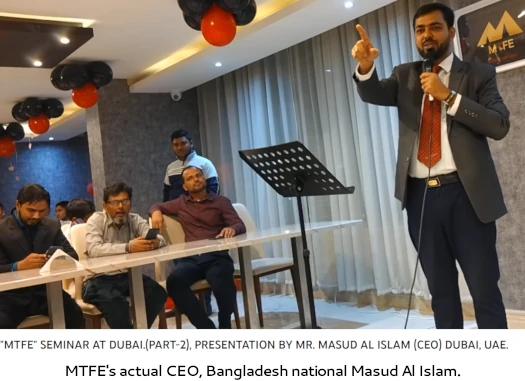 Islam is hiding out in Dubai and is believed to be working with Chinese scammers.

Foreshadowing MTFE's collapse, Islam abandoned his personal FaceBook account on August 4th.
MTFE's .IO domain is too new for traffic tracking. In July 2023, SimilarWeb tracked ~306,000 visits to MTFE's .CA domain.
The majority of this traffic originated from Bangladesh (34%), Sri Lanka (19%), India (8%), the UAE (6%) and Kenya (4%).
Total victim numbers and how much they've lost to MTFE remains unknown.